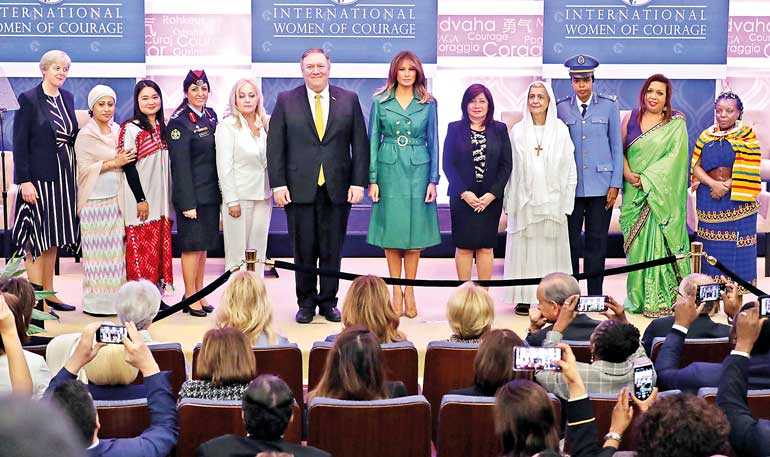 From left: Sister Orla Treacy of Ireland, Razia Sultana of Bangladesh, Naw Knyaw Paw of Burma, Colonel Khalida Khalaf Hanna al-Twal of Jordan, Olivera Lakic of Montenegro, US Secretary of State Mike Pompeo, US First lady Melania Trump, Flor de Maria Vega Zapata of Peru, Mama Maggie of Egypt, Moumina Houssein Darar of Djibouti, Marini de Livera of Sri Lanka, and Anna Henga of Tanzania pose for a photograph during the International Women of Courage Awards in the Dean Acheson Auditorium at the Department of State's Harry S. Truman building 7 March in Washington, DC. The 10 women from across the globe were recognised for their work in human rights, education, journalism, law enforcement, and other endeavours that furthered women's rights and representation – Getty Images/AFP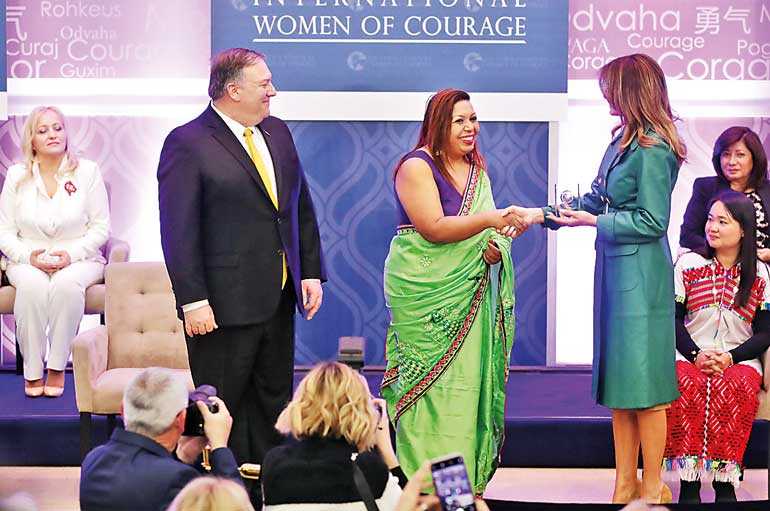 Marini de Livera of Sri Lanka (centre) is presented the International Women of Courage Award by US Secretary of State Mike Pompeo and US first lady Melania Trump during a ceremony in the Dean Acheson Auditorium at the Department of State's Harry S. Truman building 7 March in Washington, DC – Getty Images/AFP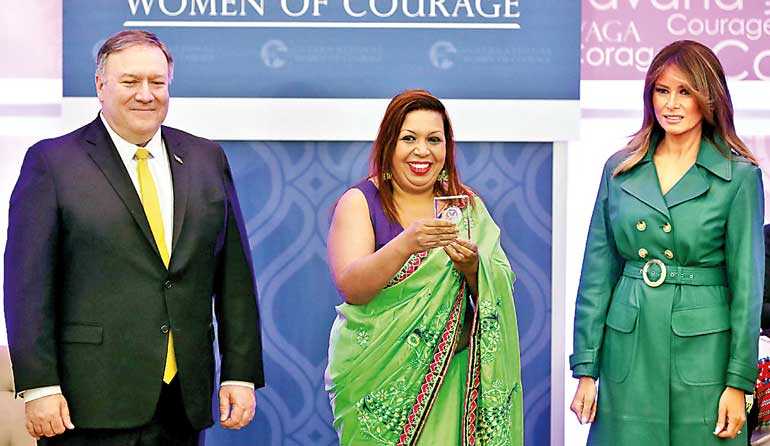 Ten extra ordinary women from around the world were honoured with International Women of Courage Awards (IWOC) 2019 at the US State Department last week.
Sri Lankan Marini de Livera was among the awardees from Bangladesh, Burma, Djibouti, Egypt, Jordan, Montenegro, Peru, Tanzania and Ireland who were felicitated by the State Department.

The US Secretary of State's International Women of Courage Award (IWOC) honours women who have demonstrated extra ordinary courage and leadership in advocating for social justice, human rights, gender equality, and the advancement of women and girls. Since its inception in 2007, over 120 women from 65 countries have been honoured with the IWOC award.

The First Lady of the United States Melania Trump graced the occasion as the Chief Guest and delivered special remarks.

Speaking on the occasion, Secretary of State Michael Pompeo congratulated the IWOC awardees on being recognised as outstanding women leaders around the world as part of US's commitment to advancing the status of women and children around the world. Pompeo also touched on Women's Global Development and Prosperity Initiative (W-GDP), launched in February by the White House, aimed at empowering 50 million women across developing countries by 2025, and the launch of the Academy for Women Entrepreneurs (AWE) on 6 March in support of W-GDP, by the State Department, to provide online education resources, foster networks that support access to mentorships, and connect women through existing exchange programs. Marini de Livera, who champions the causes of women and child victims of crime, promotes alternative care for children trapped in orphanages and innovative use of visual arts and street theatre to promote legal literacy, is the former Chairperson of the National Child Protection Authority and a member of the Steering Committee on the Rehabilitation of Child Soldiers, the Prisons' Reforms Committee, and the National Committee on Women. She also chaired the committee that drafted the amendments to the Prevention of Domestic Violence Act and worked as a Human Rights Trainer.

Charge d'Affaires of the Sri Lankan Embassy, Washington DC, Sarath Dissanayake participated in the felicitation ceremony together with members of the Diplomatic Corps.

The other recipients of the award were: Razia Sultana of Bangladesh, NawK'nyaw Paw of Burma, MouminaHousseinDarar of Djibouti, Mama Maggie of Egypt, Colonel KhalidaKhalaf Hanna al-Twal of Jordan, Sister OrlaTreacy of Ireland, OliveraLakic of Montenegro, Flor de Maria Vega Zapata of Peru, and Anna AloysHenga of Tanzania.