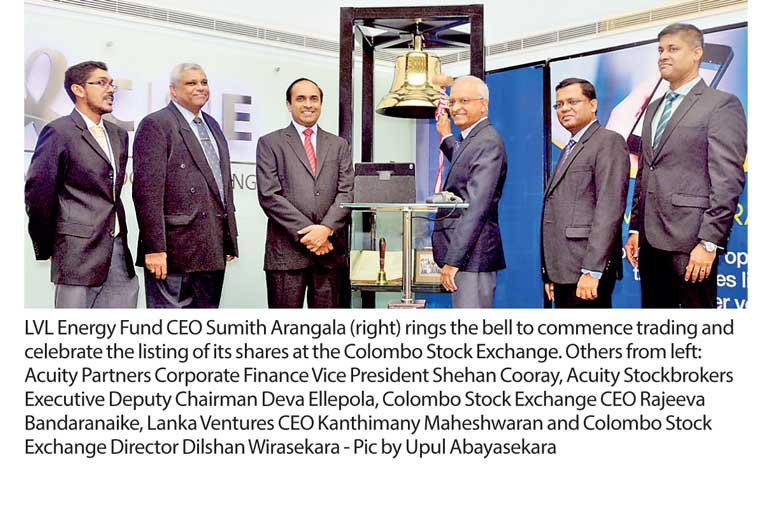 Commences trading at CSE, stock price ends 1% firmer
Aggressively expands investments in Bangladesh and Nepal
Keen on adding solar power to its portfolio, likely to bid for 90 MW Govt. solar project
Says renewable energy alone cannot solve Sri Lanka's power issues as it's highly unpredictable
CSE Chief confirms net foreign investment inflow tops Rs. 2 billion within five days of trading
By Charumini de Silva

LVL Energy Fund Ltd. (LVEF), which has thermal and renewable energy projects in South Asia including in Sri Lanka, Bangladesh and Nepal, said it was planning to expand its investment horizons to East Africa in the near future.

LVEF yesterday rang the opening bell at the Colombo Stock Exchange (CSE) to commence trading and celebrated the listing of its shares after a successful initial public offering (IPO) which raised Rs. 1.2 billion by listing 20.6% stake in December. On the first day of trading, shares in LVEF ended 1% firmer, compared to the opening price of Rs. 10 a share.

Speaking at the occasion, LVEF Chief Executive Officer Sumith Arangala insisted the firm would not limit its potential to Sri Lanka and would explore opportunities overseas.

"We will not only look at Sri Lanka alone. We must realise that whatever we do in Sri Lanka, our paymaster is the Ceylon Electricity Board (CEB) and that is a risk. We want to diversify that risk. As a result, we have gone to Bangladesh and Nepal. We are now exploring hydropower investment opportunities in East Africa," he added.

It was pointed out that the firm has two 50 MW thermal power plants in Bangladesh and will soon set up another 100 MW thermal power plant there in the near future.

"The thermal power potential in Bangladesh is huge. There is a permanent power cut everyday and it has a huge demand for power for about 150,000 MW. Although there is also bureaucracy in Bangladesh, they are investor-friendly, have a lot of investor protection and approvals are not as stringent like in Sri Lanka. I love to do business in Bangladesh," he emphasised.

In addition, Arangala said the company intended to invest Rs. 465 million on a 10 MW hydropower plant in Nepal using the proceeds from the recent IPO. According to him, Nepal also has a massive hydropower potential of 40,000 MW.

Outlining its operations in Sri Lanka, he stressed that the company operates five hydropower plants through joint ventures with a combined capacity of 17 MW and two wind power projects with a combined capacity of 15.6 MW. It will also invest IPO funds on two new hydropower plants in Sri Lanka with a combined capacity of 4 MW and to reduce its debt.

While agreeing that there were opportunities within Sri Lanka, he asserted that due to a lack of stable policies, transparent energy prices and slow progress, the firm was not very satisfied with the prospects.

"We cannot do it on our own; the Government must announce areas that are available for opportunities for private sector development. With all these the opportunities opened out to us are quite limited. I believe there are a lot of applications pending for solar projects, but not much has taken place. Now it is a different ballgame with the bidding process. Earlier everybody knew about the tariff and it was very transparent. I wouldn't say they are against us, but progress is slow," he added.

In terms of investments in Sri Lanka he said that they were likely to invest in new hydro and wind power plants and may even submit bids for the 90 MW solar power generation project.

"If you look at our portfolio of investments in Sri Lanka, there are all less than 10 MW hydro projects. It is too expensive to go in for anything larger because of land restrictions and the unattractive tariff dynamics. However, we want to add solar to our portfolio," he pointed out.

Further, he noted that there was tremendous potential for wind power in Kalpitiya and in the Northern peninsula, but the available opportunities were limited.

Asked if the Government had gotten its energy mix right for sustainable power supply, he said that relying entirely on renewable energy was not a good move as it was highly unpredictable.

"Renewable power alone cannot solve Sri Lanka's energy needs. We will need standby thermal power plants to avoid any blackout because renewable energy can be unpredictable," Arangala stated.

Noting that the company did not completely rely on renewable energy, he said they managed to make profits even during the drought when other firms incurred losses. "We managed to move out of any risk of reduction in profits because we diversified into thermal to smoothen out. But unfortunately some companies made losses. This is what happens when you depend completely on renewable energy, the income becomes seasonal."

CSE Chief Executive Officer Rajeeva Bandaranaike said that the share debut of LVEF as the second listing of 2018 adds to what has been a strong start to the year for the stock market.

He insisted that the growth of both indices (All Share Price Index +2.7% and S&P SL 20 Index +3.8%), encouraging trading activity and a net foreign investment inflow of Rs. 2 billion within five days of trading, has brought about a sense of optimism over prospects for the market this year.

Welcoming LVEF to the stock market as its latest listed company, Bandaranaike also commended Lanka Ventures Plc, the parent company of LVEF, for continuing to reach out to the capital market when pursing growth initiatives.