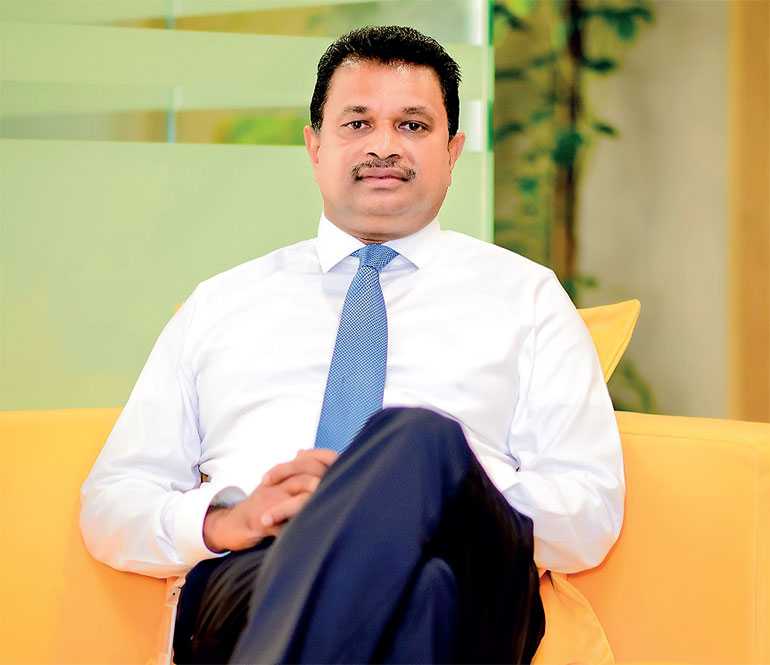 LAUGFS Chairman W.K.H. Wegapitiya
---
With increasing demand for LPG and limited production in the region, what role can Sri Lanka play in becoming an energy hubfor the region?


A quoted company listed on the Colombo Stock Exchange, LAUGFS Gas PLC, which commenced operations in 2001 as an LPG downstream player, is today one of the largest suppliers of LPG in Sri Lanka. LAUGFS's LPG downstream operations were supported by the LPG maritime logistics services provided by its own fleet of ships. Cementing its presence in the LPG value chain, the company has now set its sights on a massive LPG transhipment facility, which it claims to be the largest of its kind in South Asia, to facilitate efficient,cost-effectiveand reliable LPG distribution within the region.
Growing demand for LPG over the years within the Indian Ocean Rim area has highlighted the need for coordinated development of LPG infrastructure in the region, an opportunity identified by LAUGFS.

There are many economic benefits to having a single, high-volume transhipment hub strategically based in Sri Lanka. LAUGFS Holdings ChairmanW.K.H. Wegapitiya reveals the company's plans to meet regional demand by becoming an LPG transhipment hub for neighbouring countries. Following are excerpts:
Q: The Sri Lankan Government is currently considering investments in LNG supply facilities as a main source of energy. Why is LAUGFS focusing on LPG, and not LNG?

The Government has been in discussion about developing LNG facilities for several years, but this is not an easy task. Setting up an LNG terminal involves a minimum investment of $500-600 million, and recovering this amount would need a captive consumption of at least a 400 megawatt power generation plant. To make it commercially viable to serve the domestic market, it also requires significant investments and development of existing infrastructure like new pipelines. So, as a whole, it is not an easy or financially viable exercise for any business to venture into.

We are shifting our focus to continue to strengthen our presence in the LPG value chain, not just to meet local demand, but supplying to the region as well. We see great potential with a number of emerging LPG markets and gaps in the value chain within the region. Seeing these opportunities, we have already expanded to Bangladesh with our maritime business, established to provide LPG logistics support to the region with our own fleet of ships. We see tremendous potential in investing in LPG infrastructure, which is why we have today commissioned South Asia's largest and most modern LPG transhipment terminal to make Sri Lanka an energy hub for the region.
Q: Is there a need for an LPG transhipment facility in the region? Isn't the market adequately served currently by direct supply and ship-to-ship transfer operations?

There area few floating storages currentlyserving this part of the Indian Ocean – near theMaldives, Mumbai and the Strait of Malacca. These are used for ship-to-ship LPG transhipments. However, this model has its challenges due to high costsand high risk factors. For instance, connecting two moving objects to transfer LPG poses a high safety risk, especially during monsoon seasons. In addition, ship waiting charges are also high; Very Large Gas Carriers (VLGCs) that sit for even a few hours incur millions of dollars in lost income.

In addition, most emerging LPG markets in the region do not have port facilities and the required draft depth to accommodate VLGCs; therefore, they need to depend on smaller ships to bring in the required LPG supply. For example, import facilities in Bangladesh and Myanmar are river ports with a maximum draft of 5 meters, which restricts larger vessels from coming into the port. This again increases their costs due to higher number of shipments required, while also posing supply delays at times that result in domestic LPG shortages.We believe the ideal solution would be a land-based storage facility that can act as a transhipment terminal.If we can act as a break-bulk facility, we can capitalise on the economic advantages of re-exporting to those markets, while lowering risks associated with ship-to-ship transfers. This also means aguaranteed supply of LPG to the region and reduced costs.
Q: Sri Lanka is located strategically on the east-to-west shipping route. How does LAUGFS plan to leverage this in channelling traffic to make use of its new LPG transhipmentfacility?

There are many hurdles to importing LPG to the region. Looking at emerging LPG markets – such as Bangladesh and Myanmar – their current infrastructure is still in the primary stages.Furthermore, ports in the regions that serve current demand are also highly congested, resulting in the break-bulking cost being high.

Sri Lanka is strategically positioned on key international maritime trading routes connecting the West to the East,as well as in close proximity to growing economies like India and Bangladesh. It is also located nearby to key ports in the region, which can yield economic advantages, not only for Sri Lanka, but also for the region. For instance, logistics costs could be lowered due to the shorter transhipment distance.

These geo advantages provide Sri Lanka, and Hambantota in particular, the best opportunity to become an energy hub in the region. All these serve to make the new LAUGFS LPG Terminal an important energy infrastructure in the Indian Ocean.
Q: Why have you identified the Hambantota International Port to build LAUGFS' LPG transhipment facility?

Hambantota is at the epicentre of the Indian Ocean Rim area. It is located in very close proximity to international sea trade routes, along which over 100,000 ships pass every year, which provides it with a specific geographic advantage.

Sri Lanka is exposed to several monsoon seasons thataffect ship movement patterns. The Hambantota port is what we call an all-weather port, which means it can safely and effectively carry out operations throughout the year.It is also a deepport with a19 metre draftthat can handle VLGCs with ease, and brand new berthing facilities with adequate land and water space for future expansion. It has the potential to become an energy hub, compared to the Colombo port, which is unable to provide dedicated facilities for energy cargo handling and mainly caters to container handling.So we believe Hambantota is the ideal location for this facility.
Q: What is the capacity at the new LPG transshipment facility?

It has the capacity to accommodate 30,000 metric tonnes of LPG at any given time, while being able to handle1.1 million metric tonnes of LPG annually.

So not only will this facility meet local demand, it also holds significant handling capacity to supply energy to the region.
Q: What was the investment made in commissioning this new facility?

A:We have invested $65 million in the first phase, and the total investment on the project would reach around $80 million by the second phase. This is one of the largest energy-related infrastructure investments in the country.
Q: What is the impact this facility can have on the country's export market?

Once this terminal is fully functional, we expect it to contributearound 6% of the total export earnings target of Sri Lanka by 2020. Additionally, it will open up a lucrative new export sector focusing on energy, moving away from traditional local exports like tea and apparel.

There are many more benefits connected to the storage facility, such as the initiation of coastal maritime services between the Hambantota and Colombo ports, as well as the opening up of inter-port trade leading to direct and indirect employment creation. We expect this project to lead to the Hambantota port becoming an energy and maritime hub in the Indian Ocean.
Q: Can the success of this facility help win back international trust and faith in the country?

Absolutely. This project will help Sri Lanka to realise its long-term vision to become an energy hub in the region. This will open up trade opportunities for the country and strengthen its position in international maritime trade, as well as benefit from the tremendous economic advantages it would generate.
Q: What other plans does LAUGFS have in store for the future of the country's LPG sector?

This facility is one part of our plans to build an integrated value chain for the sector. The Sri Lankan market is very small, but we can use our strategic advantages as a springboard to reach larger markets in our vicinity. Our overarching aim is to go global. We currently have our own ships and terminals, but we will continue to expand and move forward.