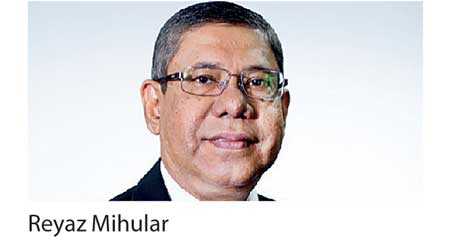 KPMG's Middle East and South Asia (MESA) region board has announced the appointment of Reyaz Mihular as its Chairman for a two-year term commencing on 1 October at its recent board meeting.

The appointment creates history for professional service firms in Sri Lanka, making it the first time a Sri Lankan professional has been appointed a leader in a global capacity within the Big 4 accounting firms in Sri Lanka. Reyaz has served as a member of KPMG's MESA Board since 2012 and is the Managing Partner of KPMG in Sri Lanka.

In his 40 years with KPMG, he held a number of leadership positions including as MESA region's Chief Operating Officer and as a member of KPMG's Global Corporate Finance Board. Reyaz was a Board Member of the International Accounting Standards Committee and subsequently a Member of the Standards Advisory Council of the International Accounting Standards Board. He is presently a Board Member of the International Ethics Standards Board for Accountants (IESBA). He was also a Past President of the Institute of Chartered Accountants of Sri Lanka and Chaired the Sri Lanka Division of the Chartered Institute of Management Accountants.

Commenting on the appointment, Reyaz stated: "I am delighted and honoured to succeed a leader such as Abdullah Al Fozan as Chairman of KPMG MESA. This is an exciting time for the region. We have been driving innovation across all parts of our business and I intend to continue and accelerate that trend."

KPMG MESA is a sub-region within the KPMG network of member firms. Today, with over 6,500 professionals and associates working across 30 office locations in 14 countries, it is among the largest and most resourced professional service networks in the region.

With a worldwide presence, KPMG continues to build on the firms' successes through its clear vision, maintained values and people.

"I am confident that we are better positioned than we have ever been before to meet clients' needs in the digital age, particularly in digital transformation, data and analytics and cyber security. I look forward to working with KPMG's extraordinary professionals and our clients across the region to deliver on that ambition," Reyaz added.