By Chathuri Dissanayake

Acknowledging shortcomings in delivering justice to meet public expectation, the State Minister of Finance Eran Wickramaratne yesterday provided reassurance that the Government was still committed to establishing a rules-based society.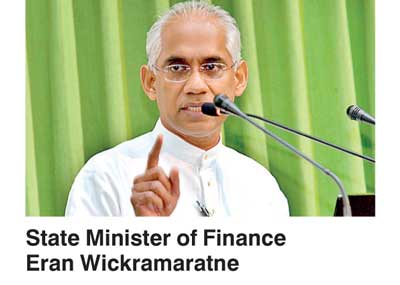 He also claimed that the upcoming budget would seek to rectify the resource shortages currently experienced by the Judiciary which are causing delays in the legal process. "The law will apply to everybody equally. The Government has performed below public expectation on this but there are many reasons that it cannot go at the pace expected," said Minister Eran Wickramaratne, addressing a seminar on the new Inland Revenue Act organised by the Ceylon Chamber of Commerce. The Minister, while accepting the cynical approach taken by many on the current stance of applying the rule of law to all, said that the Government was committed to facilitating the Judiciary to ensure the resources needed were available to ensure efficiency.

"While we the Executive cannot influence the judicial process, we will do everything possible to help the Judiciary in executing justice," he said, stressing that "the Judiciary must ensure that justice is dispensed in a reasonable period of time" to help re-establish confidence in the process.

Wickramaratne said that the upcoming Budget 2018 would ensure that the country's Judiciary would be provided with the means to fulfil both infrastructure and human resource requirements restricting the delivery of justice in a timely manner.

The new Inland Revenue Act also aims to establish a rules-based society, taking discretionary powers away from political authority, he asserted.

"The act ensures that the people are taxed according to their ability to pay; the second one is creating more certainty," he said, explaining the rationale for the new act, stressing that the Government was aiming to gradually up direct tax collection from its current 18% of tax revenue to 40%.

However, the minister insisted that the country was still a tax haven despite changes made to ensure the tax net is spread wider. Even after the new laws are implemented the country has some of the lowest rates even in the Asian region, Wickremaratne claimed.

The minister also stated that service delivery at the Inland Revenue Department will be improved in the coming months.

"We will work with the Commissioner General of Inland Revenue to see that service provision based on this bill is improved. The first stop for us is Inland Revenue to see that service collection is improved," he said.

The Customs Department and Excise Department, which also come under the ministry, are next on the reforms agenda, Wickramaratne told the audience, adding that the Government would then focus on repealing the 150-year-old Customs Ordinance.

Commissioner General Ivan Dissanayake said the department will update their current RAMIS system once the bill became law. Dissanayake was confident that the department would be ready to implement the law in six months' time.