Says he is disheartened by setback to plans made by his Ministry
Recounts measures and achievements before 26 Oct.
Wants to double arrivals to 4 million by 2022, expects earnings to hit $ 3.5 m by 2018 end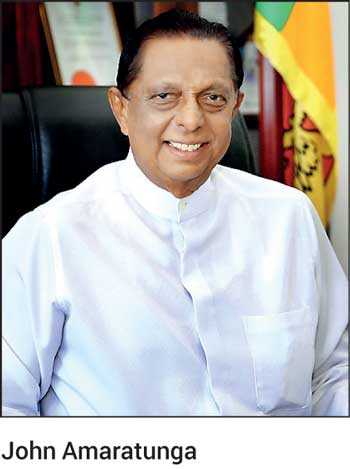 Former Minister John Seneviratne yesterday warned that the political crisis had crippled the prior boom experienced by the tourism industry and called for a swift end to the current impasse.

He made this assertion yesterday a day after November arrivals saw a healthy 17% growth thanks to the flood of the cricket-loving Barmy Army from UK which recorded a hefty 61% increase in tourists. Sri Lanka also crossed the two million mark in tourist arrivals by end November.

"As a former Minister of Tourism Development, I am disappointed and disheartened that plans and strategies envisaged by my Ministry for the development of tourism to reach the vision of making Sri Lanka the tourism hub of the region and the highest foreign exchange earner had undeservedly suffered a major setback due to current political impasses," Amaratunga said in his statement.

Sri Lanka Tourism was on track to be the top most foreign exchange earner of the country with a well-planned tourism strategy overtaking foreign remittances and garment export earnings. Despite politically-coloured setbacks in the form of regular strikes and street protests to upset civilian life and natural disasters experienced, tourism resiliently recorded a steady rise of tourist arrivals reaching set arrival targets, a repercussion of major promotions campaigns worldwide by Sri Lanka Tourism.

The rise was such that Lonely Planet, the global authority of tourism travel, as testimony to many related factors in Sri Lanka's favour recommended the country as the best global destination to travel in 2019.


John...

Year 2015 recorded 1.8 million tourist arrivals, 2016 recorded 2.05 million, 2017 recorded 2.17 million and up to October 2018 recorded 1.88 million anticipating 2.3 million for the year. The set target for 2022 was four million. Total earnings expected by end 2018 was to be $ 3.5 billion.

Sri Lanka received accolades internationally from UK Travellers Association as 'The Best Long Haul Destination for Family Travel; in 2017 and 2018 from National Geography Traveller as 'Sri Lanka on the Cool List in 2018'; and from Vituoso Luxe Report Australia as 'Among the Five Best Popular Destinations for Aussie Travellers'.

The statement went on to say tourism due to current political factors has been "tragically and suddenly derailed" and insisted tourist arrival bookings have been cancelled and the usually robust winter season has been overshadowed by travel advisories issued by several countries.

In addition to leisure travel there has been a decisive negative impact on potential business and other travellers visiting the country, the statement said. The informal sector which also plays a significant role as a contributor to the industry and revenue is facing a severe setback due to massive cancellation via online bookings (OTS), it added.

The industry has a direct and indirect workforce of nearly 650,000 and it was the target of Sri Lanka tourism to reach a 1.5 million workforce by year 2020. The statement noted that due to the crisis, employment and income in the hospitality trade and allied sectors such as transport, food, and local crafts, have been adversely affected.

"If not arrested in a timely manner, the trend will extend to affect the banking and finance sectors as well, affecting overall economic growth. Law and Order boosts Tourism. Tourist arrivals profoundly increased after 2015 and were booming in 2018 and once again undermined by political instability and confusions. I sincerely hope that the present political impasse will come to an end sooner rather than later, to return tourism to its top place in Sri Lanka's economy."