Giant hotelier Jetwing is embarking on a pioneering journey to the luxury resort condominium market with a Rs. 4.5 billion investment to build a 122-unit project in Thalahena, Negombo.

Located on a 3 acre land adjoining the Jetwing Lagoon, the venture 'Waterscape' offers tenants both the sea and lagoon view. The facility, designed by Singaporean Sim Boon Yang of Eco.id, will have eight four-bedroom penthouses, 40 units of 2- and 3-bedroom apartments, and 34 one bedroom apartments.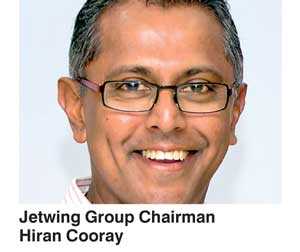 Chairman Hiran Cooray confirmed that Jetwing is the first among Sri Lankan hotel firms to venture into the long-term resort living market, and that it was a conscious strategic move. It is also the biggest project by Jetwing, after its city hotel Jetwing 7 in Colombo.

"There is a dire need to diversify the Sri Lanka tourism product and experience offering. Several exotic Asian destinations such as Bali have done this successfully. We have identified that there is demand for reasonably priced luxury condominium or resort living," Cooray told the Daily FT.

A one-bedroom apartment is between 726 and 1000 sq. ft. and is priced at approximately $150,000;the two-bedroom spanning 1132–1416 sq. ft. will be offered at $200,000; whilst the three-room unit is 1330–1717 sq. ft. and price range is $350,000-400,000. The penthouses are 2310–3578 sq. ft. each and priced at approximately $ 750,000.

Maga has been contracted to build the luxury resort condominium and construction is expected to be completed by 2020.

Cooray stressed there is demand for mid-market resort living, and expects Waterscape to be sought after by foreigners and Lankan expats, as well as locals, for residential/wellness holiday and investment purposes.

"Small families with short-term stays will go for 2-bedroom units whilst the larger families such as those from the Middle East, and those with longer stays, will go for 3-room units," he added. Tenants have the option of having their units serviced by Jetwing.

"The initial feedback we have got is very encouraging," added Cooray. Unlike some of the on-going new resort living project promoters, Jetwing has a rich heritage and experience in hospitality and wellness. "We at Jetwing are the only promoter who can truly provide a unique hospitality and wellness experience," Cooray said. The Jetwing brand now has 1,500 rooms owned and under management, spanning over 30 hotels and villas.

Waterscape is also traveller-friendly since it's located close to Bandaranaike International Airport whilst being quickly accessible from the city as well.