Pre-tax profit up 21% to Rs. 27.6 b, post-tax up 28% to Rs. 23 b and bottom line higher by 29% to Rs. 21 b in FY18
Group revenue gain by 14% to Rs. 121.2 b
Transfer of one-off surplus bolster financial services segment contribution
Transportation, property improve profitability; leisure, consumer foods and retail lag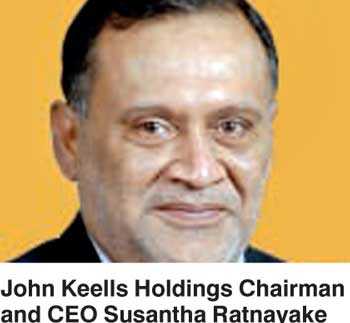 Premier blue chip John Keells Holdings (JKH) yesterday reported its best ever results reinforcing its resilience midst challenging conditions during the financial year ended on 31 March 2018.

Pre-tax profit was up 21% to Rs. 27.6 billion and post-tax grew by 28% to Rs. 23.2 billion. Net profit attributable to equity holders of the parent was up 29% to Rs. 21 billion.

Group revenue rose 14% to Rs. 121.2 billion. Reflecting tougher market and business conditions, gross profit was down 6% to Rs. 29.3 billion and results from operating activities was down 20% to Rs. 11.46 billion.

However, Rs. 3.6 billion (share of result of equity accounted investees up 9% from FY17), Rs. 3.38 billion (change in contract liability due to transfer of one off surplus), Rs. 11.27 billion (finance income up 12% from FY17), and 50% reduction in change in insurance contract liabilities to Rs. 2.5 billion have helped improve consolidated pre-tax profit performance.

Sector-wise, the financial services made the biggest contribution, partly helped by the transfer of one-off surplus. Pre-tax profit amounted to Rs. 8.58 billion, a huge gain from Rs. 2 billion in FY17. Revenue crossed the Rs. 10 billion mark as against Rs. 8.3 billion in FY17.

Consumer foods and Retail, biggest in terms of revenue, Rs. 53.57 billion (up from Rs. 46 billion), reported a pre-tax profit of Rs. 4.1 billion, though lower compared with Rs. 5.46 billion in FY17.

The Leisure sector pre-tax profit was Rs. 3.9 billion, but down from Rs. 5.7 billion. Revenue was almost flat at Rs. 25 billion.

The Transportation segment pre-tax profit was Rs. 3.27 billion, up from Rs. 3.1 billion whilst revenue saw healthy growth from Rs. 11.4 billion to Rs. 17.7 billion.

The Property sector doubled its pre-tax profit to Rs. 1.27 billion. in FY18. A Rs. 613 million change in fair value of investment properly as against Rs. 290 million in FY17 contributed as well. Segment revenue improved to Rs. 1.44 billion from Rs. 1.32 billion.

In the fourth quarter, JKH revenue amounted to Rs. 33.5 billion, up from Rs. 29.8 billion a year earlier. Net profit more than doubled to Rs. 9.96 billion.

JKH announced a final dividend of Rs. 2 per share. Previously, it paid two interim dividends of Rs. 2 each.