Sri Lanka's IT/BPM (Business Process Management) industry surpassed $ 1 billion IT exports last year and it currently earns $ 1.2 billion in exports and has a 23% compounded average growth rate. This means that the industry must reach about $ 1.8 billion in exports this year and needs to add more than $ 500 million in 2019 alone. In this outset, SLASSCOM (Sri Lanka Association for Software and Services Companies) Chairman Jeevan Gnanam sat with Daily FT to discuss the current status of the industry, future plans and how he intends to develop the country to become the best

'start-up' nation in South Asia. He further opined that data science and artificial intelligence in its drive to sharply increase exports in its journey towards achieving

$ 5 billion IT exports by 2022. Below are the excerpts of his interview:
By Hiyal Biyagamage
Q: In 2018, the IT/BPM industry of the country achieved the landmark milestone of $ 1 billion. Looking back at five years where IT exports stood close to $ 750 million, the industry has done a tremendous job within a considerably short period which indeed is a boosting factor for the industry as well as for the economy of the country. Has it been a tough target for the industry?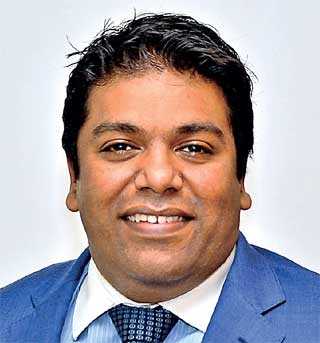 SLASSCOM Chairman Jeevan Gnanam
Considerable effort has been done by the industry to get us this far and I accept we stand on the shoulders of our peers in the industry. However I believe in the context of India we should be able to do a lot more. For example India's IT/BPM exports is known to be around 165 billion. Delhi, greater Delhi and its suburbs with a similar population to Sri Lanka was estimated to be doing approximately 20 billion. So in the context of India we are actually underperforming. From this context, personally speaking and as an entrepreneur I believe our vision of 5 billion by 2022 is an easily achievable target and with concentrated effort, meaning private sector and governments working perfectly together, we should be able to get there.


Q: What is SLASSCOM's vision for start-ups? If you look at the past five years there have been so many policy-related discussions to have a proper system to keep local start-ups up and running. However, we did not see any solid progress. Any thoughts on this?

I strongly believe that there is this window of opportunity that exists where we could market ourselves in the South Asian region as a start-up friendly nation. I want this idea to be take hold and for this to be a strong message we send out as a country.

However, to popularise this concept, we need help from the Government as well. This could be done in four ways. First, we need to be able to create Limited Partnership (LP) structures. This is to allow funds to be set up in Sri Lanka without being double taxed. Secondly, the Government needs to provide tax benefits for angel investors. For example, if an angel investor puts Rs. 5 million, could the Government entirely write-off personal taxes which he needs to pay the Government? This is being done in countries like UK, Singapore and USA.

Thirdly, once the LP structure is there, the Government needs to match the first three or five funds that have been invested by investors on a one-to-one basis. With this, we are trying to create a catalytic push for start-ups. And finally as the fourth point, the Government needs to improve market access for start-ups and give first preference to local start-ups to solve problems.

The start-up friendly nation vision needs these four policies and the industry is quite optimistic that given these things we can catalyse growth. However, we need the Government to assure the industry would get LP structures, benefits for angel investors and expand market accessibility for local start-ups. If we could get those from the Government, the start-up ecosystem of the country can be boosted.


Q: With $ 5 billion by 2022 set as the next target, there is a big hurdle that the industry needs to jump over which is the shortage of skilled workers. How do you plan on overcoming this obstacle?

Yes I agree that there is a huge supply deficit in the country. In search of a solution, we met and discussed with an industry body called SLANSHEI, the association of private higher education institutes in Sri Lanka. We threw them the same challenge and they are willing to double the capacity to facilitate the industry. I think they do about 1,500 students now and that was beyond the 7,000 students that we had known about. We asked them whether they could increase the number to 3,000 and they are very keen and do that.

In the meantime, we are trying different strategies like going up the value chain. For example we launched 'AI Nation' last year as the next big pillar for IT sector growth in Sri Lanka. We were able to organise a summit as well which was well attended. So there are many things we are doing to push people and get them excited about artificial intelligence which will take us up the value chain.

I think we should do both. We have to go up the value chain as well as add the capacity and this will have a multiplier effect on our growth.


Q: How do you look at going out from Colombo and promoting this concept?

Hatch already has a co-working space in Jaffna, where we work closely with Yaarl IT and GIZ. We have about 4,000 sq. ft. there. We want to do something in Kandy and Galle as well. In that way, we are slowly building traction to make things happen in other regions as well. Last year, SLASSCOM organised an event called Southern IT Week where we went to Galle and Matara where we experienced a good crowd showing up.


Q: How was the AI summit in 2018? And what were some of the key learnings that you took out from organising such an event?

It was an amazing experience for me. By organising such an event, what we wanted to do was raise awareness and tell people that there is so much to learn, or so much to do and we are very much behind. We need to accelerate our growth and pace to be where we need to be within the next three years. AI Asia Summit is now the countries defacto thought leadership summit in AI for Sri Lanka and as a legacy challenge for SLASSCOM, the challenge is to make the summit one of the biggest in the region.

The attendees at the summit basically became aware of what they did not know about AI and the infinite possibilities of AI. I think that was a good eye opener for the people who attended the event. We did have a limited number of seating but that was just a start.

We really want conversations to begin now. I know few companies who have had not thought about AI; are trying to recruit full-time employees and figuring out what benefits they could achieve, which is fantastic and the type of change I wanted to effect.


Q: If you look at the IT/BPM sector of the country, the predominant focus is on software development and Finance Accounting Outsourcing (FAO). The country is currently looking at more high export values and you are pointing out that AI and data science could be one main pillar. Any specific plans you have on your mind on setting that up?

So software development and FAO are the current two pillars holding the IT/BPM sector up. Particularly with the large number of statisticians Sri Lanka has, I believe with some up-skilling we can create our third pillar. The third pillar of Data Science and AI. We need to do it now.

We will be releasing an AI Policy that I am personally working on with industry thought leaders. We expect to share the policy by mid-February and it will outline the plan that we need for the next five years to make us a formidable force to reckon with in Data Science and AI.


Q: Few years back, the ETCA (Economic and Technology Co-operation Agreement) came out and there were a number of discussions around it and how the industry and IT jobs of the country could be affected by the agreement. Now there is a huge discussion about the Singapore FTA as well. Any ideas on the issue which pertains to importing talent into the country?

I think if we want to become Singapore, we need to think like Singapore. It's as simple as that. Does anyone know how Singapore reached its current state? They had a limited population, much less than us, so how did they do it? They simply invited skilled people from the region into Singapore and created a framework for sustainable growth.

We have to do the same thing. Our strategy is selective skilled migration. What this means is if we do not have AI skills, let's get people with AI skills into Sri Lanka. Simultaneously, let's build our own capacity and give opportunity for our own people to develop. Doing both will make us a competitive market place and country for services, again much like Singapore.


Q: Apart from building the AI and data science pillar as well as facilitating the start-up nation, any other key plans that you would like to share with us?

There were five things I wanted to do when I became the Chairman of SLASSCOM. Those are promoting and encouraging AI and data science, building the start-up friendly nation momentum, building bridges to countries like Singapore on the back of the free trade agreements, promoting selective skilled migration, which will surely make me very unpopular in the country (laughs), and to expand the presence of the industry out of Colombo where the developments will happen in regional cities like Galle, Kandy, Matara, etc.