New report says exports can lead to an expanded formal sector, higher wages and gender equality
Calls on governments to focus on increasing exports, address skills shortages for competitiveness
60% of SL's labour market is informal, more women need to be part of formal workforce


By Uditha Jayasinghe

An uptick in exports can lead to higher wages, draw workers into the formal sector and improve inclusivity, according to a new report, which calls on governments to focus on skills empowerment and competitiveness. The new report, "Exports to Jobs: Boosting the Gains from Trade in South Asia", shows that increasing exports would boost average wages. The report, jointly produced by the World Bank and the International Labour Organisation (ILO), breaks new ground in examining the impact of exports on local labour markets in South Asia.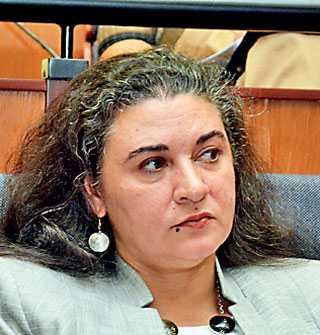 ILO Country Director Simrin Singh - Pic by Upul Abayasekera
The report says South Asian countries stand to make greater gains from greater export orientation, as it allows labour to seep into the formal sector, where they are likely to get better salaries and social protection, as well as focus on sectors that make them more competitive to boost economic growth. This shift would be more important for a country such as Sri Lanka that has an aging population, which would necessitate higher levels of skills than other lower middle income countries.
"As in other South Asian countries, Sri Lanka's labour market is characterised by the high degree of informality, 60% to be specific. The important challenge is therefore to facilitate transition from informal to formal employment, and to raise the quality of jobs. Promoting a more inclusive growth path, such as including more women in the workforce and encouraging a reduction in the wage gap, is also important. Sri Lanka's workforce should have access to high level skills training to give them access to good jobs," said ILO Country Director Simrin Singh.

She also pointed out that Sri Lanka's high youth unemployment of about 21% is a significant anomaly, given that the national average is just 4.1% and the global youth unemployment rate is about 13%. Sri Lanka has seen some structural changes in the economy, with the largest employment being in the services sector. But to continue this expansion and add better jobs in the future, policies that allow the labour market to grow into higher value products and diversify are essential for Sri Lanka.

"What kind of benefits could more globalisation bring for a country like Sri Lanka? Understanding the impact of globalisation on labour markets continue to be an important issue for Sri Lanka and especially important to ensure the right policies are in place to ensure everyone benefits," Singh added.

"Our research shows that exports can improve the performance of local labour markets, and that policies need to be put in place to increase exports in South Asia, while ensuring that the benefits of higher exports are shared more broadly," said one of the report's authors, World Bank Lead Economist Gladys Lopez-Acevedo. "Addressing constraints that prevent people from moving and from switching to new jobs is important."

The report provides options on how to expand and widely share the benefits of higher exports. Improving workers' skills, getting women and youth into more jobs, and addressing distortions that make labour mobility costly are some of the recommended policy actions.

Sri Lanka grew at an average rate of 5.8% between 2010 and 2017, and the number of people living in poverty also fell. However, many Sri Lankans still don't have regular jobs in the formal economy and there are large differences in wages across regions and worker characteristics. Sri Lanka's exports have fallen from a high of 39% of Gross Domestic Product (GDP) in 2000 to only 21.4% of GDP in 2016, with export growth limited to a few industries such as textiles, apparel and agriculture.