Board of Investment (BOI) Chairman Hemasiri Fernando yesterday dismissed all allegations made with regards to employment appointments and said he had made no new appointments nor increased the number of permanent employees.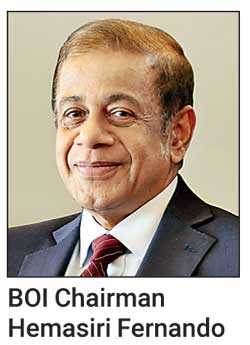 Issuing a statement Fernando noted that no additional appointments or permanent positions had been made by him and reports to the contrary tarnished the goodwill of the BOI, as the apex body for investment promotion and facilitator of projects that benefit the country. "Since I took over as the Chairman of the BOI on 29 October, neither have I appointed anyone nor have I made any employee under permanent cadre.

Therefore, I urge all media institutions not to publish reports without knowing all relevant facts, which are causing great damage to the goodwill of the institution," the statement said.

Further in his statement, Fernando called on the general public not to get mislead by reports published.