Points out debt bunching created by high ISB borrowings during former Govt.
Says high interest ISBs grew 21 times from 2005-2014 to $5billion, some terms loans were also at high interest​
Having caused debt MR also responsible for economic fallout from Constitutional crisis
Constitutional crisis resulted in SL credit downgrade which forced Govt. to borrow at high interest


Non-Cabinet Minister of Economic Reforms and Public Distribution Dr. Harsha de Silva yesterday said dual blame should be placed on Opposition Leader Mahinda Rajapaksa,as Sri Lanka's high debt repayments were caused by increased International Sovereign Bonds (ISBs) during Rajapaksa's tenure and funds for their repayment had to be borrowed at high prices because of the constitutional crisis last year caused by the same actors.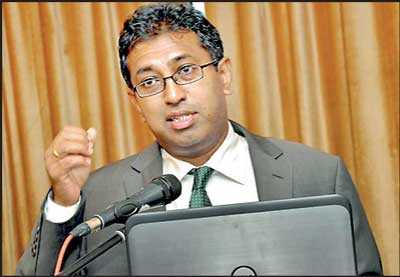 Dr. Harsha de Silva
Soon after the Constitutional crisis, the Government obtaining loans at commercial rates attracted heavy criticism in the Parliament. But Dr. de Silva pointed out this was because the constitutional crisis caused a rating downgradethat left Sri Lanka with no option but to go for commercial rates, even knowing the consequences.

Rejecting Opposition charges, Dr. de Silva said: "Before the constitutional crisis, our bonds were traded at the secondary market for rates less than 6%, as at 26 October. After the constitutional crisis, as at 29 November, it had gone up to 9%. The instability created by establishing an illegal government led the international rating agencies to reduce our country rating. Gradually the rates have gone down to 6.7% where our 5-year bonds are getting traded. This is the reason we had to borrow at 6.8%."

"At the beginning of the Mahinda Rajapaksa era in 2005, ISBs (International Sovereign Bonds) and syndicate loans obtained at commercial interest rates remained at $238.5 million. But when he left at the end of 2014, ISB and syndicate loans were at $5,024 million. This is an increase of 21 times of the loans taken on commercial rates. In 2019, the outstanding has gone up to $11,994 million. We have to obtain loans but should not get caught in debt traps," he added.

Referring to a book which the Opposition lawmaker Gunawardana has written on the economy highlighting the recent years, Dr. de Silva said: "Dr. Bandula Gunawardana recommends reading a few pages from the book he has written on the economy before going to bed. I would like to see the change you have made with time. I did the keynote speech at the launch of your previous book, 'Country to the front' (Rata Perata). You wrote it while in the Opposition mostly criticising Mahinda Rajapaksa. Well, let me have a copy of your bedtime stories."

Sri Lanka's economy grew only by around 3.1% in 2018 well below the envisaged levels of the Central Bank of Sri Lanka (CBSL), as a result of disruptions from droughts and floods, and policy tightening. However, the CBSL expects the economy to recover in 2019 and will grow by 4.5%. According to Minister de Silva, the economy grew by 8.2% during the post-war era due to the massive construction spree launched on loans.

"But this growth rate fell to 3.5% and has failed to go over 4% - 4.5% even now. We need to understand the basics for this fall whereas our country is now stuck in the middle-income trap. Many things need to be done if the country is to be taken out of it. So the Minister of National Policies and Economic Affairs, Prime Minister Ranil Wickremesinghe laid the foundation to change the entire structure of this economy. We are trying to establish a knowledge-based highly competitive social market economy being the centre of the Indian Ocean. We have presented this in our 'Vision 2025'," he explained.

In order to reach and cater to the future demand for knowledge-workers from this year's Budget, the Government has made it mandatory to have 13 years of education and has allocated Rs.32,000 million to support the program, which will improve the laboratories, classrooms, libraries, sanitary and water facilities, teachers' quarters.

"Enabling youngsters to enter our labour force, we have made it mandatory to have a 13-year education. They are offered 26 new subjects for the Advanced Level Examination. We commend the Opposition lawmaker Bandula Gunawardana for introducing technology streams. Enabling more to obtain a university education, we have offered a Rs.1.1 million loan for atertiary education that can be repaid in 12 years. Our efforts are to free the country from the middle-income trap it is stuck at the moment," said the Non-Cabinet Minister.

However, Dr. de Silva, criticized the Opposition for misleading the public by spreading wrong information. "Dr.Gunawardana is a learned person. He can understand without listening to a third-party. The problem we have faced is loan repayments such as ISB or syndicated loans. In the past, we were repaying the loans for 30 years at a stretch. For example, we are starting the construction of the light railway between Malabe and Borella. We are obtaining a loan of Rs.48 billion at 0.1% interest rate from Japan. The borrowing for the roiling stock is taken a 0.01% rate. The previous Government obtained a project loan of $350 million for Hambantota at 6.3% interest. Another example is the loan obtained to construct the Kelani Bridge. It is also at 0.1% interest. There is a considerable difference between what we have obtained and what you took."

"There is a lot of work undertaken by the Ministries coming under the Prime Minister. For instance, land under State custody is increasingly released. There is a national program for mine action. Out of 15,000 owner-driven brick and mortar houses for the north and the east, construction has already begun on 10,000. A house will cost Rs.1 million. There is a high priority road for the Northern and the Eastern Province. A four-lane highway is to be built from Talaimannar to Trincomalee," revealed Dr. de Silva. (AH)