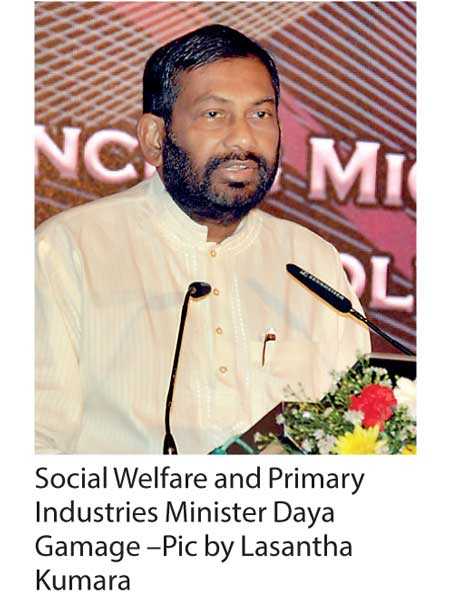 By Charumini de Silva

In a fresh attempt to link smallholder farmers into modern agriculture value chains, the Government is planning to ink two agreements with China and India before the end of the year, a top Minister confirmed.

"We are in discussions with China and India to support us to modernise our agriculture sector with necessary technology and technical transfers. We hope to sign these Memoranda of Understanding (MOUs) by the end of this year," Social Welfare and Primary Industries Minister Daya Gamage told Daily FT.

He said the Ministry had already entered into similar agreement with Bank for Agriculture and Agricultural Cooperatives of Thailand, where they encourage farmer-agribusiness partnerships to diversify and promote high-value, export-oriented food crops.

Govt. to ink...

"By exploring new opportunities and partnerships like this helps to attract new technology that is needed to modernise the highly labour intense agriculture sector. It also creates attractive job opportunities for women and youth which will help to increase rural incomes," he added.

According to him, the initiative is an outcome of the World Bank funded project to modernise the agriculture sector. "The World Bank granted over $ 100 million to support value chain development to promote commercial and export-oriented agriculture, with focus on higher value agriculture products, such as fruits and vegetables."

He said it also provides investments to improve productivity and diversify production patterns through modern agriculture technology demonstrations in key areas and supports new institutional arrangements through farmer organizations and farmer-agribusiness partnerships. In addition, it will support agricultural policy development to help the Government determine the sector's future direction.

The Primary Industries Ministry so far has approved over 100 individual projects and around 500 to 600 cluster concept projects in the areas of fruits, vegetables, apiculture as well as for fisheries.

"In many regional countries they have dedicated agriculture banks to support farmers, where they link directly with them. Usually, through this type of agreements it only allows consultation of academic experts, but the key advantage here is that it enables practical entrepreneurial knowledge sharing. By partnering with these countries helps us to boost economy through value chain development for export promotion," Gamage pointed out.