Plantation Ministry seeks approval from Agriculture Director and Finance Ministry to publish gazette soon to enable industry to use weedicde for August next season
Weedicide to be distributed to market via CPC outlets countrywide
Ministry-appointed special committee to determine glyphosate quota for industry
Minister says ban on glyphosate cost tea industry alone Rs. 26b during past three years
By Charumini de Silva


Plantation Industries Minister Navin Dissanayake said steps would be taken to officially remove the ban imposed on glyphosate for tea and rubber via a gazette notification issued within the next two weeks.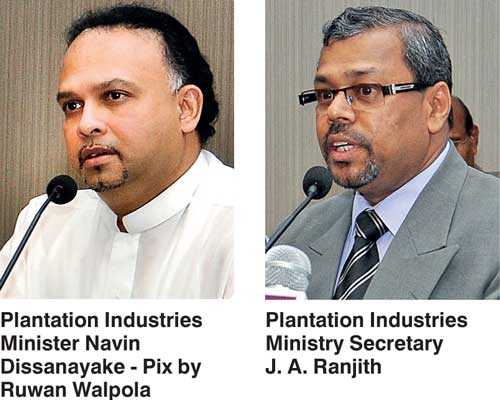 "We are now getting ready to publish the gazette de-banning this (glyphosate) weedicide. Within the next two weeks the weedicide will be distributed to the market via Ceylon Petroleum Corporation (CPC) outlets countrywide," he told the Daily FT.


Plantation Ministry Secretary J.A. Ranjith said the ministry hoped to have all clearance ready for the industry by mid-June, which is required by RPCs for cultivation purposes in August.


"Before publishing the gazette, we need to get two clearances from the Director of the Agriculture and Finance Ministry. Approval from the Director of Agriculture has now proceeded to the Legal Draftsman Department.


We are now in the process of getting approval from the Finance Ministry under the Import and Export (Control) Act, No. 01 of 1969 to allow for the import and use of glyphosate," he explained.


Ranjith said that with companies keen to use the weedicide for the August cultivation season, the ministry was fast-tracking the process to make it available by the middle of next month, with it originally planned to be released to the market on 15 July.


In terms of distribution, he said they hoped to release the weedicide to the Regional Plantation Companies (RPCs) and smallholders through the CPC distribution network.


Planters' Association Chairman Sunil Poholiyadde said the ministry had appointed a special committee to determine the glyphosate industry requirement to be imported to the country as the Government had only allowed the weedicide to be used for the tea and rubber industries.


"There is a control on the industry requirement. Thus, a special committee has been formed by the ministry where they will allocate each company its quota. Depending on the tea or rubber extents, each company will submit their requirement of glyphosate and the committee will then order the total requirement of the industries to be imported via the normal process," he added.


Minister Dissanayake stated that short-term vision and emotional and unscientific decision-making by the administration had cost the tea industry alone a staggering Rs. 26 billion during the past three years.


"The popular opinion was that particular weedicide was to be banned, but the industry wanted a different view, while my research institutes also supported me on it and we fought for that. We are now happy to say that this policy decision will be reversed. Therefore in every issue we can have different opinions, a variance of thinking, but we have to come to some consensus on how to move forward and stand for the national interests," he stressed.