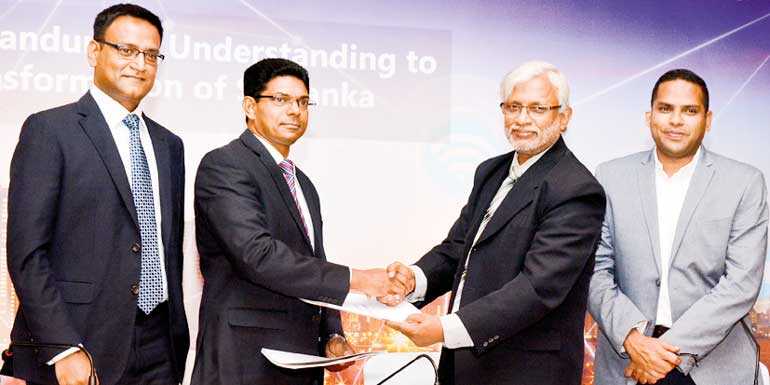 Microsoft Sri Lanka & Maldives Country Manager Hasitha Abeywardena (2nd from left) and Telecommunication, Digital Infrastructure and Foreign Employment Secretary Wasantha Deshapriya exchange the MoU, in the presence of Microsoft Asia Pacific Public Sector General Manager Vivek Puthucode (left) and Telecommunication, Digital Infrastructure and Foreign Employment Minister Harin Fernando – Pic by Upul Abayasekara
By Charumini de Silva

Sri Lanka's plans to boost economic growth, which place digital transformation and connectivity high on the agenda to usher a new era of optimism, was sealed yesterday, with the Telecommunication, Digital Infrastructure and Foreign Employment Ministry entering into a landmark agreement with Microsoft in Sri Lanka to provide effective citizen services.

The Memorandum of Understanding (MoU) is the realisation of the country's e-Government Policy and plans for digital transformation, which includes: establishment and implementation of the digital transformation blueprint for the Government; public sector capacity building and productivity enhancement; a software procurement program to ensure a secure and seamless collaborative working environment for the public sector for better citizen services; a cyber-security risk assessment across the Government and security programs; skills development for students with a special focus on the implementation of 'Smart Classrooms' and digital education; and technical assistance and expertise on the e-Govt. policy and plan.

The MoU was signed between Telecommunication, Digital Infrastructure and Foreign Employment Ministry Secretary Wasantha Deshapriya and Microsoft Sri Lanka Country Manager Hasitha Abeywardena, in the presence of Telecommunication, Digital Infrastructure and Foreign Employment Minister Harin Fernando and Microsoft Asia Pacific General Manager (Public Sector) Vivek Puthucode.

Speaking at the event, Minister Fernando said although it was long-overdue, this was a significant milestone for Sri Lanka to drive the country's digital transformation.

"I am happy to see that there are initiatives being taken to bridge the digital divide in the country, and I am quite ecstatic to see what Microsoft is willing to do for the country. I see an amazing future for Sri Lanka," he said.

He went on to state that in the future, there will be various projects that the Government will carry out with the support of Microsoft, particularly on cyber security and guidance on the procurement process. Noting that Ministerial portfolios are always temporary, Fernando highlighted the need for Government officials to carry forward initiatives and legacies across governments.

He said that the mindset of the people in the country is a major stumbling block in achieving the set targets, while stressing that it is important that best practices are brought into the systems. "People don't believe that we are digitally connected. The Government service don't believe it, the Government servants don't want to transfer from the old system, and they don't want to go to the digital era. This is where we need Microsoft's support to change the mindset," Minister Fernando emphasised.

Highlighting that Sri Lanka is now in the right place, at the right time, Fernando however stressed that it was critical to be digitally savvy and that the only way forward was to prepare the youth to take up the challenge.

He expressed his displeasure at the Government for shutting down the initiative of providing Advanced Level school children tablets for their education purposes. "I am unhappy that, even though we had a massive initiative to provide 10-inch tablets with keyboards, it was shut down over the unfortunate defeat at the Local Government Election, because the Government thought giving fertiliser was better than giving a tablet – which I don't agree with, but that's how things roll. I think the true fertiliser would have been the tablets, because that is knowledge," he argued.

He said that every Government needs to stay current and agile, and adapt to the demands of this ever-changing technology landscape in order to provide accurate and up-to-date citizen services anywhere, any time.

Microsoft in Sri Lanka Country Director Hasitha Abeywardena said the firm brings to the table the unique ability to provide a hybrid cloud environment, with the best of both the public and private cloud, to Sri Lanka.

"We are proud to foster innovation through our developer community, who are building next-generation AI applications on our cloud. Even more importantly, it's about empowering everyone to fully participate in our society and our economy, using technology to drive greater investment opportunity and FDI to the country," he added.