Calls for Govt. to be transparent on debt challenges
Appeals for formulation of credible debt strategy to bolster investor confidence
By Asiri Fernando

The Government should outline how they plan to service an estimated $ 6 billion of debt in 2021, Samagi Jana Balawegaya (SJB) Parliamentarian Dr. Harsha de Silva stated on Sunday.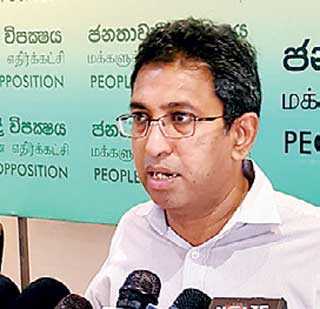 SJB MP

Dr. Harsha de Silva
Speaking to media, Dr. de Silva pointed out that in 2021 the Government would need to meet large debt repayments, including sovereign bonds issued in 2011 and 2012. These will be included in repayments of $ 2.6 billion that will mature in the second and third quarters.
Short-term external debt servicing in 2021 is roughly $ 4.5-4.8 billion, of which $ 3.3 billion is comprised of marketable debt securities (Sri Lanka sovereign bonds and Sri Lanka Development Bonds).

De Silva also rejected statements by a Government parliamentarian that debt repayments due this year were to meet debt issued during the former administration.

"We need to be truthful about these issues. The sovereign bonds that mature this year were issued during the time of President Mahinda Rajapaksa. If you analyse the issue, you can see that the Government has $ 6 billion worth of outflows to meet. If someone says repaying it is not a problem that is wrong. If someone says that there are only $ 1 billion dollars to repay for maturing bonds and that the Government can do that, who will pay the rest of the $ 5 billion?" queried Dr. de Silva.

The former State Minister for Economic Reforms noted that the Government had to repay loans from the World Bank and Asian Development Bank, and repay bilateral loans from China and India, as well as repay SWAP agreements.

Stressing that "denial is not a strategy," the Opposition lawmaker pleaded with the Government to face reality and outline a strategy to service debt.

"Sri Lanka's foreign reserves were $ 5.7 billion as of 31 December while the Central Bank had notified that reserves stood at $ 4.8 billion as of 1 February. $ 900 million has been spent in the month of January alone," he added. Reserves also fell due to the repayment of a $ 400 million swap from India earlier this month.

"I can responsibly state that the Government has had SWAP agreements worth nearly $ 1 billion with local banks. That has to be repaid or local banks such as Peoples Bank, Bank of Ceylon, Commercial Bank, HNB, Sampath and others will be hit badly. The Government has a responsibility to repay what it took. As a last resort, we only have $ 400 million in gold reserves."

De Silva argued that the Government could no longer continue to be in denial, and called for the public to be told of the magnitude of the financial crisis the country is facing, and to be transparent with a well thought out strategy on debt servicing.