Nearly 150 iconic German brands take part in promotional event
German Ambassador says German-Sri Lankan relations have seen excellent improvement during last few years
AHK Sri Lanka committed to boost Sri Lankan economy
Malik keen to see more German manufacturing brands in Sri Lanka to serve international markets
By Charumini de Silva

Nearly 150 German brands were represented at the sixth edition of the 'Top German Brands in Sri Lanka' organised by the Delegation of German Industry and Commerce in Sri Lanka (AHK Sri Lanka) with the support of the Embassy of the Federal Republic of Germany yesterday.

The event saw 147 German Brands being recognised for their valuable contribution which was held under the patronage of Development Strategies and International Trade Malik Samarawickrama, German Ambassador Jörn Rohde and AHK Sri Lanka Chief Delegate Andreas Hergenroether.

As the official representative of German business, Andreas Hergenroether said they were committed to creating a level playing field, transparency, fair and free trade.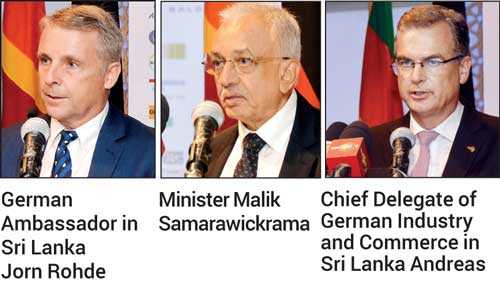 "German-Sri Lankan business relations are growing steadily. While Sri Lankan exports to Germany grew by 9.2% during the first half of this year, German exports to Sri Lanka rose by 4%. We are confident that there are a lot of opportunities of cooperation in the future," he added.

He also noted that 50% of the companies stated the Sri Lankan economy will remain unchanged or improve in its latest business survey conducted. "Regarding their perspective industries, German companies in Sri Lanka evaluated the outlook more positively. About 75% stated that their industry will stay unchanged or improve, about 44% think prospects for their industry will improve," he added.

Hergenroether said 147 German brands participate in the Top German Brands in Sri Lanka 2019 initiative, reflects the growing interest of German companies to be strategic partners of their Sri Lankan counterparts.

"German products stands for highest quality standards and outstanding innovation, German businessmen for fair business, reliability and long-term partnership," he emphasised.

For 2020, AHK Sri Lanka will organise a German business delegation, conference and B2B meetings in Colombo focused on the field of sustainable mobility from 27 to 30 January. In addition, an outgoing delegation to Germany and incoming delegation to Colombo will be organised on energy efficiency industry later.

Chief Guest Trade Malik Samarawickrama underlined the strong longstanding German-Sri Lankan business ties.

"Germany has extended its economic engagement with Sri Lanka, with many initiatives aimed at improving bilateral connection between the two countries. Sri Lanka shares similar sentiments as Ambassador Jörn Rohde, as we too are keen to ensure the German-Sri Lankan ties reach its full potential," he added.

The Minister also said he learnt that in a recently conducted business survey by AHK Sri Lanka, 62.5% of the companies declared that they have achieved their business targets in 2018, while about 75% stated that their industry will stay unchanged or improved and approximately 35% think prospects for their industry will improve.

"We value your presence in Sri Lanka and the contributions made to our economy. I am committed to the mechanisms we have put in place to resolve you constraints and issues in a timely manner, like the new German Fast-Track Dialogue and I encourage all of you to make full use of it," Samarawickrama stressed.

He said German brands are globally recognised for their superior quality and innovation and that he has always been impressed with the attention to detail, to quality and precision.

Acknowledging the fact that there had been a steady pick up in bilateral trade between the two countries the Minister said he look forward to close engagement with top German companies join Sri Lanka on this journey. "I also look forward to seeing more German manufacturing brands in Sri Lanka with growth in production here to serve the regional and international markets."

German Ambassador Jörn Rohde said German-Sri Lankan relations have seen an excellent improvement during the last few years.

"This year's edition of 'Top German Brands in Sri Lanka' presents brilliant chances and perspectives yet again and it is reflected in the number of companies in the 2019 edition," he added.

He said Germany has actively supported Sri Lanka's efforts in democratic reform, reconciliation and economic modernisation.

While commending the efforts by the Government taken to improve the macroeconomic fundamentals, the Ambassador however said that there was still room for improvement particularly in reducing the red tape particularly in the areas of doing business, level playing field, liberalisation (freight forwarding, shipping) and land ownership restrictions related to tourism.

The Ambassador also said Germany has further strengthened its footprint in Sri Lanka with the opening of the AHK Sri Lanka in March 2018.

The keynote address was delivered by Deutsche Bank Singapore Managing Director and Head of Asia Macro-Strategy Sameer Goel titled 'Navigating through volatility', who presented an analysis of current economic global challenges and opportunities including Sri Lanka with special attention being paid to the economic development and the regional impact of the island and its economic activities.

During the event the participating top German brands had the opportunity to showcase their outstanding innovations in a promotional film series and to network.

Germany, which is regarded as a world champion in industry and trade, is becoming an increasingly important business partner for the island. Sri Lankan exports to Germany grew by 13% in 2017 to 653 million euros whereas the imports from Germany increased by 81% to 570 million euros. The total direct investments to Sri Lanka from Germany amount to $ 1.2 billion in total and to $ 6 million in the year 2017.

AHK Sri Lana is part of the German Chamber Network abroad of more than 140 offices around the world. Supported by the Federal Ministry for Economic Affairs and Energy and coordinated by DIHK the German Chambers abroad, the Delegations of German Industry and Commerce represent the interests of German businesses in their partner countries. Furthermore, they provide competent services and offer a platform to create business opportunities for both Sri Lanka and Germany.
Pix by Upul Abayasekara