PM appeals for calm, says toughest action will be taken against disrupters of the peace
Insists Easter Sunday attacks linked to global terror and investigations proceeding well
Warns clashes will only destabilise the country and worsen economic impact
Calls for public to stay calm, work to restore peace
Prime Minister Ranil Wickremesinghe yesterday said powers had been given to armed forces and Police to take strong measures against anyone disturbing the peace and appealed to the public to stop behaving in ways that would destabilise the country. Wickremesinghe issuing a statement said that triggering clashes in more areas would only lead to destabilisation and further damage to the economy that has already been seriously impacted by the Easter Sunday attacks. He appealed for calm and asked the public to support the security forces and Police in their duties.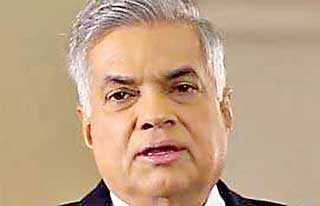 Ranil Wickremesinghe


"The Easter Sunday attacks were caused by global terrorism. Investigations into the attacks are ongoing and almost all the people linked to the attacks have already been apprehended by the Police and military very successfully."

"However, if peace is disrupted and communal violence erupts the country will become unstable. Because of these incidents of sabotage the security forces will face challenges in carrying out their duties," the Prime Minister said.

He pointed out that the aim of those instigating these clashes was to sow difficulties for the Police and military and distract from their duties. Cautioning that continued clashes could disrupt the Vesak celebrations as well, he appealed for the public not to be misled by false reports.

"Clashes have taken place in several areas in the Wayamba District but the situation has now been controlled by Police and military. These groups are trying to create more clashes in other parts of the country. They are trying to disrupt the everyday lives of the public and destabilise the country. This cannot be allowed so the Government decided to impose curfew countrywide," he said.

He went onto say the Government will take the toughest possible action under Emergency Regulations against anyone disrupting the peace.

"I have given the utmost power to the security forces under Emergency Regulations to bring this situation under control."