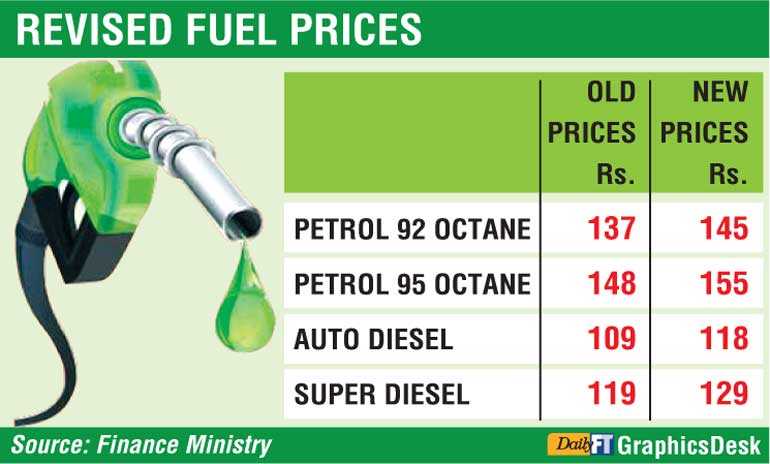 Following a meeting with President Maithripala Sirisena, a decision was made to increase fuel prices with effect from last midnight.

Accordingly, the new Ceylon Petroleum Corporation (CPC) fuel price revision increased Petrol 92 Octane by Rs. 8, Petrol 95 Octane by Rs. 7, Diesel by Rs. 9 and Super Diesel by Rs. 10.

The initial price increase, which was announced earlier this month, was rowed back on the instructions of President Sirisena.

However, Finance Minister Mangala Samaraweera and Treasury officials who were present at the discussion yesterday had explained to the President that a transparent fuel pricing formula was implemented by the Government in May under which prices were to be changed every three months based on the average prices of the last two months. It was under this measure that prices were changed earlier this month.

The President had also been apprised of the significant losses incurred by the Ceylon Petroleum Corporation (CPC) and the need to increase prices to reduce pressure on Government finances. Central Bank Governor Dr. Indrajit Coomaraswamy last week said the increase in fuel prices was unlikely to affect inflation significantly with Sri Lanka expected to maintain a mid-single-digit inflation rate this year.

Fuel pricing formulas are followed by many countries around the world with prices fluctuating on a daily, weekly or monthly basis.