From left: Manipal Technologies CEO Abhay Gupte, Risk Management National Payments Corporation of India SVP and Head Bharat Panchai, Central Bank Payment and Settlement Department Director Dharmasiri Kumaratunga and Lake House Printers and Publishers COO Tony Johnpillai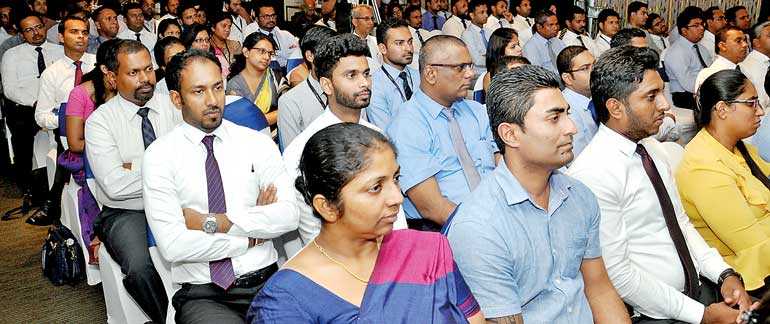 Manipal Technologies Ltd. (MTL) India launched their fraud detection solution 'CrossFraud' in Sri Lanka yesterday.

This event was part of the conference on 'Fraud and Risk Management', attended by over 120 senior Sri Lanka bankers who manage their bank's risk and fraud portfolio.

Central Bank Director – Payments and Settlement Dharmasri Kumaratunge was the Chief Guest for the event.

CrossFraud is an enterprise fraud and risk management solution catering to the changing needs of the banking and financial institutions in this fast-paced and evolving digital payments ecosystem. This fraud detection solution helps banks to contain their risks and importantly protect their customers. It provides banks and financial institutions a comprehensive fraud and risk management tool by covering multiple input sources, such as ATM, PoS, internet banking, mobile banking, teller, non-financial transactions, etc., providing the Banks with a 360° view of their customers behaviour. The solution significantly reduces the overall cost of operations for the bank and improves the risk management.


National Payments Corporation of India (NPCI) SVP and Head – Risk Management Bharat Panchal,

in his keynote address, shared his immense experience of managing cyber-security and fraud in banking industry in India.

He mentioned: "Cyber-security is one of the biggest challenges these days to running a business safely. Fraudsters are using innovative and completely unique techniques to commit cyber crimes. The ecosystem must be protected with adequate safeguards for early detection of such an act to reduce the damage."

He recommended the bankers to "focus towards predictive and proactive risk management with the help of advanced technology, along with effective governance and cooperation among banks".

CrossFraud is a futuristic solution built on a hybrid platform that leverages both artificial intelligence and business intelligence to maximise the flexibility and accuracy of fraud detection. Using this hybrid system leads to an ecosystem which combines the deterministic power of business intelligence with non-deterministic strengths of neural network and artificial intelligence. This provides the banks with a system that will detect frauds with higher accuracy, lower false positives, and high expandability. As a result of using this hybrid system, the banks can objectively decide on the occurrence and detection of frauds. The solution is backed by deep and qualified research that has resulted in patents granted by the US Patents Office. The patents have been granted for the uniqueness of the approach, which involves the detection of sub-sequences to accurately predict potential fraudulent sequence of events.

MTL CEO Abhay Gupte stated: «Our innovative solutions, using state-of-the-art technologies, have been driving changes in the banking industry in India for the last 77 years. With the launch of CrossFraud in Sri Lanka, the growing banking and financial service sector can now deploy our world-class solution. Our solution has been implemented for leading banks in India and abroad, and our clients (banks) have seen significant reduction in frauds. There is a growing demand to implement AML (anti-money laundering) and fraud and risk management solutions by regulators across the globe, and we are well-positioned to meet the challenging needs of banks. With the changing scenario in the global payment sector and ever-growing threats of fraudsters, we feel that banks in Sri Lanka will move towards adopting such solutions."

MTL has launched this cutting edge solution in Sri Lanka in association with Lake House Printers and Publishers PLC (LHPP). Lake House Printers and Publishers PLC Chairman Ranjith S. Wijewardene commented that MTL and LHPP have been associated for over a decade in providing solutions to banks in Sri Lanka. "Together, we serve major banks in Sri Lanka for various banking solutions. With the launch of CrossFraud solution, we are taking our association to the next level of digital offerings to our valued customers in Sri Lanka." The event was moderated by MTL Vice President and Business Head Rajesh Shet.

CrossFraud AVP Kiran Rao and MTL AVP – Solution Sales Ashwin Shenoy demonstrated the solution. Tony Johnpillai, COO, LHPP offered the Vote of Thanks.

- Pix by Ruwan Walpola