SL reiterates it remains committed to domestic accountability process, despite withdrawing from Resolution 30/1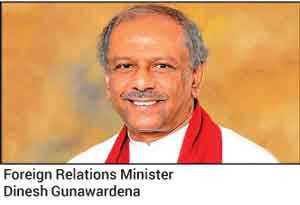 Foreign Relations Minister Dinesh Gunawardena on Wednesday briefed the Cabinet on the reply submitted by Sri Lanka clarifying the stance in relation to the allegations made against the country by the United Nations High Commissioner for Human Rights (UNHRC) as well as the United Kingdom, which heads the Core Group on Sri Lanka at the 45th Session of the UNHRC underway in Geneva.

Acting Permanent Representative of Sri Lanka to the UN in Geneva Dayani Mendis told the UNHRC that Sri Lanka has made it clear even as it withdrew from the co-sponsorship of Resolution 30/1, that it will remain committed to achieving reconciliation, accountability and human rights within the framework of the Sri Lankan Constitution, through a domestically designed and executed process in line with the Government's policy framework.

Cabinet Spokesman Minister Keheliya Rambukwella also told reporters on Thursday that Sri Lanka has already taken the necessary steps to withdraw from the co-sponsorship of Resolution 30/1.