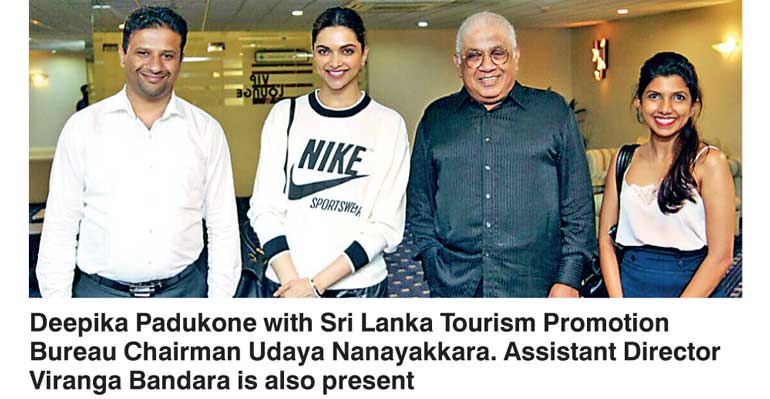 Sri Lanka once again proved that it was becoming a favourite hotspot to provide picturesque locations for the Bollywood film industry as Film Fare Magazine selected the island nation as a cover shoot location for its November issue with Deepika Padukone.

One of Bollywood's most successful actresses that has also stolen the limelight of the Hollywood film industry, Padukone was in Sri Lanka between 05 October and 07 October with her 12-member Film Fare crew for the shoot. During her brief stay the actress also managed to get a glimpse of the tropical island. The Indian beauty, who was born in Copenhagen and raised in Banglore, has won three Film Fare awards to her name. Padukone made her acting debut in 2006 as the title character of the Kannada film Aishwarya. The 2007 blockbuster Om Shanti Om paved her way to success which won her a Film Fare award for Best Female Debut. Since then she has won numerous awards for her roles in major films and have received high praise for her talent and successful acting career.

This will be another opportunity to promote Sri Lanka as a preferred destination in the Indian market, as Sri Lanka Tourism is already carrying out promotional activities in India to enable more tourist arrivals from the neighboring country.

Film...

Padukone also met Sri Lanka Tourism Promotion Bureau Chairman Udaya Nanayakkara and Assistant Director Viranga Bandara. The team is based at the iconic Cape Weligama resort where they were hosted. Further, Sri Lanka will also have the opportunity to be given a two-page coverage by the popular Indian Film Magazine, which will enhance promoting Sri Lanka as one of Asia's foremost multi-faceted destinations to visit.

Sri Lanka is reputed for its filming locations and has contributed for many successful Indian and Hollywood movies such as ''Water'', Bombay Velvet'' ''Bridge on the River Kwai'' and '' Indiana Jones''. Sri Lanka has the potential for attracting Indian tourists since both nations share the same traditions, cultures and historical landmarks from ancient times and are well connected with over 126 flights per week between most cities in India and Colombo. From 29 October, this will be increased to 150 flights.

Up to August this year, tourist arrivals from India has been recorded as 233,120, marking a 3.6% increase compared to the same period last year.