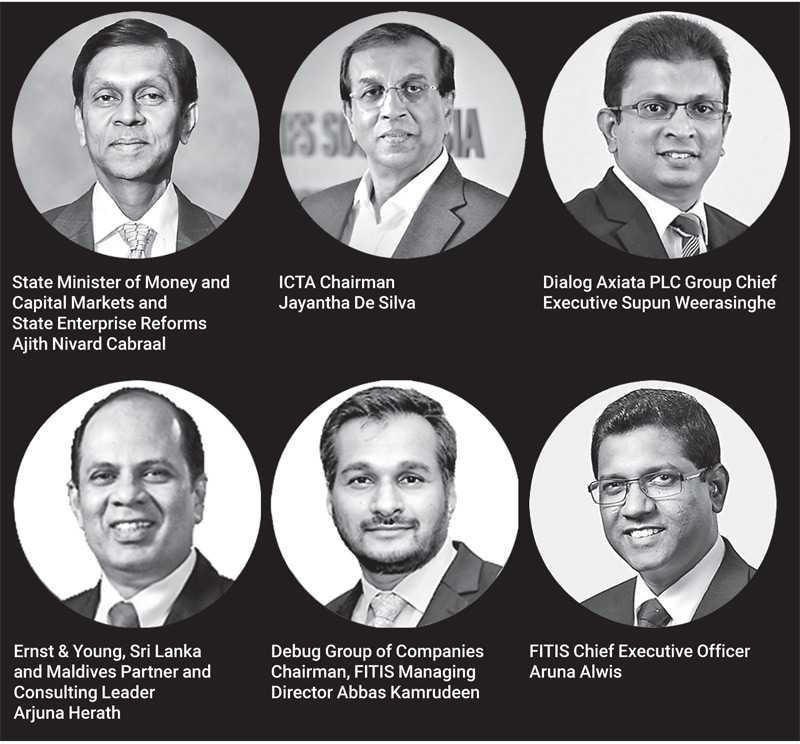 To help set the tone for execution of a digital economy and a smart nation, FITIS in collaboration with EY hosted a webcast on 'A Roadmap for Sri Lanka to be a Digital Nation' in May 2020 to discuss a roadmap for Sri Lanka to promote digitalisation at a national level to increase economic efficiency in industry and government, through the creation of right policies, required infrastructure, new business models and mechanisms.

The Federation of Information Technology Industry (FITIS) as the apex body representing the ICT industry of Sri Lanka has conceptualised two key mandates to drive industry and economic prosperity. The first one is centred around making Sri Lanka a Regional Technology Hub. This would require a multi-faceted approach from developing a vibrant innovation and startup ecosystem, encouraging locally owned IP or products, ensuring availability of skilled resources in trending technologies, driving technology entrepreneurship, and establishing technology-based investment firms in the country. FITIS has been working towards enabling access to other regional markets for the industry and supporting government to improve ease of doing business in Sri Lanka.

The second mandate is focused on driving digital transformation towards a thriving digital economy with a clear strategy that would address digitisation at every element from government, private sector and to every citizen of the country. The strategy encapsulates many elements from connectivity, e-gov, smart cities and increasing adoption of industry 4.0 which is pegged to be the next industrial revolution driven by information technologies such as artificial intelligence, big data, augmented reality, robotic process automation.

As the tax concessions to the IT industry announced at the beginning of the year and the recently presented national budget proposed a policy framework in the direction of creating a 'Smart Nation' has provided a significant impetus to chart a course for Sri Lanka to be a Smart Nation, FITIS joined hands with Ernst and Young, Sri Lanka to host its second webcast on this subject with the theme "Budget 2021: Enabling a 'Smart Nation'."


Budget 2021 has laid a firm foundation
Ernst & Young, Sri Lanka and Maldives Senior Partner and Consulting Leader Arjuna Herath kick starting the webinar, presented the policy direction of the Government relating to a Smart Nation as announced in the budget as follows:
A vision for a 'Technology based society and digitally inclusive Sri Lanka' and a 'Technology based Entrepreneurial Economy'
Expand entrepreneurial development, technological infrastructure, and related services to enhance the contribution of the technology sector for exports and its contribution to knowledge and professional services of the economy.
Expand the 4G and fibre broadband coverage to the entirety of the island to expand the availability of mobile and fixed broad band services covering all Grama Niladhari divisions in the country.
Use IT as a tool/enabler to enhance digital governance and simplify government mechanisms as well as market structures and processes, ensuring efficient and people focused service delivery and exchange of knowledge.
International e-commerce and e-payment systems, high speed data exchange and mobile network systems as investment priorities.
New laws and organisational structures in relation to data security, cyber security, and intellectual property rights.
Establish five fully fledged Techno Parks, which will service as new eco-friendly cities in Galle, Kurunegala, Anuradhapura, Kandy and Batticaloa to encourage exports and foreign investments relating to the technology industry
Herath went on to state that the IT industry was provided with sweeping tax concessions earlier in the year as follows:
Direct Taxes – profits and income earned from domestic and foreign sources by providing Information Technology and enabling services are exempt with effect from January 1, 2020. This includes earnings when made while being resident or non-resident
Indirect Taxes (VAT) – exemption of information technology and enabling services with effect from 1 January 2020
Other Tax Concessions – tax concessions under the Strategic Development Projects Act for a maximum of 10 years for information technology sectors with the qualifying criteria for this being an investment exceeding $ 10 million with the potential to change the landscape of the economy


Sri Lanka has had many firsts in the technology space in South Asia in the past decades, including being one of the first to embrace 2G, 3G and 4G communication technologies. Despite all this, Sri Lanka has not been able to make significant headway in digital adoption and make it count in contributing to the national economy and societal development.

United Nations Conference on Trade and Development (UNCTAD) has reported the size of the digital economy to be in the range of 4.5% to 15.5% of GDP of the world. Malaysia estimated their size of digital economy in 2018 to be 18.5% of their GDP and the growth of the digital economy from 2015 to 2018 was noted to be higher than the overall growth of GDP, signifying the boost digitalisation could provide to the overall economic growth. A question that was deliberated at the webinar was how Sri Lanka can aim to grow its GDP by leveraging on the digital lever.

In the case of Sri Lanka, the potential is immense, but a lot of work must be done. Lessons learnt from leading digital economies show that emulating their success requires having the necessary foundational digital infrastructure elements such as internet connectivity for all and digital payments, policies and legal frameworks, digital platforms, a thriving startup ecosystem, strategic use of data. Above all, importance should be given to the people factor in terms of digital leadership, digital literacy, and technology skills.

The primary purpose of the webinar was to discuss the how this broad set of pillars of the digital economy need to be addressed to succeed. It is paramount that the Government, the private sector, and various ICT chambers of the country need to rally around to collectively carve out a shared vision and drive the execution of the digital economy roadmap with the shared vision in mind. It is in this context that the Federation of Information Technology Sri Lanka (FITIS) and Ernst & Young hosted the webcast to discuss the digital economy roadmap of Sri Lanka and the implications of the recent national budget proposals on the ICT industry.

State Minister of Money and Capital Markets and State Enterprise Reforms Ajith Nivard Cabraal was the keynote speaker with Information and Communication Technology Agency (ICTA) Chairman Jayantha De Silva, Dialog Axiata PLC Group Chief Executive Supun Weerasinghe and FITIS Chairman/Debug Group of Companies Managing Director Abbas Kamrudeen joining in a panel discussion. The discussion was moderated by Ernst & Young, Sri Lanka and Maldives Partner and Consulting Leader Arjuna Herath. FITIS CEO Aruna Alwis delivered the welcome address.


Technology is at the forefront of Government's overall vision for Sri Lanka

Minister Ajith Nivard Cabraal shared a list of action points linking technology to the Government's overall vision for the country.
Value creation and commercialisation – There is a need to convert technology professionals into tech entrepreneurs. IT professionals must consider value creation and commercialisation of their innovative technology ideas and skills. This culture must be inculcated amongst professionals in the ICT industry.
Recognition for local IT companies – There is a need to give recognition to local IT products and companies, and preference should be given to competent local players when seeking services and products.
Improving access to finance

Recognise intellectual property as collateral when tech startups and IT companies seek lending facilities from banks.
Setup an equity fund for tech startups and IT companies to help in providing much needed capital.

Visibility and access to markets

Promotion of Sri Lankan IT products and companies via the Export Development Board (EDB) and the commercial divisions of Sri Lankan Embassies abroad.
An IT exhibition every year could provide visibility for Sri Lankan IT companies at a global level.

Creating an enabling environment – Setup IT parks to help companies incubate and accelerate fast. Getting off the block fast and shifting gears are both important as highlighted by how some companies met new consumer demands during the COVID-19 pandemic. Also, there are plans to provide concessions for entities who provide certain infrastructure for IT companies.
Creating a globally competitive ICT workforce – Continuous upskilling of technology professionals is vital. Technology is an area where life-long learning is needed, and emphasis must be given to this for Sri Lanka to be globally competitive in the ICT space.


ICTA – Leading the charge for the Government to create a Smart Nation

The Government has established a new ministry for technology. The Ministry oversees 10 institutions including Telecommunication Regulatory Commission of Sri Lanka, ICTA, Sri Lanka CERT, Sri Lanka Telecom, Industrial Training Institute, Sri Lanka Institute of Nanotechnology, National Science and Technology Commission, all IT parks, Sri Lanka Standards Institute and Department of Registration of Persons.

ICTA plays a key role within the Ministry in creating a smart nation. Jayantha De Silva highlighted the need to immediately work on key foundational elements, on top of which the digitalisation journey for Sri Lanka could be accelerated. Some of these foundational elements include providing 4G access to all via the 'Gamata Sanniwedanaya' project, implementation of the Digital ID project and fast tracking the passing and operationalisation of the Data Protection Act.

He further highlighted that driving the digitalisation journey for Sri Lanka requires attention given to multiple areas such as infrastructure, entrepreneurship, infusion of technology into other industries, policies, and legal frameworks, and creating a highly skilled ICT workforce. The synergies of the ten institutions belonging to the newly formed Ministry of Technology would be vital to cover this broader scope and cited the inclusion of the Department of Registration of Persons in this Ministry an as example where the department would be heavily involved in the Digital ID project.


Strategy by FITIS to drive the ICT industry to create a Smart Nation

Abbas Kamrudeen spoke about the strategy formulated by FITIS in line with its two key mandates for the digital transformation journey of Sri Lanka. The strategy focuses on seven core pillars; Connectivity from coverage to access to devices, human capital covering overall IT literacy within the general public and the required technical resources to fulfil industry demand, use of the internet and internet enabled services such as digital payments, Apps and E-commerce, integration of digital technology within the economy, digital public services enabled by government and the establishment of Smart cities, access to quality data which would enable data driven decision making and digital entrepreneurship which covers a vast space from digital startups digital platforms, intellectual property to how Large legacy organisations re-invent their businesses and challenge traditional business models. Each strategy is supported by clearly defined KPIs and action plans to accelerate the digital economy drive and to establish ourselves as a regional technology hub.

FITIS, as an apex body of the ICT industry in Sri Lanka and a key catalyst to encourage private and public sector and citizens of Sri Lanka to embrace digitalisation and to play a leading role in driving digital transformation in Sri Lanka supporting the of growth of a digital economy, aspires the digital economy contribution to GDP to grow significantly over the next three years. In particular, FITIS is focused on facilitating the ICT industry in Sri Lanka to create incremental revenue generation – a figure of $ 1 billion by 2025 driven by 500 tech ventures, 50,000 technology professionals and 1,000 patentable innovations being the incremental revenue target. FITIS hopes to position Sri Lanka to be the preferred destination for both technopreneurs and large global organisations looking to establish regional headquarters.

In addition to this, FITIS is currently working closely with the Export Development Board (EDB) and ICTA to develop a strategy to make education one of the top 5 foreign exchange earners within the next five years. There is potential to generate $ 2 to 3 billion by bringing in foreign students to Sri Lanka and developing global e-learning programs. ICT education will lead from the front by complementing the growth of the ICT industry.


Involvement of the Private Sector to complement efforts of the Government

Supun Weerasinghe cited a few examples where there is a responsibility from both the public and private sector to enrich the lives of citizens of the country in the country's digitalisation journey. One example was on telecom infrastructure where the public sector authorities need to ensure that the spectrum is allocated well to internet service providers and service providers are incentivised to provide coverage to rural areas by not imposing taxes for putting up towers to increase rural coverage. The service providers on the other hand have a responsibility to ensure that the spectrum is well utilised without it being an idle asset, thus increasing the broadband coverage in the country.

Arjuna Herath stated that Ernst & Young as one of the world's leading transformation consultants with the aspiration of 'building a better working world' and nation building by transforming businesses through the power of people, technology and innovation wish to be a key catalyst in the transformation of the nation creating a better working world driven by humans and powered by technology.

Herath went on to state that the Digital Government Blueprint of Singapore with two core principles of 'Digital to the Core' and 'Serves with the Heart' to guide their actions, takes in to consideration three stakeholders Citizens, Businesses, and Public Officers, and aims at six outcomes of easy to use, seamless, secure and reliable, relevant, digitally confident, and digitally enabled, through six strategies to achieve these outcomes and having specified KPIs to monitor the progress is a good case study for us. Sri Lanka is at stage where there is a lot of room for improvement across different indicators which measure the state of the digital economy across infrastructure, skills, platforms, entrepreneurship, digital finance, trust environments, legal frameworks, and inclusion. This requires a joint effort from the Government, private sector, industry chambers and the citizens themselves. How well these different segments work together, and the level of commitment will determine how fast the digital economy of the country will grow. Accelerated growth of the digital economy is the biggest hope to give the GDP of the country the much-needed boost.