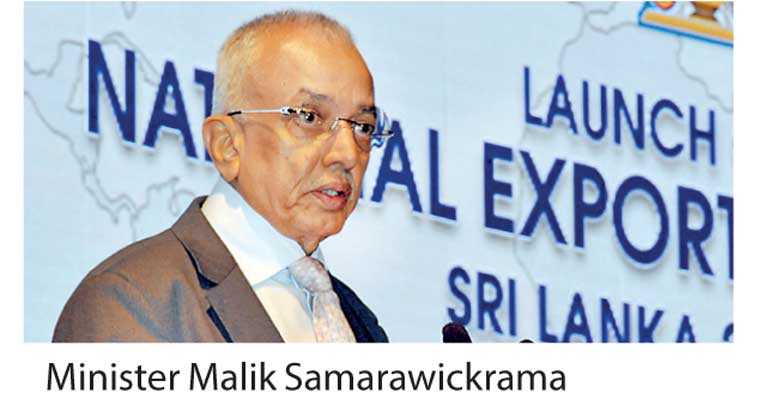 Drives home the point that one agency or one ministry cannot be responsible for boosting growth
For Sri Lanka's exports to reach ultimate success they have to become the business of all stakeholders, Development Strategies and International Trade Minister Malik Samarawickrama said yesterday, calling on all officials and the private sector to join the National Export Strategy (NES) implementation.

Samarawickrama insisted on the importance of everyone's commitment to driving it forward. "We need to collaborate to ensure things happen on the focused priority sectors on a fast-tracked basis for the next five years. Exports must now be everyone's business, not just one agency or one ministry. It is the only option Sri Lanka has to create better jobs for our younger generation and to ensure sustainable transition into a higher income economy," he said.

The Minister emphasized that Sri Lanka still has time to reverse negative, inward looking, protectionist policies and make up for lost time by making a transition to an export and foreign direct investment (FDI) led growth trajectory.

"What is very clear is that Sri Lanka has a long way to go, and if we concentrate only on our 21 million market, we will never be able to achieve the rapid economic development that Sri Lanka needs. Our only choice is to integrate with the world markets, and exports is a key pathway in that," he added.

The Minister pointed out that there was overwhelming evidence on the important role that trade, exports and investment play in accelerating economic growth and yet, Sri Lanka still has some people who deny this and want to stile policy push towards this direction.

"Put aside narrow political agendas because really, there is only one agenda that is truly at stake here — the future of our youth, the next generation of workers and entrepreneurs. For them, we need to shape a country that is integrated with world markets, and create high- paying jobs, not a country that is inward looking, isolated and uncompetitive," he emphasised.

Samarawickrama stressed that anyone who claims that we should be careful before opening up because we might not be able to compete is doing Sri Lanka a huge injustice.

"Why should we be scared of competing with the world? Our medical gloves are used by the world's best surgeons, our electronic sensors are used in the world's top car brands, our apparels are worn by the world's top athletes and our IT software is used by the world's leading stock exchanges. We can compete and our industries are already showing how it's done," he expressed.

The Minister said with the onset of deep and far reaching technological progress, the nature of cross border trade and economic relationships are changing at a dizzying speed. "Physical goods are international products. This new paradigm demands that we adopt new approaches for competitiveness or we risk falling further behind. Hence, I believe NES is timely and ushers in a very important era for all of us," he added.