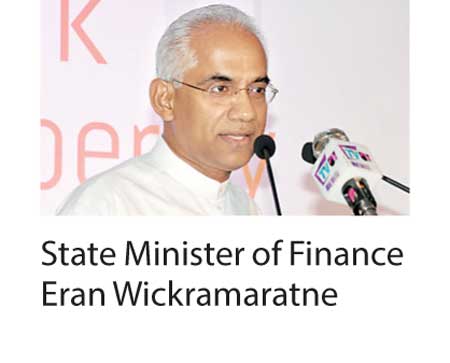 By Charumini

de Silva

As part of the Government's twin strategy to promote trade and investments, State Finance Minister Eran Wickramaratne said it will repeal the expropriation law which sent out negative signals to many businesses and investors, and will instead adopt public-private partnership (PPP) models to optimise the return on State-owned assets.

"A few years ago we had this legislation to expropriate State-owned assets. I must say that this sent a very negative signal to the investors and was detrimental to the economy. The present Government didn't agree with what happened and steps will be taken to repeal such legislation," he said at the Advocata Economic Freedom Forum held in Colombo yesterday.

In 2011, Parliament passed legislation that will permit the Government to expropriate 37 businesses that were performing poorly. Amidst strong objection from Opposition parties and the business community, the former regime passed the legislation, assuring that it would revive underperforming and underutilised assets.

Pointing out that Sri Lanka's main issue was that the Government's stake in the economy was very big, he said there were 250 commercial entities in the economy and the country's fiscal dynamics did not really support this as Sri Lanka moves to minimise fiscal deficit. Therefore, he assured that the Government was trying to create an environment to invite foreign investment.

Acknowledging that there were a lot of issues regarding the security of property rights, the State Minister said they wanted to secure those rights in a responsible way.

Admitting that exports had come down drastically and the twin strategy of the Government was to promote trade, particularly exports, he asserted that the National Export Strategy (NES) has been formulated and much work has been done.

"We are in the process of enacting the anti-dumping laws to ensure fair trade practices. We may have to include a trade adjustment package that might hurt some of the domestic industries and enterprises in our move to liberalise the economy further. So we must liberalise trade but we have to do it in a measured way," the State Minister emphasised.

In terms of Government revenue, he asserted that more than 50% was collected at the border, and of that about 80% of revenue comes from three state institutions: Sri Lanka Customs, the Excise Department and the Inland Revenue Department (IRD).