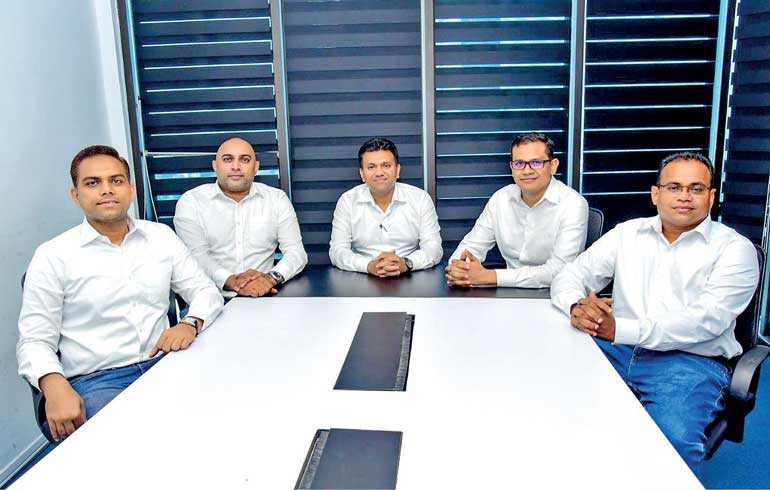 The leadership team of EGUARDIAN
---
Whilst Sri Lanka today makes strides as an emerging hub for IT solutions, the journey towards technological excellence for EGUARDIAN Lanka commenced over a decade ago, positioning them as Sri Lanka's pioneering specialist in information security, cloud, big data and automation and a leading value-added distributor in the Southeast Asian region.

EGUARDIAN, which marked its 10th anniversary recently is a fully-owned subsidiary of Limra Holdings and is one of the group's largest business ventures, experiencing the fastest growth in terms of revenue, portfolio and expertise, as shared by Limra Holdings Managing Director Nabhan Akeel.

From small beginnings in a 400 sq. ft. office space in 2010, EGUARDIAN Lanka has been instrumental in expanding operations to Maldives, Pakistan, Nepal and Bangladesh, with an average year on year growth rate of 35%.

The organisation currently represents 15 global brands in Sri Lanka, Maldives, Bangladesh and Nepal and has built a reputation for designing efficient, scale-able and secure IT solutions in Information Security, Data Centre Technologies, Cloud and Automation for its partners and end customers.

As Director Shihan Annon recounts, the company's beginnings 10 years ago commenced with the team selling internet security solutions with an aim to reach the Southeast Asian market. This ambition and passion led to the beginning of the company's successful partnership with EGUARDIAN, headquartered in Singapore and among the top five brands in the region at the time. The pioneering local team was able to fully support and complement the Singaporean brand when first representing it in Sri Lanka and the rest is history.

Having been successful in massively expanding its scope and operations EGUARDIAN today has the largest installation base and market share in its segment – an achievement fuelled by dedication and a focus on excellence.

Vice President Sales and Operations Mafaz Fahrid, the company's first employee noted that at a time when most people neither wanted firewalls nor understood its importance, the EGUARDIAN team managed to kick-start the market and build on their connections by enabling and supporting start-up companies. This holistic approach to nurture its relationships with smaller stakeholders at first, fuelled the company with the ability to eventually compete successfully with the bigger players.

CEO Suresh De Silva believes that their differentiation stems from the unified thirst to learn, teach and bring innovation to partners and customers, that has in turn lead to building market confidence.

Currently serving over 100 partners, including large, medium and small-scaled players that EGUARDIAN supports by training and assisting, even in client pitches when required, the company has experience in several product categories, serving clients in multiple industries including IT/BPM, banking and finance, telecommunications, apparel, manufacturing and services to name some.

Working in tandem with partners on cybersecurity, automation, bots and emerging advancements, EGUARDIAN is keen to spearhead Sri Lanka's growth in trending technologies. Focusing on three main verticals in the IT domain, namely, Information Security, Data Centre and Emerging Technologies such as Big Data, Robotic Process Automation (RPA), Artificial Intelligence (AI) and Machine learning (MI), the company is passionate to bring about the next chapter of IT innovation to the country.

Group Finance Manager Lasantha Kumara having commenced his career at EGUARDIAN over a decade ago, stated that they also believe in investing in their people and growth and affirmed to the employee-centric modus operandi of the company and its formula for effective and transparent communications and maintaining team optimism and collaboration.

The future is looking promising for EGUARDIAN Lanka as the company makes plans to enter the Asian, Middle Eastern and African markets, as well as getting ISO certified. "The new normal facilitates the growth of technology and IT ecosystems worldwide and we are pursuing expansion whilst maintaining our competitive edge," says Suresh.

Geared with strong stakeholder relationships, superior support systems, strong business structure and a dedicated team, EGUARDIAN Lanka looks well set and ready to take on its next 10 years of sustained growth.