---
Says augurs well to secure preferential access to key markets of EU, US
Renews confidence of rebound in exports next quarter, following strong recovery post-COVID-19
Says apparel order book for US stable with PPE exports, EU still catching up
Tea, coconut, rubber, spices, fruits and vegetables continue to grow
Sees sharp decline in luxury good exports post-COVID-19
By Charumini de Silva

The Export Development Board (EDB) opines the recent downgrading of Sri Lanka to a lower-middle income country by the World Bank could be a blessing in disguise to secure preferential access to key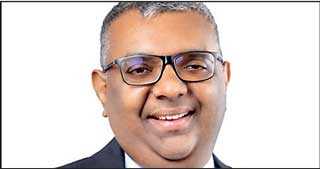 Export Development Board Chairman Prabhash Subasinghe
exports of EU and the US.

The World Bank last week downgraded Sri Lanka from an upper-middle income country to a lower-middle income one from 1 July, under its 2020-2021 country classification by income level. Sri Lanka is among 10 economies that are moving to a different category this year, and is one of three countries that are moving to a lower category.

"The downgrade is a blessing in disguise for the export community. It is good for the continuation of European Union's (EU) Generalised Scheme of Preferences Plus (GSP+) for another four and a half years," EDB Chairman Prabhash Subasinghe told the Daily FT.

The EU remains Sri Lanka's largest export market, accounting for 30% of the total, while the US is the largest single export market, accounting for 27% of total of total merchandise exports last year. Nearly 60% of Sri Lankan exports benefit from some form of preferential access due to EU GSP+ and US GSP schemes.

Sri Lanka's total merchandise and service exports in 2019 were $ 16.14 billion, up by 1.44% from 2018. Merchandise exports totalled $11.9 billion, up 0.13% and service exports $4.2 billion, up by 5.3% from 2018.

In January, the EU delegation in Sri Lanka reassured that it will continue the GSP+ concessions to Sri Lanka till 2023, while noting that there will be 'no changes' in the rigorous monitoring of the country's progress in implementing the conventions.

Sri Lanka regained the EU GSP+ privileges for Sri Lankan exports in May 2017. The trade preferences under GSP+ consists of the full removal of duties on 66% of tariff lines, covering a wide array of products, including textiles and fisheries. The GSP+ scheme is conditional on Sri Lanka advancing human and labour rights, and working towards sustainable development.

Textiles and clothing exports to the EU have benefited most through the GSP+ concession, accounting for over 60%, followed by food products with over 12%. The apparel industry represents about 43% of the country's total exports, which generates over $ 5 billion foreign exchange to the economy.

Since the resumption of GSP+ concessions in 2017, the value of Sri Lanka's total exports to the EU market in 2018 recorded a growth of 5% compared to a year earlier, and as a result Sri Lanka's GSP+ utilised exports recorded a year-on-year growth of 1% in 2018.

Sri Lanka's exports to the US were $ 3.1 billion in 2019, up 14% compared to $2.7 billion in 2018. Several Lankan exports to the US qualify for duty free-privileges under the US Generalised System of Preferences (GSP) program, which offers preferential duty-free treatment for up to 5,000 products (apparel products excluded) from designated beneficiary countries.

The EDB Chief also renewed confidence that exports will continue to grow in the next quarter following the strong recovery post-COVID-19.

"I am bullish on a strong export rebound in the next quarter. The slowdown in exports during the first quarter was expected, but we saw a strong recovery in our export figures in May and June," he added.

Noting that the first 20 days of June exports have surpassed the $ 602 million recorded in May, Subasinghe expects the total export earnings in June will exceed $ 800 million.

According to Subasinghe, apparel, tea, coconut, rubber, spices, fruits and vegetable sectors have done well post-COVID-19, and have great potential to grow further.

He said that the apparel sector order book for the US market is quite strong, particularly with personal protective equipment (PPE) exports, while the EU was still catching up.

It was also noted that consumer purchasing power in the US has returned to what it was before COVID-19 to 85% at present, which is again great news for exporting economies.

In terms of tea, rubber, coconut, and fruits and vegetable exports, he stressed on the importance of boosting productivity and availability of crops, which in turn will also benefit the farmers with increased income.

The EDB Chairman suggested optimising inter-cropping, use of new technology, and use of new planting material such as high-yield seed for the cultivation purposes.

Subasinghe said the sharp decline in luxury good exports was a concern in the post-COVID-19 situation. Accordingly, gem, jewellery and diamond exports fell by 78% and boat-building exports by 73% year-on-year.