Says AG and Legal Draftsperson have cleared the regulations
Says candidates electioneering with disregard for all safety guidelines
Appeals to health authorities to issue relevant gazette without delay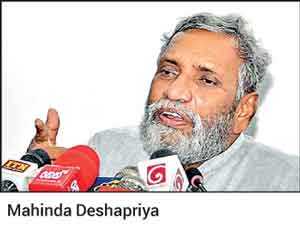 Election Commission Chairman Mahinda Deshapriya yesterday appealed to health authorities not to delay promulgating regulations under the Quarantine and Prevention of Diseases Ordinance incorporating Election-related COVID-19 guidelines.

Deshapriya said the guidelines were handed over to the EC on 5 June, but a month later, they were yet to be given legal teeth by way of a Gazette notification.

"As far as I know, the Legal Draftsperson as well as the Attorney General (AG) has approved the regulations to be promulgated by the Ministry of Health incorporating Election-related COVID-19 guidelines. The President, too, has said to expedite this matter, but there is a delay somewhere," he said.

Deshapriya said in the meantime candidates were carrying on their campaigns in the usual manner disregarding all safety measures with no social distancing or use of masks or following any safety measures.

"I appeal to the health authorities to promulgate these regulations as soon as possible and to the candidates to ensure they adhere to the guidelines. It will only take one COVID-19 patient among the crowd for it to spread," he said.

The regulations, once gazetted, will make it mandatory to adhere to restrictions on the numbers attending rallies and other safety rules during the Election campaign as well as on polling days and during the counting of ballots.

Health Services Director General Dr. Anil Jasinghe is the Competent Authority under the Ordinance and is tasked with issuing the COVID-19-related Gazette notifications.