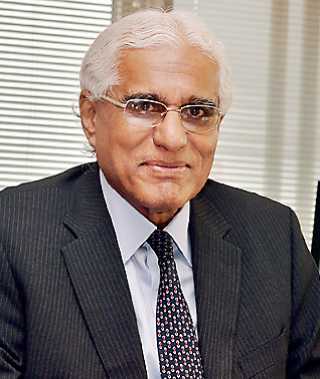 Dr. Indrajit Coomaraswamy
---
LYNEAR Wealth Management Ltd. has announced the appointment of highly respected former Central Bank Governor Dr. Indrajit Coomaraswamy as the Chairman of the company's Board of Directors.

Dr. Indrajit Coomaraswamy will work the team at LYNEAR, drawing on his extensive international experience to provide the firm with the strategic advice and insight on global macroeconomic issues and emerging markets. LYNEAR Wealth Management is an investment manager regulated by the Securities and Exchange Commission.

LYNEAR co-Founder/CEO and former Chairman Sanjay Kulatunga said: "We are honoured that Dr. Coomaraswamy has agreed to steer the Board, harnessing his unparalleled local and global perspectives which will be of immense value to our clients. Our firm will benefit tremendously from his expertise, insights and integrity."

LYNEAR co-Founder and Chief Investment Officer Dr. Naveen Gunawardane said: "It is indeed a privilege to have Dr. Coomaraswamy with us. We are looking forward to working with him on our global macro research and asset allocation strategies."

Commenting on his appointment as Chairman, Dr. Coomaraswamy said: "It is a great pleasure to be invited to become a member of the LYNEAR Board. I am looking forward to working with an outstanding group of professionals led by Sanjay and Naveen who have a stellar reputation."

Other members of the Board are Dr. Kemal De Zoysa, Zaffar Jeevunjee and Shamindra Perera.

LYNEAR Wealth Management, advices and manages investments for global and local institutions and families. Separate from the regulated business, LYNEAR Partners is a multi-family office, which facilitates the inter-generational transfer of wealth, monitors and evaluates private equity investments, supports philanthropic and legacy building endeavours and coordinates tax and legal matters on behalf of ultra-high net worth families.

LYNEAR was founded in 2013 by four partners with pioneering expertise in analysis of Sri Lankan and international capital markets to provide a select clientele with bespoke wealth management services. Each founder brings to the partnership unique strengths and perspectives and are bound by shared values of compliance and integrity, diligence and independence and utmost discretion.

Dr. Coomaraswamy has a Bachelor of Arts (Honours) in Economics and Master of Arts in Economics from the University of Cambridge and a Doctor of Philosophy in Economics from the University of Sussex.

He was the most immediate past Governor of the Central Bank. He was a member of the Monetary Policy Consultative Committee of the Central Bank of Sri Lanka from 2013-2015 and an Advisor to the Ministry of Development Strategies and International Trade from 2015-2016.

Prior to this, Dr Coomaraswamy held several senior level positions at the Commonwealth Secretariat in London. He joined the Commonwealth Secretariat in 1990 as Chief Officer – Economics in the International Finance and Markets Section and progressed to become the Director of the Economics Affairs Division and Deputy Director, Secretary General's office before leaving in 2008. Thereafter, he returned as Interim Director of the Commonwealth Secretariat's Social Transformation Program Division in 2010.

He was a Non-Executive Independent Director of John Keells Holdings PLC and currently serves as a Non-Executive Independent Director of Tokyo Cement PLC.