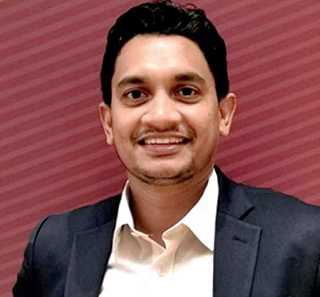 MAS Holdings Lead Data Evangelist and Head of Talent Analytics Chathuranga Abeysinghe, ACMA, CGMA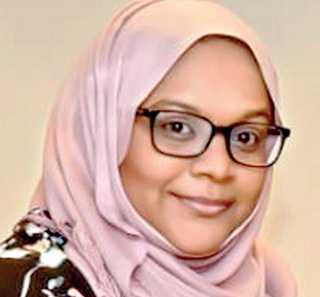 CIMA Sri Lanka Country Manager Zahara Ansary, ACMA, CGMA
---
With the COVID-19 global pandemic changing the way business is done, many organisations both local and global are adopting new methods of operation. Recognising digital innovation and transformation in education as the need of the hour, CIMA, the world's leading and largest professional accountancy body, remains committed to helping youth and professionals of today build the relevant skills that will assure future employability.

Organised by CIMA Sri Lanka, 'Hundred and 10%' was a weeklong career festival held from 13-19 September, featuring global and local industry leaders covering a wide range of topics relating to the five skills of the CGMA Competency Framework – Technical, Leadership, People, Business and Digital Skills – via online sessions. Creating a significant impact on the Sri Lankan community of students and professionals, the festival had 17 separate sessions with over 45 speakers, as well as a 24-hour Hackathon and an Elevator Pitch competition similar to the US TV series Shark Tank.

Following the successful conclusion of Sri Lanka's first-ever virtual career festival, Standard Chartered Bank Sri Lanka Chief Executive Officer Bingumal Thewarathanthri, MAS Holdings Lead Data Evangelist and Head of Talent Analytics Chathuranga Abeysinghe, ACMA, CGMA and CIMA Sri Lanka Country Manager Zahara Ansary, ACMA, CGMA shared their thoughts on this initiative to encourage and develop the next generation of corporate Sri Lanka:


Q: What was your experience being a part of the first-ever CIMA virtual career festival?
Bingumal Thewarathanthri: As a bank, we started conducting webinars for our clients during the COVID-19 lockdown period. This was our foray into the digital sphere, and one that was vital to maintain our service offering. From a learning perspective, the 'Hundred and 10%' festival was truly a one-of-its-kind event that featured a series of webinars touching on every aspect of finance.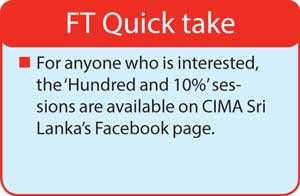 Chathuranga Abeysinghe: First and foremost, I am extremely happy to see how CIMA Sri Lanka is encouraging engagement between its students and past graduates who are now industry leaders. I'm also proud to be among the few selected to be a panellist and was delighted to share my experience with the younger generation at a time when the world is changing rapidly. The career festival was well organised and handled with professionalism, further elevating CIMA's already high standards.

Zahara Ansary: The CIMA 'Hundred & 10%' virtual career festival was easily the event of the month for professionals and students in Colombo. We received so many registrations, and viewership for the programmes was even more. We are extremely delighted with the success of this inaugural event and I am thankful to all our speakers, panellists, judges, moderators and participants. At the 'Hackathon', which had a record number of 51 teams registering, the participants got a taste of how CIMA case studies work – practical, real-life scenarios with less number-crunching and more business strategising. The 'Elevator Pitch' event attracted 25 applications, and the finalists received valuable individual feedback from an esteemed panel of judges.
Q: What advantages would students have gained from experiencing this virtual career festival?
Thewarathanthri: Social interactions, whether it is business or education, have changed drastically due to this global pandemic. So much so that 74% of global learning at a corporate level has gone virtual, also pushing the education sector to adopt this practice. However, there are pros and cons to it.

On one hand, operating virtually enables all students to access the global village. By logging in from wherever you are in the world, the digital space enables the coming together of different time zones to one virtual classroom. So, for those who could not previously access such resources, this is definitely a helping hand. However, similarly, as the need to physically go to a university does not exist, students miss out on a certain amount of classroom experience and exposure that is needed to receive working knowledge. I believe students need a hybrid of the two to succeed.

Abeysinghe: I lead both Talent Analytics and Data Science at MAS, and a main issue I see in fresh graduates is the inability to comprehend the context and a lack of appreciation for learning new things. Not having done collective work at ages 20-23 also makes it very difficult for them to work with others.

I personally look for three things when meeting new graduates: What they have learned beyond the syllabus (to check their learning agility), three key problems in a known industry or in society (to gauge their common sense approach to problem solving), and a recent collective achievement (to understand teamwork and leadership). However, it is sad to note that only around 3-5% face this test with confidence. This is where career festivals can help students to identify and develop the skills that are vital for employment in the future.

Ansary: Since COVID-19 impacted the world, a lot of things have changed and organisations have had to transform themselves faster than ever. At a crucial time like this, youth and professionals of today need to build relevant skills that will ensure their employability in the future. Through 'Hundred & 10%', we wanted to inspire the next generation of Sri Lankan professionals to go above and beyond in their careers.

We wanted those joining the sessions to understand the gamut of opportunities available to them, while gaining the relevant skills for the future. Our Regional Vice President Venkkat Ramanan, FCMA, CGMA, captured this really well in the opening segment of the programme where he spoke about 21st century skills.

We are glad that we could fully utilise the power of the digital landscape, while providing a platform where industry leaders and individuals from across the island could come together for an enriching learning experience.
Q: What are some specialised skills companies are looking for in the aftermath of COVID-19 and given an increased reliance on technology for business growth?
Thewarathanthri: Standard Chartered has been in operation for over 150 years globally. From a banking sector perspective, different markets evolve at a varied pace; so, one skillset I think would be vital to develop is the ability to learn and evolve as necessary. Transitional thinking can help companies respond to unforeseen events such as a global pandemic, and will be an essential skill to develop, in addition to a background in data analytics.

We are also seeing an interesting shift to employees who fulfil an emotional quotient, such as those who enter the banking and financial services sector from a non-finance background. The industry has evolved and most finance functions have been automated, such as number crunching roles being taken on by digital analytics and big data. However, aesthetic skills can be instrumental in customising products to meet changing customer needs, which is vital in our industry. For example, a background in the fundamentals of economics can help predict the future of business, while other disciplines such as agriculture, aviation, and sustainable finance and climate change can contribute to several verticals within a bank including research, policy making and credit.

Abeysinghe: It may not be a metric, but we often test learning agility and digital savviness in new employees. We also test the depth of knowledge in areas such as digitisation, data and AI, as these are common topics that everyone should be aware of. We are also looking for the ability to unlearn and learn fast, which is a skill that cannot be quantified.

Ansary: CIMA is a futuristic qualification, and thus we are extremely proud that we are the first professional accountancy body to implement digital skills into our syllabus. The updated 2019 CIMA Professional Qualification syllabus includes how the digital world affects finance through the introduction of digital costing and strategy. Topics such as cyber security and business models have also been incorporated, encouraging students to be digitally literate and cultivating a futuristic mindset. Ultimately, these topics support CIMA's desire to produce competent and confident management accounting professionals who can lead their organisations to sustainable success.

In addition to the updated syllabus, we at CIMA Sri Lanka help our students and members through various CPD programmes, such as the ABCDE series earlier this year which covered artificial intelligence, blockchain, cyber security, data analytics and ethics.
Q: What has been the impact of COVID-19 on the banking sector? What is expected of the next generation to help put the industry back on a growth trajectory?
Thewarathanthri: The pandemic has created chaos across the world, and while some banks are weathering this storm well, others are not doing so well. Sri Lanka's banking sector, however, has been handling it rather well, with the industry passing many moratoriums to make sure it is well protected.

Having said that, while the industry is facing a stressed situation to get back to pre-COVID levels, Standard Chartered is operating well at present owing to our global backing. Our balance sheet looks great and we are very liquid. We believe we have been able to achieve this due to how well we responded to our clients during the lockdown period. Therefore, our clients remained loyal to us and helped us maintain our operations during a trying time. With import restrictions and other guidelines changing daily, we remain focused on our clients and our employees, as we bind together to face future challenges.

There is now an emphasis to move to digital and offer hyper personalisation due to an increasing number of customers using mobile apps, as well as partnering with fintech firms to develop the industry as a whole in the short to medium term.
Q: 'Entrepreneur' is a buzzword among young people now, with everyone wanting to "be their own boss". How does this relate to industries in Sri Lanka? Is there a lack of talent entering the workforce?
Abeysinghe: We live in an open economy, and human needs and wants are created by the market. Entrepreneurs either resolve a market gap or are creative enough to create a gap and then take a risk to fulfill those needs. The main issue with modern entrepreneurship is the lack of socio-economic knowledge and its problems, not being able understand true human issues but trying to build a startup on top of existing market gaps. There is also less drive for collaboration, as not many like to network and connect with society at large. Many don't seem to understand immense problems in society such as inequality, decaying nature and injustice; they create businesses for those who can afford it but not for those who cannot. True entrepreneurship should change the world for the better, make a greater impact on all people and plants, and make a profit through that process. Every organisation needs a few entrepreneurs, while the rest will be followers; so I don't think there is any threat to industries from people choosing to become entrepreneurs.
Q: What skillsets would you highlight as vital for the younger generation to ensure future business success?
Thewarathanthri: I would advise students and young people to learn to be agile, never stop learning and to be yourself. This is what will see you succeed in the future.

Abeysinghe: I believe 80% of today's jobs that are repetitive in nature will logically be replaced by AI over the next 10-15 years; thus, the skills of the next generation that will be valued in the future will be core human skills such as creativity, problem solving, people management and learning agility. These four skills are not easily replicable with AI, and should therefore be developed through education programmes.

Ansary: In an increasingly digital world, rapid changes in technology are creating new challenges for organisations. It is making it difficult for business leaders to create and maintain sustainable value. Against this backdrop, it is imperative that finance and management professionals possess the relevant technical skills, a sound understanding of their organisation, as well as the ability to influence and lead people. This will make them capable of providing the insight their organisations need to craft and successfully execute their strategies.
Q: How do you see the future of business as we know it, and what's CIMA's role in catering to these futuristic organisations?
Ansary: Given the unprecedented situation the world is currently experiencing, it is pertinent that new leaders be nurtured to face new challenges in a changing world. The specialised skillsets necessary to face these changing dynamics, as was discussed in a recent World Economic Forum article: foundational literacies, competencies and character qualities, as well as the framework surrounding these parameters will all be based on lifelong learning.

For Sri Lanka, it is important that organisations change their business models to suit these changing dynamics. Rather than laying off people, organisations need to identify the agility of their employees and transform their skillsets in order to be resilient and thrive in the long term. Accountants knowing financials as a technical skill should be expected, however, it is also necessary for them to understand the macro and micro environments and cultivate people skills in order to play a more strategic role in companies. Technology is also making an immense impact on the role of management accountants, calling for impact makers. This is the fundamental DNA that CIMA offers its student accountants, as well as opening up global opportunities. Today's professionals need to be agile, have the right mindset and be assisted by a professional organisation that will help them not just survive these turbulent times but thrive in the chaos. CIMA launched fast-track routes in the recent past as we understood that business leaders of today need to be re-skilled for the times. I am proud to state that we have a significant number of candidates coming on these fast-track routes this year in Sri Lanka and across the APAC region, as these professionals have also understood the value of being CIMA qualified.

There are more exciting developments from CIMA in the pipeline, for employers and professionals, which will be revealed soon. No matter where you start or what you choose to do, CIMA will allow you to explore various avenues in the dynamic business world in your journey to become a well-rounded individual.