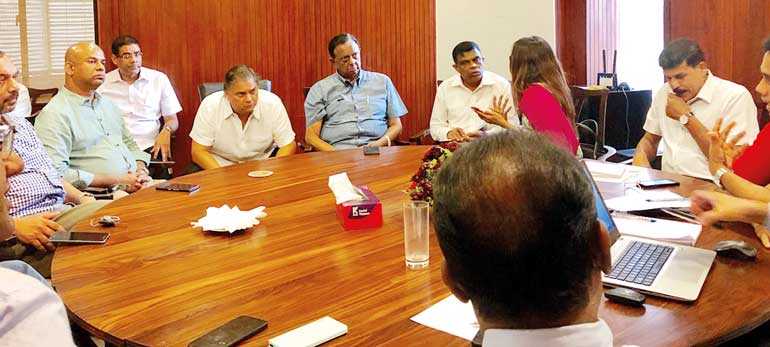 Over 30 foreign guests in Shangri-La, Kingsbury and Cinnamon Grand killed by suspected suicide bombers
Tourism Minister chairs high-level industry meeting; second meeting today
Emergency response team activated; security to be beefed up in all hotels
SLTDA sets up tourism helpline 1912 to provide information
Cancellations tick in following terror attack; industry concerned by adverse travel advisories
Hosting of 3000 foreign delegate-strong CITES 2019 in May in the balance
By Charumini de Silva

A devastated tourism industry met yesterday to assess the damage caused following multiple terror incidents, the first in a decade, and discuss immediate measures to normalise the situation against great odds.

The industry, which did not see a single tourist killed during the near 30-year-long conflict, was shocked yesterday, with over 30 foreign guests killed in suspected suicide attacks in three city hotels - Shangri La, The Kingsbury and Cinnamon Grand. Over 10 tourists were injured and are being treated at different hospitals, industry sources told the Daily FT. Some of the tourists killed were from Belgium, China, the US, and the UK.

Eight separate incidents, including two churches on Easter Sunday, saw 207 killed and over 450 injured.
Tourism Minister John Amaratunga yesterday convened a meeting of industry heads, from the Hotels Association of Sri Lanka (THASL), Colombo City Hotels Association (CCHA) and Sri Lanka Association of Inbound Tour Operators (SLAITO), to take stock of the damage as well as measures needed to ensure security in the future. Officials from the Tourism Ministry and Foreign Affairs, as well as Police, were present at the meeting.

"The re-introduction of tougher security measures was discussed," a source said.

As per preliminary accounts, Shangri-La had reported that 15 guests had died; The Kingsbury 14, of whom 4 are unaccounted for; and Cinnamon Grand, 6. "We will know the exact numbers by Monday," officials added.

Sources said some of the affected hotels have decided not to accommodate locals as a temporary precautionary measure, and pre-booked guests will be given the option to check-in at other unaffected hotels as well.

An emergency response team was activated by the Tourism Ministry to address some of the critical challenges. Another meeting between the Minister and industry representatives has been fixed for 11 a.m. Monday.

Sri Lanka Tourism Chairman Kishu Gomes, who also attended the meeting, told the Daily FT that SLTDA has assured all city hotels of providing whatever assistance they need at this national crisis. "Security has been beefed up at all city hotels right now," he added.

"If hotels and foreign guests are unable to get treatment from Government hospitals, they can be transferred to any private hospital, and the cost of their treatment will be borne by the SLTDA," he added. Sources said some of the injured were being treated at private hotels.

The SLTDA has also set up a tourism helpline, 1912, to provide information.

Industry sources last night expressed concern that cancellations have accelerated, following the terror attacks in the city and elsewhere. The hosting of CITES 2019 (the Convention on International Trade in Endangered Species of Wild Fauna and Flora) by Sri Lanka from 23 May to 3 June, with over 3,000 foreign delegates, also hangs in the balance following the Easter Sunday mayhem caused by the terror attacks.

The industry is also concerned by adverse travel advisories following the incident. The UK's Foreign and Commonwealth Office yesterday issued a travel advisory on Sri Lanka after multiple bomb explosions yesterday. Issuing a travel advisory, FCO asked UK visitors to follow the instructions of local security officials.

"There have been a number of explosions in Sri Lanka, including Colombo, on Sunday 21 April. Please follow the instructions of local security officials and follow travel advice for updates," it said.

This biggest blow to tourism follows the strong resurgence in the post-war period.

Tourist arrivals to Sri Lanka increased at a Compound Annual Growth Rate (CAGR) of 18% during the past ten years, to 2.3 million visitors in 2018 from 654,476 in 2010. Tourist arrivals in March 2019 improved by 4.7% to 244,328, bringing the cumulative first quarter figure to 740,600, reflecting a 4.6% growth year-on-year.