An in-depth interview with CIPM Sri Lanka President, BOI Manufacturers Association Secretary and Tropical Findings Executive General Manager Dhammika Fernando on CIPM Sri Lanka's role in establishing a true 'People Management' culture in Sri Lanka
Q: What is CIPM's role in the field of people management in Sri Lanka?

A: CIPM has been the pioneer in people management in Sri Lanka for the last six decades. We have truly flourished like no other during this period raising the bar for the people professionals and bringing them on par with their regional and international counterparts. We have evolved in line with world trends, and through our business school new study courses have been initiated and we have been consistent in revising those syllabi for the young and aspiring people managers.

We have structured the premium professional qualification PQHRM (Professional Qualification in Human Resource Management) to be the most sought-after qualification in the people profession in Sri Lanka. We are the thought leaders and the epitome, and we always strive to create opportunities and platforms for our professionals to interact, discuss, share insights, debate and upgrade their knowledge. The many national level events such as the National HR Conference, The Great HR Debate, The Great HR Practices along with the many seminars and events that we organise are a testament to the role that we play in the field.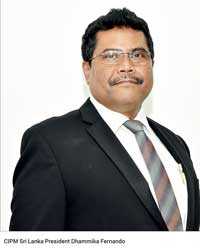 We also encourage applied research into areas of people management which have the potential to add value to our understanding of the subject related phenomenon while creating new inroads in the profession. In this regard, we are now establishing a 'CIPM Applied Research Center' in conjunction with the 'Asia Pacific Centre for HR Excellence for Research' under the auspices of APFHRM (Asia Pacific Federation of Human Resource Management) which will facilitate researched insights into little known areas of the world of work and life.

CIPM also maintains close links with many regional and global professional bodies such as APFHRM, WFPMA (World Federation of People Management Associations), CIPD (Chartered Institute of Personnel Development) UK, and country level professional bodies of India-NIPM, Bangladesh-BSHRM, Pakistan-PSHRM, Maldives-MAHRP, Thailand-PMAT, Australia-AHRI, Malaysia-MIHRM, etc. which facilitates networking and opens opportunities for our HR professionals to share insights with their counterparts.

We have annual member exchange programmes with five of the above countries as well. We further provide library facilities through our state-of-the-art reference and E-library for everyone in the country who study People Management equally to scholars and practitioners.

The other most important role that we play is providing consultancy services through our Consultancy, Seminars and Workshops arm. We do provide all kinds of consultancy services to both state and private organisations and conduct hundreds of seminars and workshops on current and trendy subject areas of People Management. This department also carries out tailor-made programs for any organisation in house or at our premises or elsewhere according to customer requirement. This includes conduction certification programs, selection tests, promotion tests, various types of assessments, etc.

CIPM also plays a leading role as a CPD (Continuous Professional Development) program provider enabling our member professionals to follow a well documented, well thought out plan which will help to progress in their careers and help to upgrade their membership up to Chartered Fellow. In one sentence CIPM transcends all that is there about people management profession, practice and everything related in the world of work in Sri Lanka.
Q: What are the prospects for a person who chooses People Management (HRM) as a career?

A: HRM or People Management is one of the fastest growing management disciplines in the world today. Given the extraordinary pace at which technology-assisted lifestyles are changing and its impact on how and when we work, and all that comes with it from management and motivation perspectives, people management is an exciting career to be in which augurs well for aspiring people management professionals.

The context of people management takes centre stage of the world of work in the 4th industrial revolution which will revolve around automation and artificial intelligence driving the need to unlearn, relearn different skill sets fast under the able-watch and guidance of the people Management Function of an organisation. The people management function will take over this challenge and responsibility of re-skilling themselves as well as re-skilling others.

The CIPM Business School ensures that our aspiring professionals who number approx. 10,000 at any given time, have the most relevant and up-to-date courses available to help pursue their careers. We need to produce more and more Specialists in the industry in the future.
Q: CIPM was awarded the prestigious Charter status recently. Please explain the significance of this achievement.

A: CIPM Sri Lanka has been operating as the only professional body promulgated by an Act of Parliament since 1959, serving the nation's needs in the people management sphere. With the award of the Charter status, our level of recognition and acceptance both locally as well as internationally has now been raised to a very higher level. The Charter status is a key milestone and a tremendous achievement in our history.

The awarding of the Charter status will help to elevate the standard of CIPM Sri Lanka to the level of the Chartered Institute of Personnel and Development (CIPD) in Great Britain, which commands the foremost place in the people profession globally. We are not only the vanguard of the profession in Sri Lanka but we excel as one of the best organisations for the profession in the Asia Pacific Region, and we, slowly but surely will achieve the world-class title very soon.
Q: What is the significance and relevance of people management for managers of other disciplines?

A: Managers and management are all about dealing with people. We believe that every line manager is a people manager, and hence all the concepts related to human resource management will apply in the world of work and life. HRM engulfs everyone in an organisation from CEOs to Managers, whether in the private, public or NGO sectors. Thus, a thorough knowledge of the concepts and processes in managing people is a definite requirement for managers in other disciplines as well.

But however, I must caution you that by saying that do not misread me because people management profession is a more of an in-depth discipline than just marshalling a workforce. It is a lot more to do with the art and science of the subject as the people professional plays a strategic and a catalyst role in providing the human capital value proposition to the organisation. Thus, it is a highly specialised area of management.
Q: Are CIPM professionals recognised overseas?

A: CIPM's signature professional qualification – PQHRM – has been accredited regionally by the APFHRM and other world HR alliances and thus it is recognised in those 18-member countries. This is indeed a great achievement and a significant strength for our people management practitioners. CIPM is also very much in line with CIPD UK and maintains a strategic alliance for recognition of the programs conducted. Both institutes are currently in the process of matching the competency and qualification frameworks of each other.

The academic programs of the Salford Business School of the University of Manchester (B. Sc. and M. Sc in HRM) conducted in Sri Lanka by CIPM are fully accredited and recognised the world over. We further having affiliation with the Open University of Sri Lanka and we are entering into a similar agreement with the University of Jaffna. Our PQHRM is also accepted by a few other local universities for their Postgraduate and Master's qualifications.
Q: What is the roadmap for the people management fraternity in Sri Lanka?

A: We benchmark CIPM Sri Lanka with CIPD UK which is the premier professional people management body in the UK with more than 150,000 members worldwide. Since achieving the Charter status, the recognition that we have received is immense. The demand for CIPM is rapidly increasing. More and more academic bodies also are quite keen on connecting with us now than ever before.

We are also the only professional people management body represented in the OPA (Organisation of Professional Associations) of Sri Lanka. They play a very vital and unique role in bringing in about 51 real professional bodies under one umbrella and we work very closely with OPA in most of its ventures. In support of our expansion, we will be accrediting members based on a well laid out competency assessment process which will complement the existing CPD process for our membership. We are also in discussion with CIPD, our counterpart in the UK to award dual membership based on an acceptable framework which matches our qualifications.

As announced previously, we will establish a Center of Excellence for People Management Research under the auspices of the APFHRM who have already given their green light for this initiative. This will address the general lack of research on people management from a national perspective and afford professionals to engage in much-needed research activities which will benefit the members themselves as well as the people management fraternity. We are also working on setting industry standards and best practices for the people management so that the whole country can work on a single baseline.

We also plan to establish a think tank functioning under an experienced committee to contribute our expertise on national issues. We are happy to collaborate with the National Humana Resource Development Council in their endeavours to uplift the skills of the youth and other professions.
Q: Does the people profession have adequate representation in corporate boards?

A: Unfortunately, we have a long way to go in this regard although certain banks and multinationals have strong people management representation on their boards. The value of people management is yet to get recognition in a significant manner at the board level. Much has been done, but much remains to be done for people management to get due recognition. The ability to measure and quantify the contribution of to the organisational bottom-line results, while figuratively known by top management, is still lacking an accepted process and methodology.

We believe that HR analytics will be able to show the ROI in people management which will eventually help propel People Profession to the Boards. But my views can also be wrong because this scenario is country specific and therefore there can be other unseen reasons too. On the contrary, I must also mention that if you look at the history there were many successful People professionals who have not only made it to the board but also have headed those organisations.
Q: As the largest employer in the country, does the Government adequately practice HRM in this sector?

A: The Government needs to effect a change in its current people practices which are mostly limited to administrative HR functions. They are bound by the administrative regulations and the establishment code. Real 'people management' practices are indeed rarely practised. CIPM will seek the support of its membership in the government and public sector to promote these people management practices and make a noise.

We also intend to invite suitably qualified and experienced people practitioners in these sectors to obtain membership in CIPM so that they can unleash the power of people management to improve efficiencies and effectiveness. It is significant that more and more state institutes now require CIPM Charter membership or our professional qualification for their relevant job positions which is a very positive development. However, it will take some time for the transformation.
Q: What role will emerging, and disruptive technologies play in corporate wellness initiatives?

A: Emerging and disruptive technology will play a significantly positive role in promoting wellness and wellness initiatives in the world of work directly and moreover indirectly. It has the unique opportunity to make a paradigm shift in this sphere especially with the growth of the millennial workforce that is Gen Next, who are comfortable with these types of technologies and particularly with the Gen I and Gen Alpha.

People managers will also have to be mindful of the challenges that will be faced by the non-millennial category of the workforce due to the proliferation of digital technologies and the disruption that comes with it. CEOs are realising that wellness initiatives contribute to productivity enhancements. The Hitachi representative who presented an interesting and thought-provoking session at the NHRC 2018 on the wellness on how to monitor wellness through digital means. The company utilising a wrist band and the connected app were able to monitor work done, blood pressure levels, happiness indicators and many more unconventional measurements in order to take corrective action on an almost real-time basis to enhance productivity while enticing a healthy work culture.
Q: How will this technology affect employee engagement?

A: It will impact productivity on a positive note while increasing the ways and means of engaging with employees in greater frequency and detail. The employee engagement model utilising technology can easily extend to even non-working hours and to engage the families of the employee. Specifically aligned social media internally will pave way for greater engagement of people, as I said earlier another tool is the wellness initiatives, inclusiveness agendas and diversity agendas can be carried out through technology very effectively. I must warn that all that comes with disruption are irreversible and therefore one must choose what to embrace and what to repulse. I also advocate that we have to be in tune with the expansion of the economy and the cyclical growth in order to decide to what extent that we need to embrace disruptive tech and also the extent of engagement required depending on the industry and the growth potential.
Q: What are CIPM's regional and global initiatives?

A: CIPM is a well connected and networked professional body with many initiatives on a regional and global level. We are the country host for World HR Congress2020 which is the largest HR conclave in the world. CIPM has also executed bilateral technical exchange and cooperation programs with many national level HR professional bodies of countries in the region including with India, Bangladesh, Pakistan, Malaysia and Maldives, and we are now looking at a similar programme with Thailand too.

We are under discussion with CIPD UK to establish an Accredited Study Center in Colombo and conduct CIPD short courses through their Singapore office. Furthermore, on my proposal, the APFHRM has given their green light to establish the 'Asia Pacific Center for HR Excellence' in Colombo at the last board meeting held recently in Nadi, Republic of Fiji.
Q: How does the CIPM Business School cater to the new world HR and technology trends in producing tomorrows people leaders?

A: In addition to the secretariat running the day to day operations efficiently, we have established a dedicated Board of Directors comprising of experienced and highly qualified industry experts to manage the affairs of the CIPM Business School and academic affairs through our 5th three-year strategic plan. Under the advice and guidance of this council, the programmes, syllabi and course contents are upgraded and revised every 2-3 years to keep them up-to-date and to look outward and incorporate trending areas in the people management discipline as well as technology.

We have recently included in our syllabus, modules relating to HR Analytics which is trending in people management. In our current strategic plan for the Business School, we made some significant structural changes reengineering and streamlining its operations into three pillars viz. the business school, academic and professional services and a shared services division to serve our Learners and membership in a more meaningful way and to compensate the imbalances of our revenue baskets.

We recently expanded to a new building in Kirulapone in close proximity to our head office which is capable of catering to the entire student capacity in the Colombo metropolis which will see a lot of efficiencies and quality improvements. We are also revamping our traditional library to a state of the art 'e-Library' which will have the most recent and relevant people management literature for the use of students and the membership alike. The CIPM e-Library concept is hailed as one of the best of its kind in the region. We have also embarked on an 'e-Learning' concept in order to be more inclusive by catering to the rural population via the 'CIPM Knowledge Center' initiative. This concept will promote distance learning through a virtual classroom which will be a boon to our rural population and we are also aiming at knowledge seekers from our regional countries in the Indian sub-continent.