The Human Rights Institute (HRI) welcomes UN Panel of Experts on the Sudan and Yemen former member Dakshinie Ruwanthika Gunaratne to the Institute's Practitioner-in-Residence Program.

Drawing on her extensive experience in International Humanitarian Law, Gunaratne will spend her time at Columbia researching and writing about famine and its correlation to economic crises, focusing on the use of starvation as a method of warfare during non-international armed conflicts.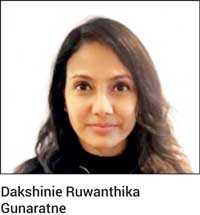 "Participating in the Practitioner-in-Residence Program at the Human Rights Institute offers me a unique opportunity to reflect on the work that I have done with the Security Council." Gunaratne said. "There is so much on sanctions in relation to human rights, humanitarian assistance, and protection of civilians that has not yet been explored. I look forward exploring these areas further at the Institute and Columbia Law School."

Gunaratne specialises in international humanitarian and human rights law, protection of civilians, and UN Security Council sanctions. During her time serving as the international humanitarian law expert on the UN Panels of Experts, she contributed to investigating, monitoring and reporting on human rights and humanitarian law violations that occurred in Darfur and Yemen to the Security Council.

"Not only did I get to delve into some of these underexplored territories, but I saw evidence that the reports I produced were helping expand the UN Security Council's knowledge of the human rights situation on the ground. I also witnessed the utility of sanctions mechanisms as deterrence against the most serious forms of human rights and humanitarian law violations," she explained.

"We are honoured to welcome Ruwanthika to the Human Rights Institute," said HRI Program on Counterterrorism, Armed Conflict and Human Rights Director Alex Moorehead. "Our students will have the opportunity to interact directly with Ruwanthika and we will all greatly benefit from her wealth of experience of UN mechanisms and protecting human rights in some of the toughest conflicts."

Gunaratne began her human rights career as a Legal Officer for the Ministry of External Affairs of Sri Lanka before becoming the Head of Communications and Implementation and Promotion of Law at the International Committee of the Red Cross there. While in Sri Lanka, she also lectured on human rights and humanitarian law at the General Sir John Kotelawala Defense University. She is looking forward to working with students again as part of her residency with HRI. The Columbia Law School HRI Practitioner-in-Residence Program is designed for human rights practitioners from non-governmental organisations, government, the UN, and other intergovernmental and international bodies who seek an environment in which they can engage in research, writing, and scholarly discussion connected to their human rights practice. The program is intended to promote human rights scholarship grounded in practice, as well as practice informed by scholarship and critique.

While in residence at the Human Rights Institute, Practitioners-in-Residence have the opportunity to work on their own scholarly or policy-oriented papers or books for publication, develop workshops and new research agendas, or prepare for conferences or new human rights projects. Mentoring about academic scholarship is available, as are opportunities for presenting and obtaining feedback on draft work.

Practitioners also have the opportunity to participate in the broader intellectual life of the law school, and may deliver guest lectures in the Columbia Law School Human Rights Clinic and other human rights course offerings, participate in the mentoring of Columbia Law School students, advise on ongoing projects of the HRI and Clinic, and design workshops or other events with experts from the field.

The HRI advances international human rights through education, advocacy, fact-finding, research, scholarship, and critical reflection.

It works in partnership with advocates, communities, and organisations pushing for social change to develop and strengthen the human rights legal framework and mechanisms, promote justice and accountability for human rights violations, and build and amplify collective power.

Founded in 1998 by the late Professor Louis Henkin as the anchor for human rights within Columbia Law School, the HRI promotes engagement and knowledge of human rights within the law school, throughout the university, and around world.

Across the many substantive areas of its work, the institute builds bridges between scholarship and activism, develops capacity within the legal community, engages governments, and models new strategies for progress.