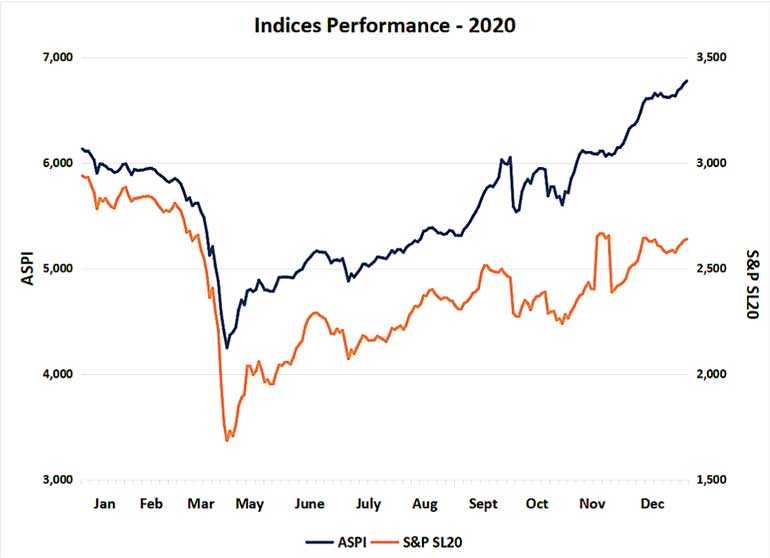 ---
Market capitalisation grew by Rs. 1 t since 12 May
---
The Colombo stock market yesterday ended 2020 with a 10.5% gain, the highest annual increase since 2014.

The Colombo Stock Exchange also said the 2020 gain was the only the 12th occasion the index had seen a double-digit percentage growth in CSE's 35-year history.

It added that 2020 market turnover rose to the highest since 2011 and market capitalisation grew by a trillion rupees since 12 May 2020, when the CSE resumed operations after the first wave of COVID-19 shutdown. The CSE ended 2020 with a market capitalisation of Rs. 2.96 trillion, up 3.8% from a year earlier.

The CSE All Share Index ended up 0.39% at 6,774.22 on Thursday, its highest closing level since early January 2016.

The more active S&PSL20 dropped by 10.18% during 2020. It gained by 6.57 points yesterday.

Turnover yesterday was Rs. 2.9 billion, whilst the year saw an average daily turnover of Rs. 1.9 billion.

First Capital said the market closed on a positive note for the fourth consecutive session to end the year in green.

"The index spiked within the first few minutes of trading, thereafter the market experienced a volatile sideways movement and closed at 6,774 with an advance of 26 points," it added.

The Capital Goods sector continued to lead turnover, closely followed by the Food and Beverage sector making a joint contribution of 48%. Market witnessed low foreign participation edged by the selling-side resulting in a net outflow, First Capital added.

NDB Securities said the ASPI closed in green as a result of price gains in counters such as Browns Investments, Asiri Hospital Holdings and Ceylon Cold Stores.

It said high net worth and institutional investor participation was noted in Lion Brewery Ceylon, Sanasa Development Bank and Dipped Products. Mixed interest was observed in Asiri Hospital Holdings, John Keells Holdings (JKH) and Hemas Holdings, whilst retail interest was noted in Browns Investments, Expolanka Holdings and ACL Cables.

The Capital Goods sector was the top contributor to the market turnover (due to JKH), whilst the sector index edged down by 0.07%. The share price of JKH recorded a loss of Rs. 0.30 (0.20%) to close at Rs. 149.60.

The Food, Beverage and Tobacco sector was the second highest contributor to the market turnover (due to Browns Investments), whilst the sector index increased by 0.65%. The share price of Browns Investments increased by Rs. 0.20 (4.88%) to close at Rs. 4.30.

Expolanka Holdings, Asiri Hospital Holdings and Dipped Products were also included amongst the top turnover contributors. The share price of Expolanka Holdings gained Rs. 0.50 (1.75%) to close at Rs. 29. Moreover, the share price of Asiri Hospital Holdings moved up by Rs. 1.30 (3.92%) to close at Rs. 34.50, whilst the share price of Dipped Products appreciated by Rs. 2.20 (0.64%) to close at Rs. 347.30.

Separately, Ceylon Tobacco Company announced an interim dividend of Rs. 18.50 per share.

Net foreign outflow from the CSE in 2020 amounted to Rs. 51 billion. Yesterday according to Asia Securities the estimated net foreign buying topped in ACL at Rs. 22.4 million and net foreign selling topped in Hemas Holdings at Rs. 27 million.