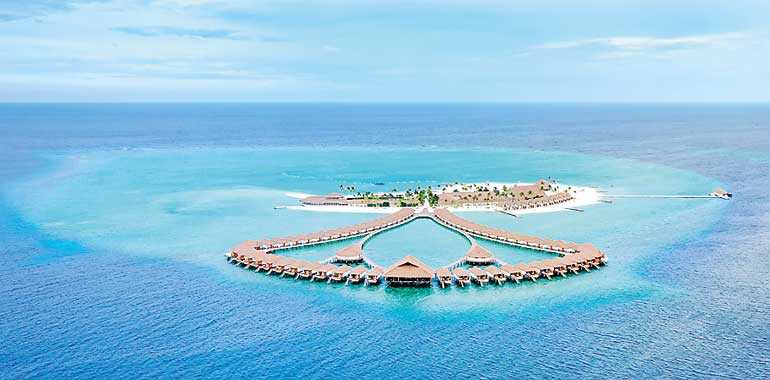 Aerial view of the property
Cinnamon Hotels & Resorts, the leisure arm of John Keells Holdings, is continuing expansion with the opening of its newest hotel, Cinnamon Velifushi Maldives.

The opening of the new resort on the island of Aarahveli is the fourth property added to its portfolio in the Maldives, and the 15th to its overall portfolio which also consists of eight resorts and three city hotels in Sri Lanka.

The five-star deluxe features sleek Italian design elements, a hosting loft, suites, water bungalows, villas and family accommodation comprising 90 rooms in five room categories. Special features on the property include the main bar with sweeping views of the Indian O, a fully-equipped sports bar, and a luxury wellness spa operated by the acclaimed Mandara Spas.

The property is operated by Cinnamon Hotels & Resorts for Marco Mingoli, property developer, hotel-owner and investor in the Maldives. The hotel offers an array of unique experiences including a swimmable lagoon surrounding the island with an abundance of marine-life. Exclusively designed furniture from Germany, Italy and the Far East offer the property a chic and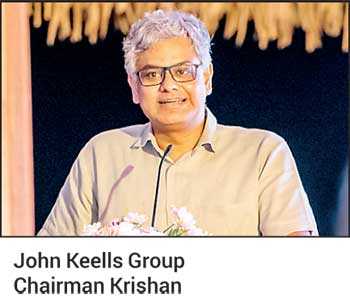 exclusive ambience.


Sharing his sentiments on Cinnamon opening its fourth resort in the Maldives, John Keells Group Chairman Krishan Balendra stated that the Group was committed to consistent growth and further expansion in the region.

Echoing his sentiments, John Keells Group President Leisure Jit Gunaratne stated: "Cinnamon has succeeded in growing its occupancies and profitability in an economically challenging environment and envisages aggressive expansion in the region. We are committed to stay competitive and grow our portfolio with enhanced technology and processes introduced to our own operations to be the preferred management company for potential developers in Sri Lanka and the Maldives."


Cinnamon is at the forefront of Sri Lanka's hospitality sector in the 4- and 5-star category, currently with over 2400 keys in its inventory and will be strengthened with its pipeline of investments with the addition of 159 rooms in Bentota, 210 rooms in Kandy, and the much-awaited 800-room hotel at Cinnamon Life.

John Keells Group Executive Vice President and Maldivian Resorts Head Jayantissa Kehelpannala stated: "This memorable occasion of opening another one of our resorts in the Maldives is a significant step in the tourism expansion planned for the region and is an important milestone in our journey. The Cinnamon brand has always strived to be a hospitality trendsetter and intends to maintain its status as a leader in the travel and tourism industry with further projects."


The Maldives arm of Cinnamon Hotels & Resorts first started business in 1996 with the Velidhu Island Resort and Cinnamon Hakura Huraa opening merely two years later. Cinnamon Ellaidhoo Maldives and Cinnamon Dhonveli Maldives followed, and now together with Cinnamon Velifushi Maldives, the chain has a total of four resorts under operation in the islands.

Expressing his views on the opening of Cinnamon Velifushi Maldives, State Minister of Tourism for the Maldives Dr. Ahmed Salih emphasised on the importance of Foreign Direct Investment to the cluster of islands and appreciated the level of investment and commitment made by Cinnamon Hotels and Resorts as a pioneering tourism entity in the Maldives, its continued support in expanding in the islands and its burgeoning tourism industry.

Cinnamon Hotels & Resorts is a chain comprising 15 hotels and resorts located in key areas across Sri Lanka and the Maldives. The brand embodies a passion for inspired living and promises holistic and enhanced experiences that are tailor-made to suit the specific interests of travellers.

The Cinnamon brand focuses on delivering memorable holidays and getaways that deliver exceptional standards of service whilst showcasing the warmth and vibrancy of authentic and contemporary hospitality.