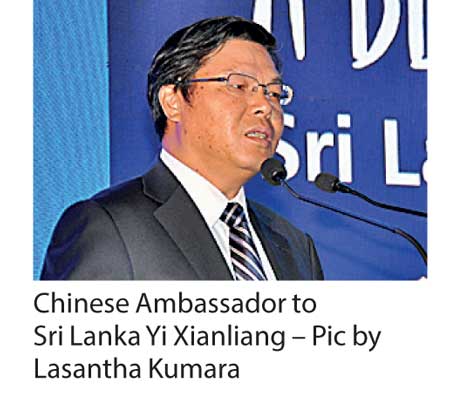 Says China has no hesitation to support SL to become information and telecommunication partner in South Asia
Chinese donations from 2014 to date exceeds Yuan 1.5 billion
Insists not to politicise business issues and destroy economic cooperation or its benefits for the people
Urges Chinese and foreign telecommunication firms to contribute towards development of ICT sector in SL
China yesterday reiterated its commitment to further bilateral ties with Sri Lanka and donate more to support innovation and technology development in the island in order to enable it to be an information and telecommunication hub in South Asia.

Emphasising that China's support to Sri Lanka was based on long-cherished strong bilateral ties, Ambassador Yi Xiangliang said they had agreed to donate $ 100 million annually to Sri Lanka over the next three years. "Last May, my President Xi Jinping had a meeting with Sri Lanka's Prime Minister Ranil Wickremesinghe and announced from 2018 to 2020 China will donate $ 100 million per year to support different sectors of the economy, including innovation progress," he said at the 2nd Sri Lanka Broadband Forum, co-sponsored by Huawei, a Chinese multinational information and communications solutions provider.

It was pointed out that China has donated Yuan 1.5 billion for various projects in Sri Lanka from 2014 to this year, excluding the donations for training and scholarships given close to 2,000 Sri Lankans in China that amounts to $ 10 million.
Noting that the development of Information and Communication Technology (ICT) was a priority of most economies, he assured China's support to Sri Lanka to make it become an information and telecommunication partner in South Asia.

"We often talk about Sri Lanka becoming the financial, logistics and service hub; we should not forget to become the telecommunication hub in South Asia. So, in the next few years China will use a significant proportion of the percentage of donations to Sri Lanka for innovation and technology development. China has no hesitation to support Sri Lanka to become the information and telecommunication partner in this region," he said.

He urged both Chinese and other companies participating in the forum to contribute towards the development of Sri Lanka's ICT sector.

Despite claims over China's role from certain quarters, Xiangliang stressed that the country remained committed to Sri Lanka.

"In a recent visit to the North Central Province, I met an official from the US. She said China has not made enough donations to Sri Lanka and the US is the greatest donator to the country. Might be because according to the United Nation's rule, developed countries should donate at 0.7% to developing countries. China is a developing country, but we do what we can and we do what we say. We are open and transparent because we are human beings," he said.

Referring to the Hambantota Port, Xiangliang insisted that people should not politicise business issues and destroy economic cooperation or its benefits to the people.

"The China-Sri Lanka relationship goes back over 1,600 years according to historic writing. Our relationship is inclusive and transparent. We do what we can and we do what we say," he added. (CDS)