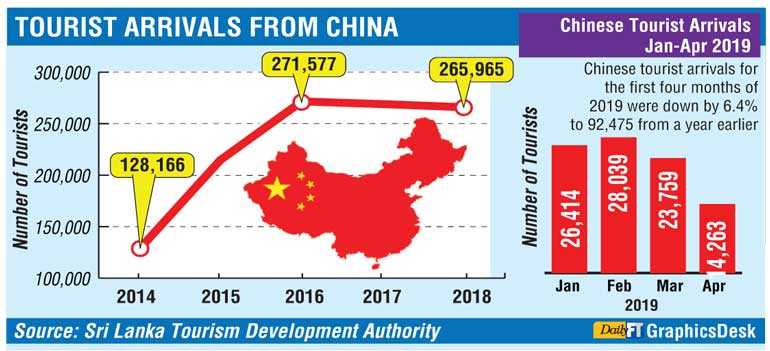 China has reiterated it attaches importance to Sri Lanka's concerns on its tourism industry hit by the 21 April attacks and will promptly promote Chinese tourist arrivals to the island and tourism exchanges.

Chinese Ambassador to Sri Lanka Ambassador Cheng Xueyuan gave this assurance when Sri Lanka's Tourism Minister John Amaratunga met with him last week at the Chinese Embassy in Colombo.

During the meeting, the two sides exchanged in-depth views on promoting tourism exchanges and personnel exchanges between the two countries, the Embassy said in a statement.

Last week, the travel ban on visiting Sri Lanka implemented by China was lifted to "cautious when traveling" to Sri Lanka, and the Authority is confident that the travel advisories will be lifted in the next couple of weeks as they have been working closely with many diplomatic missions since the incident.

Minister Amaratunga said that the friendly relations between Sri Lanka and China have a long history and recalled that China has long supported the economic and social development of the country and has built most of the landmark buildings in Colombo.

Tourism is a pillar industry of the economy and was seriously affected by the 21 April bombings, the Minister noted. Sri Lanka thanked China for its help and support after the incident.

Minister Amaratunga expressed hope that China would promote Chinese tourists to resume travel to Sri Lanka. The Government will strive to create a safe and comfortable tourist environment for them, he assured.

Ambassador Cheng Xueyuan said that the traditional friendship between China and Sri Lanka is profound and the exchanges between the two countries are very frequent.

Expressing sincere condolences on the 21 April bombings in Sri Lanka, the Ambassador said China is willing to provide assistance within the capacity of Sri Lanka to safeguard national security and promote economic development.

The Chinese side attaches importance to the relevant concerns of the Sri Lankan side and hopes that the Sri Lankan side will understand China's practical security concerns, he added.

"We will proceed according to the security situation of Sri Lanka, and promptly promote Chinese tourists' visits and promote tourism exchanges as well as personnel exchanges between the two countries," the Ambassador said.

Minister Amaratunga expressed full understanding and heartfelt thanks for the Chinese support, the Embassy said.