Market cap peaks to record Rs. 3.25 t
---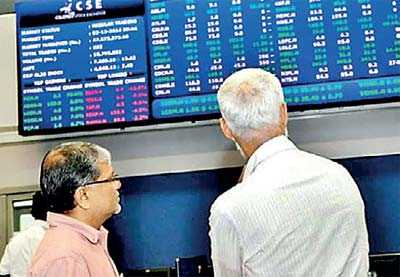 The Colombo stock market yesterday notched up another record – the highest number of trades in its history.

There were 52,559 trades yesterday beating the previous highest of 49,921 achieved on 18 August 2011.

The record came on top of seventh consecutive day of over Rs. 6 billion turnover with yesterday's figure being a recent high of Rs. 9.1 billion. The Colombo Stock Exchange (CSE) market capitalisation also reached an all-time high value of Rs. 3.25 trillion.

Acuity Stockbrokers said the Bourse ended on a positive note today as the ASPI increased by 2.21% or 160.99 points to close at 7443.23 points, while the S&P SL20 Index is also increased by 1.45% or 39.76 points to close at 2,782.17.

Foreign investors recorded a net outflow of Rs. 195.38 million over the day compared to a net outflow of Rs. 58.75 million recorded yesterday.

Expolanka topped the turnover list with Rs. 1.56 billion followed by Browns Investments Rs. 1.23 billion. LOLC Holdings chipped in with Rs. 675 million followed by Vallibel One with Rs. 369 million and CIC Holdings (Non-Voting) saw Rs. 343 million according to SC Securities. Expolanka share price gained to Rs. 47 whilst that of Browns Investments moved up to Rs. 7.40, both establishing new highs. Percentage wise, Commercial Leasing and Finance topped the list with 25% gain or by Rs. 1.70 to close at Rs. 7.

First Capita said Bourse experienced an all-time highest number of trades within a day, on the back of retailers while recording the highest intraday gain nearly after 14-weeks.

"Index witnessed a continuous uptrend from the beginning of the session reaching its intraday high of 7,481 during mid-day. Later market moved downwards and closed at 7,443 with a massive advance of 161 points," it added.

Materials sector led the turnover for the session closely followed by Food and Beverage and Capital Goods sectors making a combined contribution of 58%.

NDB Securities said the ASPI closed in green as a result of price gains in counters such as Expolanka Holdings, Commercial Leasing & Finance and LOLC Holdings.

It said high net worth and institutional investor participation was noted in Distilleries Company of Sri Lanka, Watawala Plantations and Expolanka Holdings. Mixed interest was observed in CIC Holdings non-voting, LOLC Holdings Vallibel One, whilst retail interest was noted in Browns Investments, Piramal Glass and CIC Holdings.

Materials sector was the top contributor to the market turnover (due to CIC Holdings nonvoting), whilst the sector index gained 3.68%. The share price of CIC Holdings nonvoting appreciated by Rs. 6.40 (12.60%) to close at Rs. 57.20.

Capital Goods sector was the second highest contributor to the market turnover (due to Vallibel One), whilst the sector index increased by 2.75%. The share price of Vallibel One recorded a gain of Rs. 2.20 (6.30%) to close at Rs. 37.10. Expolanka Holdings, Browns Investments and LOLC Holdings were also included amongst the top turnover contributors. The share price of Expolanka Holdings increased by Rs. 5.70 (13.80%) to close at Rs. 47.00. Furthermore, the share price of Browns Investments lost Rs. 0.10 (1.33%) to close at Rs. 7.40, whilst the share price of LOLC Holdings moved up by Rs. 15.75 (9.50%) to close at Rs. 181.50.