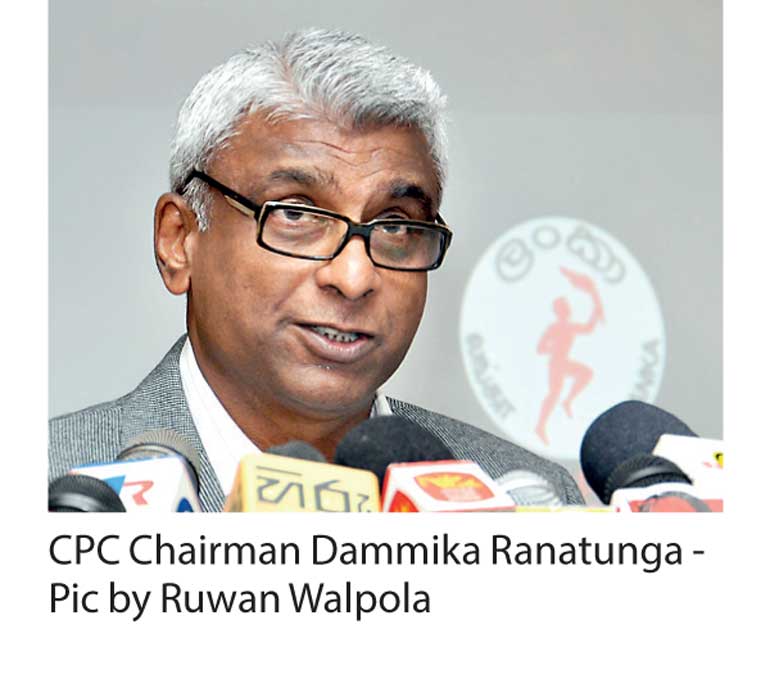 CPC seeks tax concessions, Govt. collateral on loans for expansion projects
Discussions with Finance Ministry underway to determine operating style of CPC
CPC turns around business to earn month-on-month profit from May
By Chathuri Dissanayake

The debt-ridden Ceylon Petroleum Corporation (CPC) is seeking tax concessions and Government assistance to finance several expansion projects that could cost as much as $ 2.4 billion, a top official said yesterday.
The State-owned entity, which owes over Rs. 300 billion to banks due to subsidised sales prices, is seeking Treasury assistance to finance some of its key expansion projects including the Sapugaskanda Oil Refinery expansion to cost $ 2.3 billion. The CPC has lobbied with the Finance Ministry for tax concessions or to assist in securing concessionary loans to finance the project, said CPC Chairman Dammika Ranatunga.
"We can recover the money invested in about six years' time. We pay the Government about 40% in taxes so if we get a concession on the taxes we pay on the refinery at least we will be able to pay the loans. If we structure the loans properly, we will be able to pay those loans and also will be able to save a lot of money instead of paying it in six years. If we get a concessionary loan we will be saving enough money to utilise on other products," Ranatunga told Daily FT.

The expansion will improve the capacity of the refinery, which can only meet 30% of the country's demand at present, to 100% by 2025 and is expected to save $ 400 million annually for the CPC once completed. The CPC is considering two options to fuel the much discussed Sapugaskanda expansion project. One is to commission a suitable bidder to build and supply the crude oil needed, he said. The second is to finance the project through a concessionary loan to be repaid within a period of 10-12 years.

"If we can do a long-term crude supply then it does not put a burden on the Government. If we do the long-term crude supply then we have to decide on a price based on international prices lower than whatever we buy at the time. If they can get it directly from a well, then that cost is also much less, they have an opportunity to work that angle as well."

The CPC has already secured three parties interested in the project, Ranatunga said.

The company is also considering a number of other development projects to improve operations and make long-term savings. Moves are underway to install more pipelines between the Colombo Port and Kolonnawa to reduce transport time leading to savings of $ 5 million per year.

Further, a new pipeline will link the Kolonnawa and Muthurajawela terminals. The CPC also plans to install a new 90,000-metric ton tank for storing aviation fuel which will then be directly pumped to the BIA terminal via a proposed 4-km-long pipeline connecting Muthurajawela terminal and the airport. According to estimates, the project will save $ 2.54 per metric ton of aviation fuel, enabling BIA to provide fuel at better rates leading to profitability of Rs. 3 billion per year for the CPC.

Ceylon Petroleum Storage Terminals Ltd. (CPSTL) has also begun the process of evaluating and restructuring 11 Provincial Fuel Depots where revisions will be done in locations depending on emerging economic zones.

While the CPSTL is able to self-finance their projects, projects proposed by CPC to improve capacity need to be financed through loans or Government funding, Ranatunga said. However, the CPC does not plan to obtain commercial loans at this point in time. Discussions with the Finance Ministry have been focused on the matter as well he said.

Discussions also focused on the operating model of the CPC and to lobby for possible tax benefits, he said. According to him, the CPC is capable of financing its own expansion projects if it is run as a profit-making business.

"We have a discussion again on Friday [today] on the matter. The discussion will centre on how the Government should recognise us, whether we are going to be a commercial institute driven by profits or whether we are going to be a national institute which is assisting the Government to help the masses and give their requirement at a concessionary price. Then when we do that obviously we need the Government to step in when we have to borrow.

At present Rs. 300 billion is due from the Government for supplying fuel to consumers at a subsidised price. Further, Government institutions also owe CPC over Rs. 60 billion in total. CEB has run a bill of Rs. 40 billion with the CPC, while SriLankan Airlines' unpaid fuel bill is at Rs. 11 billion, Ranatunga revealed. These add to CPC's own debt of Rs. 300 billion. However, a number of strategic changes in the CPC's operations have earned the company month-on-month profits since May 2017 amounting to a total of Rs. 11.643 billon in four months.

"Over the past four months, the Ministry of Petroleum Resources and CPC have enacted a series of changes that have enabled it to make financial gains and the corporation is now preparing for the future," said Ranatunga.

Despite the debts the CPC has not lobbied for a price hike with the Government. According to Ranatunga, relevant officials have been apprised of the situation faced by the CPC. However, no request to increase prices has been made.

"We have not requested the price increase; we have taken into consideration the impact on the people and apprised the Government of the situation. The Government is yet to inform us on their decision. They will do so after discussions with all other relevant institutions. We have to take into consideration that we supply different products to institutions like the CEB as well," he said.