Claims Treasury does not provide due subsidies,in past 10 years it has accumulated $ 2 billion
Difficult to sell products at price decided by Treasury, mostly below market price
Ranatunga says nothing to do with how institute operates, but it is how structure works
Stresses it's challenging to live up to agreements entered into with Treasury interference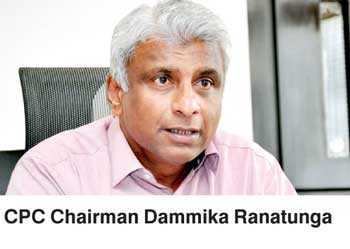 By Charumini de Silva

The Ceylon Petroleum Corporation (CPC) claims the financial steadiness of the institution would have been much improved if the Treasury provided due subsidies and State institutions paid promptly.

"I don't think it's a fair comment to say that we are in debt. If all the institutes pay us on time and the Treasury gives us the subsidy that they are supposed to give, then we are not going to be in debt," CPC Chairman Dhammika Ranatunga told the Daily FT.

He charged that it was difficult for the CPC to sell its products at a price decided by the Treasury, which in most times was below the market price and below the cost they purchase at.



"When the Treasury decides the price, they are supposed to pay us a subsidy and over a 10-year period it has accumulated to over $ 2 billion. Now if you look at our debt to the two state banks, our actual debt and the subsidy that the Treasury owes us is only about a Rs. 70 billion difference. This is due to currency fluctuation of the US dollar, other than that we are not in debt," he stressed.

Ranatunga pointed out that if all the institutions pay the dues on time and Treasury provides them with the subsidiary that they are entitled to, the CPC would not be in a bad financial situation as everyone claims.

"We can't deny to supply fuel to the country. We can't stop this process because everything runs on fuel and if we don't cater to the demand, the country's economy falls," he added.

He said the CPC has been carrying out its duties as a responsible government institution, although the Treasury has opted not to pay the due subsidy.

"Whether the Treasury pays or not, we have ensured that there is a continuous supply of fuel to run the country. So we have kept doing that over a period of time, but I think it's important for everybody to understand that it has nothing to do with how institute operates, but it's how the structure works," Ranatunga pointed out.

When asked about the latest progress of the letter of intent signed with the IMF he said that it was really hard to live up to their expectations when the Treasury decides on the basic requirements of the business entity.

"You can sign these documents, but then it is important to figure out if we can really live up to the expectations. They are expecting us to do certain KPIs; we do our best to fit into that, but we procure and someone else deciding on the price and the taxes doesn't very much help us to grow. So when you have a situation like that, how do you set up a KPI to get certain amount of profit? It is very hard but we have looked at certain areas and we have improved such as bringing in financial discipline," he quipped.

In terms of the pricing formula which was introduced recently, he asserted that it was not very transparent on how the revenue saved through the mechanism would benefit the institution.

"We have given them information about the money owed by them and so on. But how are they going to address this issue whether through this formulae, they have not come up with it yet. There should be a strategy in place, that's what I think. Those discussions are going through but the bottom line is that they have to ensure the general public is affected the least," Ranatunga said.