---
The 86th President of The Chartered Institute of Management Accountants (CIMA), Amal Ratnayake, FCMA, CGMA, will be in Sri Lanka from 16 to 22 January.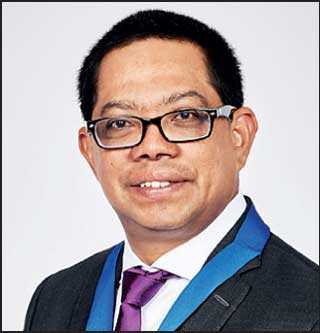 CIMA President Amal Ratnayake


During his visit he is scheduled to meet VIPs as well as other top officials.

He will be participating at the Bell Ringing ceremony at the CSE on 16 January in commemoration of the Global CIMA Centenary.

He will also be hosting CIMA's Associate and Fellow Members to dinner at the Shangri-La at an event where CIMA's 2020 Corporate Partners and Top Employers in Sri Lanka will also be recognised. Amal will be the Chief Guest at the CIMA Convocation to be held on 18 January.

In this elected volunteer role, he works to drive a dynamic accounting profession worldwide, representing ACMAs, FCMAs and CGMA designation holders and promoting the value that management accountants drive for organisations of all sizes.

He is also Chair of the Board of the Association of International Certified Professional Accountants, the unified voice of CIMA and the American Institute of CPAs (AICPA).

Amal became a CIMA member in 1993 and began volunteering with CIMA the Education and Training Committee of CIMA Sri Lanka soon thereafter. He also served on CIMA Council, CIMA Executive Committee and CIMA boards and policy committees on three continents.

With an MBA from Cranfield School of Management, Amal is an experienced transformational leader and strategic CFO with an international track record of driving financial and structural transformation in businesses.

He is currently Chief Financial Officer at The Official Community Corporation, an online event-driven brand management company for established recording artists, based in Canada and previously held a number of senior finance roles for companies in Sri Lanka, Saudi Arabia and Canada.