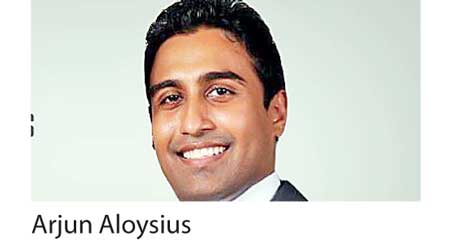 Aloysius' lawyer says CID officials attached to commission call on his client
Aloysius unable to provide bank statements as ordered
Promises to submit documents today or tomorrow
PTL transferred sum of Rs. 920 million between different companies in the group
"Phenomenal profits" attributed to selling to EPF at "lower rates"
By Himal Kotelawala

Criminal Investigations Department (CID) officials yesterday called on Perpetual Treasuries Ltd. (PTL) former Director Arjun Aloysius at his private residence in order to secure bank details he had failed to produce at the Presidential Commission of Inquiry as ordered.

Deputy Solicitor General Milinda Gunatillake's questioning of PTL CEO Kasun Palisena was interrupted when Aloysius' attorney President's Counsel Anuja Premeratne, upon receiving a text message, told the commission that his client's residence had been visited by CID officials attached to the ongoing inquiry.
Senior Additional Solicitor General Dappula de Livera countered that Aloysius had failed to show up after he had been given clear instructions to appear before the commission last morning with his bank details - hence the CID visit.

Premeratne claimed to not know whether his client was in fact at home at the time. Meanwhile, de Livera, citing an "unverified source", said that he had reason to believe Aloysius had left the country. Premaratne vehemently denied this, insisting that his client was definitely in the country.

The back-and-forth continued for a while, as de Livera pointed out that since banks had been open since 9.00 a.m. there was no reason Aloysius could not produce the relevant documents by last afternoon.

Aloysius' attorney assured the commission that he would produce the bank statements as soon as they were available. Towards the end of the hearing, he informed the commission that he had gotten in touch with Aloysius' two banks, namely Standard Chartered and Pan Asia Bank, and promised to submit all relevant details over the course of today and tomorrow.

Premeratne also noted that some 10,600 pages of records extracted from Aloysius' phone had yet to be made available to him, with his requests to seek access repeatedly denied. The lawyer expressed his wish that his client would not be cross-examined today based on those documents as he had yet to receive them. De Livera said that he would look into it and if it turns out that the extraction process has been completed, all documents will be provided to Premaratne.

Meanwhile, Monday's cross-examination of PTL CEO Palisena continued, with Deputy Solicitor General Gunatillake pressing him further about what he called "phenomenal profits" reported by the company in November 2015. (Palisena's testimony on Monday had revealed that PTL had transferred a sum of over Rs. 920 million in profits to different companies in the Perpetual Group between 1 February 2015 and 30 September 2016).

Gunatillake stated before the commission yesterday that PTL had made "significant" profits - some Rs. 2 billion - in November thanks primarily to the company selling at a lower yield to the Employee's Provident Fund (EPF).

The Deputy Solicitor General asked Palisena if PTL would still have made those profits had the company not sold to the EPF at a lower rate than the rates paid at the auction.

Palisena responded that PTL had sold to other counterparties as well, and not just the EPF at existing market rates and not, contrary to Gunatillake's claim at lower rates.

Gunatillake, however, maintained that PTL would not have made the "phenomenal profits" if it had not been for the transactions with the EPF and other government counterparties. In the case of almost every International Securities Identification Number (ISIN), the yield rate at which PTL sold to the EPF and other government counterparties were "invariably much lower" than the rates at which it had carried out other outright sales, he said.

The cross-examination will continue tomorrow. Aloysius is also expected to appear and will likely testify depending on the commission's formal decision whether or not he should give evidence.