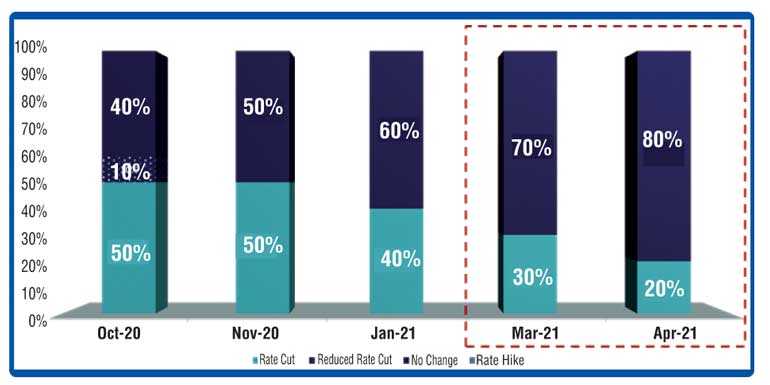 Policy rates to be kept unchanged by CB this week
But says reducing rates could improve consumer demand and push growth
Private sector credit grows Rs. 25.7 b in Jan for 6th consecutive month
Rate cut could also keep secondary market at lower levels
---
The Central Bank is likely to keep policy rates unchanged this week, First Capital Research said yesterday, though it backed slashing them further to improve slow consumer demand and sustain the secondary market at lower levels.

Releasing their pre-policy analysis, First Capital Research said among the arguments against further relaxation in monetary policy was that high-frequency indicators point to retrenchment in economic activity.

Reversing the downward trend witnessed in the recent months, the LMD-Nielsen Business Confidence Index (BCI) shot up by 39 points to 122 in January. BCI index spiked a notable 12 points above the average for the last 12 months with the COVID vaccine rollout giving some form of relief to prevent the

spread of COVID-19.

Index of Industrial Production (IIP) for Dec 2020 increased to 110.7 from 106.9 in Nov 2020, while Sri Lanka's Manufacturing and Service Purchasing Managers' Index (PMI) remained in expansion territory in Jan 2021. New business activity in PMI increased in January, particularly with the improvements observed in financial services, transportation, and wholesale & retail trade sub-sectors.

First Capital also pointed out that credit growth was on track, but structural recovery awaits. Private sector credit increased by Rs. 25.7 billion in January recording a growth for the sixth consecutive month, indicating a revival in gross loan disbursements. Growth reflects that both businesses and individuals are speeding-up economic activities.

"CBSL continues infusing ample liquidity into the banking system via increased CBSL Holdings (Money Printing) which also support fiscal shortage. The CBSL Holdings rose to Rs. 809.9 billion on 26 February from Rs. 738.4 billion as at 31 December 2020," said First Capital in its analysis.

Arguments for further relaxation in monetary policy according to First Capital Research include supporting stronger growth and assisting the economy to 'bounce back' from the COVID-19 crisis.

"First Capital Research estimates Sri Lanka's GDP would recover to 3.2% in 2021, from its expected steepest contraction in its history of -5.8% in 2020. Lack of demand for credit, slowness in consumer demand recovery and import restrictions can be considered as a major factor favouring the easing of policy rates at the upcoming meeting."

Treasury yields spike on the back of auction undersubscriptions. Yields in the secondary market witnessed an increase with moderate market activity from participants followed by a wait and see approach amidst the looming uncertainty.

"The last two bond auctions and five treasury bill auctions were undersubscribed by a considerable amount reflecting the lack of clarity among market participants with the current economic condition. We consider a rate cut would be required to sustain the secondary market rate at lower levels."

In line with First Capital Research expectations, at the previous policy meeting held in January, CBSL maintained its monetary policy stance, after considering the macroeconomic conditions and expected developments on the domestic and global fronts.

The Board, having noted the reduction in overall market lending rates during 2020, stressed the need for a continued downward adjustment in lending rates to boost economic growth in the absence of demand driven inflationary pressures, particularly considering the significant levels of excess liquidity prevailing in the domestic money market.