Insists need to drive growth without opting for quick fixes
Says none of the presidential manifestos have focused enough on export development
SL to continue engagement with IMF
Debt manageable if SL sticks to stable macroeconomic fundamentals
Reserves at $ 7.7 b, sufficient for 4.5 months of imports, covers 60% of short-term liabilities
CB projects growth to be 3% or less, inflation within 4-6% target, current account deficit at 2.6% of GDP


By Charumini de Silva

Central Bank Governor Dr. Indrajit Coomaraswamy last week said macroeconomic fundamentals were more consistent and predictable going forward and listed out some of the key economic challenges for the incoming president and government.

Pointing out that the Central Bank had put in place a new framework to maintain sound macroeconomic fundamentals, he said it was the new leadership that had to drive growth without opting for any quick fixes of loose policies.

He made these remarks speaking at 'Transforming Sri Lanka Forum – Empowering the Game-Changers' organised by the Pathfinder Foundation in Colombo last Friday.

The Governor's key challenges for the next president and government includes an export transition supported by Foreign Direct Investment (FDI), continuation of the clear path set by the Central Bank, debt management and capitalising on the best opportunities for Sri Lanka's economic growth.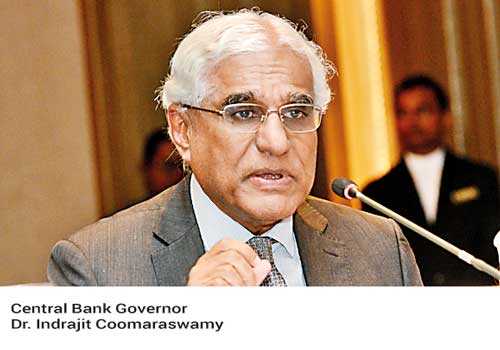 "I don't see enough export transition in any of the manifestos of the president aspirant candidates. In my view, that has to be the top line. If you want to have growth on a sustainable basis, to pay debts and still have space to create employment, then you have to increase exports significantly," Dr. Coomaraswamy said.

He said it was crucial not to reintroduce an anti-export biased policy framework, adding that there was no point in talking about reviving growth with a market of 20 million unless we grew an external demand or exports.

Dr. Coomaraswamy also said Sri Lanka would continue the engagement with the International Monetary Fund (IMF) in the foreseeable future.

"Now that we are an upper middle income country, we are exposed to rating agencies and international capital markets. We are going to have some kind of a relationship with the IMF. We may not borrow money from them [IMF], but we have to be realistic and understand that a significant amount of our economic sovereignty has been handed away. Nobody has come and taken it away from us, but given the way we have managed our economic affairs that is the situation that we find ourselves in," he pointed out.

In the next three to five years Sri Lanka has to borrow $ 3 billion per year from the market to be able to meet economic obligations and maintain a reasonable level of imports.

"Whoever is in power that (debt repayment) is going to be a binding constraint. There is a clear path that one has to follow and if one deviates then we won't be able to raise the $ 3 billion and there will be severe austerity in terms of expenditure, squeeze of domestic consumption, import compression and all that," he added.

Attributing the situation to what happened in Greece, Dr. Coomaraswamy said it wasn't a certainty, but cautioned it was a 'narrow trap' and managing prudently was crucial.

"So whoever is in power can go 10 degrees this way and 10 degrees that way, but the path is very clear and that's something we need to internalise and understand," he said.

The Governor also said managing the exchange rate flexibly was important, highlighting that in the past governments had tried to defend a particular rate, resulting in depleting a vast amount of precious reserves of the economy.

"From the second half of 2011 up to 11 February, we have spent $ 4.5 billion trying to defend the exchange rate and ended up depreciating by 13% anyway," he said.

Noting it was not just the friction of one government, he said even the current administration in 2015 had spent $2 billion of reserves to try to defend the exchange rate and ended up depreciating 10%.

"You always end up with a double whammy. It's a futile exercise and therefore now we are trying to protect our reserves by managing the exchange rate more flexibly. The Central Bank will only intervene to prevent disorderly adjustments of the exchange rate," he pointed out.

According to the Governor, Sri Lanka currently has $7.7 billion worth of foreign reserves, sufficient for 4.5 months of import cover and it also covers 60% of our short-term liabilities, which are at a satisfactory level.

"The quality of our reserves has improved. In 2013, we had $7.5 billion reserves but $2.5 billion was short-term three-month swaps. By 2014 end we had a total of $ 8 billion reserves, but $ 2 billion was swaps. Now the swaps have come down to less than 5%. We have reserves of $7.7 billion, now swaps are about $ 500 million. So the quality has improved and the quantity of reserves are also okay," he said.

The Governor said they predicted GDP growth to be 3% or little under that, inflation at 4% to 6% target and current account deficit at 2.6% of the GDP this year.

Reiterating that macroeconomic fundamentals were at sound levels, he noted the incoming leadership would have a bigger challenge to drive growth through improvements in productivity, competitiveness and policy consistency.

"We know what to do, but we just need to now box clever," Dr. Coomaraswamy quipped.