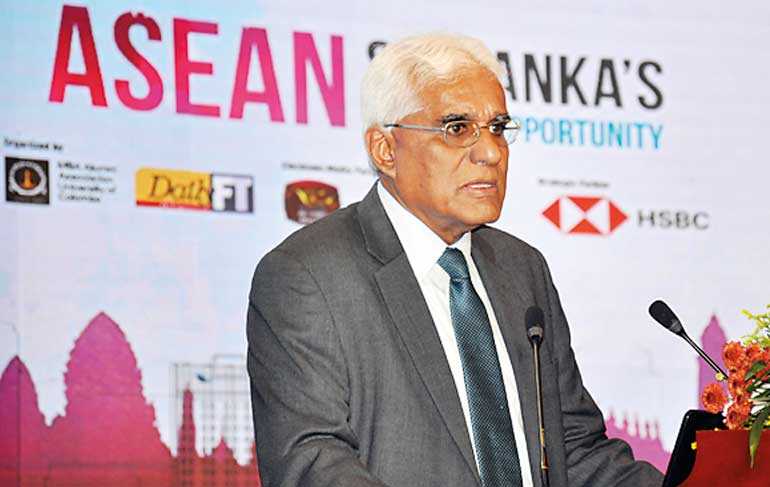 Central Bank Governor Dr. Indrajit Coomaraswamy – Pic by Daminda Harsha Perera and Lasantha Kumara
By Charumini de Silva

Central Bank Governor Dr. Indrajit Coomaraswamy yesterday gave assurances of a well-managed rupee, insisting the monetary authority would block unwarranted volatility in the foreign exchange rate and have zero tolerance on speculation, pledging to take all measures possible to discipline the market.

Addressing the Daily FT-Colombo University MBA Alumni Association organised and HSBC supported dialogue on 'ASEAN: Sri Lanka's Next Big Opportunity', he said that certain allegations were made that the Central Bank is contributing to the volatile Forex rate practiced by the market players.

"Let me set certain principles. As far as the Central Bank is concerned, we do not see any cause for the pressure that there is in the Forex market. In the first quarter of this year, the average monthly inflow to the Forex market was $2 billion and in April, it came down to $1.8 billion. And in May, it came down to $1.6 billion. However, if you look at the exports, remittances, tourism and all the other sectors, there is no reason for a 20% reduction in the money coming to the Forex market. This makes us think that there is speculation going on in the market. That is not something the Central Bank will tolerate," Dr. Coomaraswamy said.

He pointed out that, despite the global developments with dollar strengthening, higher oil prices and all other external factors, there is still 'no pressure' to the extent the country had experienced before.

"If anybody is speculating, I must say that it is not something that we are going to tolerate. In the long run, enlighten the self-interest of those who operate in a forex market. We have a lot of instruments to restrict them — to restrict importers, to restrict exporters. If you don't know what those measures are, please look at what my former mentor A.S. Jayawardena, who passed away recently, did in 2001 in the currency upshot," he added.

Governor Coomaraswamy reiterated that there is no reason for this undue pressure on the exchange rate, and outlined that they were trying to deliver a compatible exchange rate.

"The real effective exchange rate (REER) is around Rs.100. Reserves are at $9 billion with the Hambantota port money that's due this week. Another billion is coming for a syndicated loan. Our reserves are historically at very high levels. We want to give the market a competitive exchange rate. We don't want to intervene in the market. We want people to behave responsibly and to run the market in a responsible way," he stated.

Given the fact there is a high import component in the basic consumption in Sri Lanka, Dr. Coomaraswamy highlighted that, if necessary, the Central Bank will take all measures to discipline the market, adding that they will soon be announcing further measures to develop the market.

"Look at the powerful instruments we have to restrict them all. We do not want to do it because it is not good for the market, importers and exporters, and to the economy. We don't want to use them but at the same time, we need a responsible exchange rate within the Forex market to develop it and let the market operate the way it should," he pointed out.

The Governor also said they will be announcing a certain framework to better manage the exchange rate with the assistance of the International Monetary Fund (IMF) in the near future.

In terms of ASEAN, he emphasised that the region holds potential for Sri Lanka, particularly considering the priority areas that the Government is focusing on. "Looking at what ASEAN has to offer, I think it fits in with our key priorities of export strategy, FDI strategy, non-aligned international strategy and, of course, the location dynamics."

The two specific areas that Sri Lanka can immediately explore, according to the Governor, were plugging into their value chain and getting into joint ventures to upgrade industrial logistics and services.

"Given our location and preferential trade agreements, it is important we explore the opportunities to attract investments from ASEAN countries to Sri Lanka and plug into their value chains, both in manufacturing and services. Also, by getting into joint ventures, it will help us to adapt and adopt advanced technologies in the ASEAN region," he asserted.

Dr. Coomaraswamy also noted that ASEAN is a better opportunity with less baggage as it has mid-level powers, unlike China and India who have concerns on the strategic dynamics in the Indian Ocean.

"Sri Lanka has an opportunity in general. We have to get our macro side right and the growth framework right. The plans are in place, but our implementation is far too slow, which needs to be improved," he added.