Today, organisations in ASEAN and SAGE regions are operating in a context of unprecedented change, beyond the scenarios covered in most business continuity plans. In such a situation, companies need new solutions to ensure resilience, recover quickly, and remain operational beyond the present disruptions. The time is ripe for change, but it demands a greater embrace of new perspectives. Speaking to Daily FT, Oracle ASEAN & SAGE Regional Managing Director Cherian Varghese discussed the specific challenges that organisations have had to overcome and how Oracle is helping enterprises in the region future-proof their operations: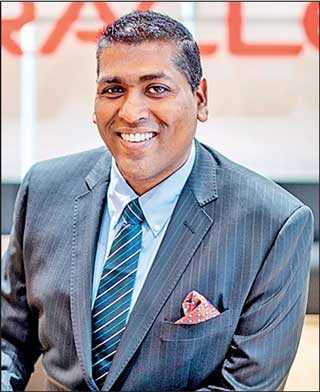 Oracle ASEAN & SAGE Regional Managing Director Cherian Varghese
---
Q: How do you see businesses in the ASEAN & SAGE regions embracing technology, and what are the challenges they face?
Over the last few years, we have seen an accelerated interest in technology adoption by companies in ASEAN and SAGE, with them using different on-premises and cloud solutions to meet their business needs. These include both regions' top organisations in almost every vertical, including financial services, telecom, retail, manufacturing, and so on.

When it comes to challenges, every single country in the region has its nuances, depending upon their level of digitisation and the resulting IT landscape. While each customer has different doors of entry into this transformation, the end destination is the same – they all want to be a digitally-run organisation with solutions and services helping exploit opportunities, but also address three key business challenges: their compliance needs, governance and last but not the least, an auditing mechanism.

All these challenges fall back to data and this is where Oracle comes into its own. Our 40-year journey is all about helping customers take their data and make it meaningful, while at the same time making the processes of managing and securing that data as simple as possible.


Q: What about businesses in Sri Lanka in terms of technology adoption, and how is Oracle helping them in this regard?

Emerging economies are typically thought of as being risk-averse and late adopters of technology. Interestingly, organisations in Sri Lanka have been among the early adopters of the new technologies.

Oracle started its operations in Sri Lanka in 1991 through a collaboration with a local partner and since then, it has been helping many Sri Lankan businesses that represent key sectors of the country's economy. The main local partners have helped them adopt integrated information technology infrastructures to achieve higher work efficiencies.

For example, Regional Development Bank (RDB), the only 100% state-owned development bank in the country, is using Oracle Cloud Infrastructure to accelerate its digital presence across the country. The combined offering of Oracle Analytics Cloud and Autonomous Data Warehouse enables RDB to provide innovative and simple financial solutions to its customer base, which represents lower- and middle-income segments of Sri Lanka.

HNB Assurance (HNBA), one of Sri Lanka's leading life insurers, has gone live with Oracle Cloud Enterprise Resource Planning (ERP) to simplify and streamline its business processes to offer faster, efficient solutions to the market. With Oracle Cloud ERP, the life insurance provider is now able to serve its customers swiftly and efficiently at a lower cost, which gives an opportunity to grow the insurance product portfolio.


Q: What about the new business environment? Don't you think that companies more often look to save cash instead of investing in technology in these unusual times?

We are in the midst of a critical situation. Fewer companies are looking to embark on a full digital transformation. Instead, projects are more in the now, and are driven by questions like: Should I invest now or should I save cash? How do I ensure the safety of my employees and yet keep the business going?

In my opinion, these unusual times need exceptional leadership and requires bold measures to reach out to customers, mitigate risks, and act in volatile situations.

Many of the organisations we're speaking to have realised that they need greater contingency than they ever felt necessary and future-proof their current IT operations. The cloud presents itself as an attractive and flexible option for organisations to help with these requirements, while also accelerating other essential areas like automation.

As trusted advisors and strategic partners guiding organisations through this uncertainty, Oracle has been providing options to customers navigating the current situation, helping set them up for a faster rebound.


Q: You have recently announced Oracle Dedicated Region Cloud@Customer. Could you share some details and feedback you are getting from businesses?

It's clear that even with the strong desire by customers to harness the benefits of the cloud not every organisation is in a position to have their data on a public cloud. Although all are on a cloud journey, many still have concerns stemming from operating in a regulated industry such as banking or defense, or having workloads that either can't bear the latency strains of cloud or are so customised they are envisioned to be too hard to move. To help overcome these challenges, Oracle has come up with game-changing technology.

Oracle Dedicated Region Cloud@Customer is the industry's first fully-managed cloud region that brings all of Oracle's second-generation cloud services, including Autonomous Database and Oracle Cloud applications, to a customer's data centers. Moreover, with this offering, Oracle is making all of its cloud services – more than 50 services – available on-premises so enterprises can use Oracle's cloud services wherever they need them – in the cloud or on-premises via Cloud@Customer.

This is ideal for highly regulated or security-focused businesses needing to meet demanding latency and data residency requirements, reduce operational costs, and modernise legacy applications.

Additional benefits include the high degree portability to move from a dedicated cloud customer region to a public cloud with the flip of a button.


Q: What makes Oracle Dedicated Region different from its competitors in the market?

Many vendors have attempted to offer cloud services on-premises but none of them can compare to offering what Oracle's Dedicated Region Cloud@Customer does. With other vendors, customers get access to a small number of services on-premises, but these lack capabilities compared to what's available in their public clouds. Contrast that with Oracle Dedicated Region Cloud@Customer, which offers ALL public cloud services including, as I've said, all of Oracle's database products including Autonomous Database.


Q: What are your plans in terms of escalating digital transformation in the ASEAN & SAGE region through cloud computing?

We're doubling-down on our global expansion and rapidly scaling our public cloud around the world to meet growing customer demand. Enterprises need fully independent Cloud Regions in multiple sites and in-country to meet data residency requirements and to safeguard disaster recovery measures. To meet these needs, Oracle opened eight Cloud Regions in 2020 so we currently operate 25 regions globally—19 commercial and six government—the fastest expansion by any major cloud provider. On top of this, we have an aggressive plan to add a further 11 Cloud Regions by July 2021, bringing the total to 36.

We also have six multi-cloud interconnections between Oracle and Microsoft Azure, including one in Asia, in Tokyo. These interconnects enable customers to run their mission-critical workloads across Oracle Cloud Infrastructure and Azure virtually seamlessly. We have also recently announced the availability of Oracle Cloud VMware Solution, a dedicated, cloud-native VMware-based environment that enables enterprises to easily move their production VMware workloads to Oracle Cloud Infrastructure. Oracle Cloud VMware Solution provides customers with identical experience in the cloud as in on-premises data centres, and virtually seamlessly integrates with Oracle's second-generation cloud infrastructure.

Whatever digital journey our customers decide to take, we are looking to be there for them, as a partner of choice, helping them benefit from all of the advantages our autonomous technology brings: lower costs, better security and management, and higher performance.