The exclusive LMD-Nielsen Business Confidence Index (BCI) declined sharply to 121 in August, reflecting a slump of 13 basis points from the prior month, the latest edition of business magazine LMD reports.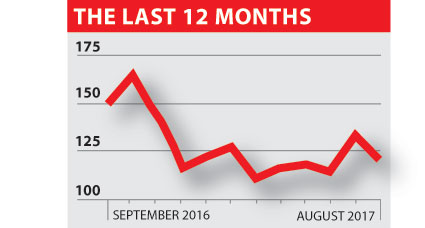 Nielsen's Managing Director Sharang Pant opines: "The upward trend over the past five months comes on the back of easing inflation and interest rates, and the granting of GSP+ but has probably been stunted by the controversy around the transparency of the Government's bond sale in the last few weeks."


"This is substantiated by the fact that while inflation and interest rates are lesser worries for businesses and consumers, political instability and corruption are perceived as larger issues," he explains.


The one-of-a-kind monthly survey reveals that only one-in-five (21%) respondents believe the economy 'will improve' in the coming 12 months. And while the majority (43%) expect conditions to 'get worse', over a third of those surveyed state that the economy will 'stay the same'.



However, where business prospects are concerned, almost half of Nielsen's survey sample has a positive outlook: respondents believe that business will improve in the coming 12 months. Moreover, about two-thirds of corporate executives feel that business will stay the same or improve in the next three months.


On the contrary, businesspeople say that the investment climate in the country may take a hit due to issues related to transparency with 51% stating that the environment is 'poor' or worse.


Looking ahead, a spokesperson for LMD notes that "a major shift in the BCI's fortunes or misfortunes is unlikely to eventuate in the near term. That said, Nielsen's next survey is likely to be an eye-opener on many counts."

LMD's publisher Media Services says the September edition of the magazine is now available at bookstores and supermarkets. For the full BCI report visit www.LMD.lk.