The LMD-Nielsen Business Confidence Index (BCI) increased by eight basis points to 106 in May, according to the latest edition of business magazine LMD.

LMD notes that this recovery follows two months of decline resulting from political uncertainty. However, it notes that the one-of-a-kind index fell short of its 12 month average of 116.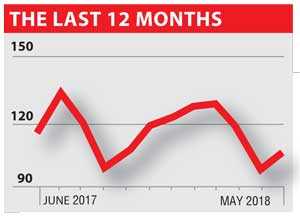 In the June edition of the magazine, Nielsen's Managing Director Sharang Pant points to perceptions that political instability has tapered and the Government pursuing its fiscal consolidation objectives as possible reasons for the rise. He cites the easing of inflation – as indicated by the National Consumer Price Index (NCPI) decrease in April – as supporting this.

Pant adds: "This could augur well for a revival of consumption especially in fast-moving consumer goods (FMCG), which according to Nielsen estimates continued to decline at a high rate even in the first quarter of 2018."

He goes on to state that the recent fuel price hike may lead to price increases and that this in turn this could affect the index in the future.

The leading business magazine reports that the tax structure, rupee value and high interest rates are among the main concerns of corporates.

To this end, a survey respondent notes that "the exchange rate is very poor," and "economic and financial indicators are not positive."

Commenting on the near-term outlook for the index, a spokesperson for LMD cautions: "There is little in the way of positive trends to propel a major revival in the barometer of business sentiment."

LMD's publisher Media Services says the June edition of the magazine will be released to leading bookstores and supermarkets on 8 June (for the full BCI report, visit www.LMD.lk).