The LMD-Nielsen Business Confidence Index (BCI) declined for the fifth consecutive month to register 85 in October, according to the latest edition of leading business magazine LMD. The unique index is now 22 basis points below its 12-month average of 107 and lies at a 114 month low – the second successive post-war low, the magazine says.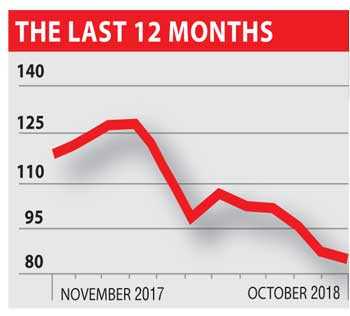 Meanwhile, Neilsen Managing Director Sharang Pant notes: "While the National Consumer Price Index (NCPI) eased to 2.5% year-on-year in August compared to 3.4% in July, the 6% depreciation of the rupee in one month and impending fuel price increases are worrying both businesses and consumers."

He also states that business leaders "expect long-term improvements for the betterment of the country – which are critical for safeguarding current investments and attracting new investments."

The state of the economy, the depreciation of the rupee and fears of rising inflation are reported as being among the key concerns in corporate circles, with one businessperson stating: "Our business has faced many obstacles mainly due to the current economic situation wherein consumers do not have money to purchase goods. And the depreciating rupee has led to substantial increases in the price of imports."

A spokesperson for LMD remarks that "given what has transpired in local politics, the ongoing depreciation of the rupee, uncertainty surrounding the world economy against a backdrop of rising oil prices and a trade war between the two largest economies on Earth, the business landscape is unlikely to show signs of improvement in the weeks ahead".

LMD's publisher, Media Services, says the latest edition of the magazine has been released to leading bookstores and supermarkets (for the full BCI report, visit www.LMD.lk).