To increase number of software engineers by 500 to 1,600 in next 12 months
Relocates most of its operations and team to six floors of Orion City new tower
Says SL a cost-effective centre and a great source and place for innovative young talent


By Nisthar Cassim

A global leader in enterprise software, IFS, the second largest IT company in Sri Lanka, is further expanding its investment and operations here by doubling office space and increasing staff by over 40%.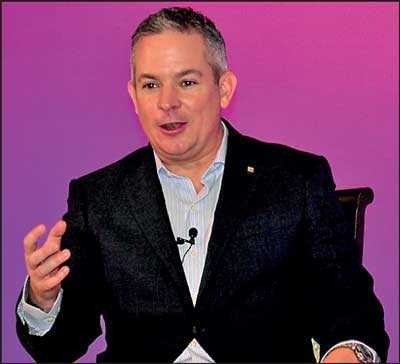 IFS Global CEO Darren Roos - Pic by Sameera Wijesinghe
Operating in Sri Lanka for over two decades, IFS has 1,100 employees (31% of the global team) at present and aims to increase it to around 1,500-600 in the next 12 months. In June it will relocate most of its operations to six floors of Orion City's new tower, occupying double the space of its original location in Wellawatte.

Sweden-headquartered IFS Global CEO Darren Roos yesterday told journalists in Colombo that Sri Lanka is an important, essential, and integral part of its global operations, serving over 10,000 customers, including over 150 top companies in Sri Lanka and South Asia.

Sri Lanka office carries out global support, global consultancy, IFS Labs, and IFS Academy. In 2018, IFS net revenues rose by 23% (as opposed to 15% annual growth in recent history) to $ 606 million, as it won more new clients for superior Enterprise Resource Planning (ERP) and Field Service Management (FSM) and cloud solutions amo wwng others.

"Sri Lanka is an essential part of our global growth strategy," Roos stressed.
"In Sri Lanka we are ramping up capacity. We will add about 300 more staff within the next few months, and have around 1,500-600 by the next 12 months," he added.

He noted that Sri Lanka isn't the lowest-cost location, but a cost-effective centre, apart from a great source and place for innovative young talent.

Around 60% of IFS product development takes place in Sri Lanka. Additionally around 80% of the IFS Labs team is based in Sri Lanka, and the technologies that it is currently developing includes wearables, augmented reality, bots, drones, robotic process automation, and artificial intelligence. Via its efforts, IFS seeks to prototype the emerging technologies, trends, and concepts of today that customers will ask for tomorrow. IFS invests 14% of its revenue on Research and Development (R&D).

"The more successful IFS is globally, the better it is for Sri Lanka," Roos emphasised.

Last year, licence revenue of IFS grew by 22%, maintenance revenue by 13%, and consulting revenue by 10%, whilst cloud and Software as a Service (SaaS) jumped by 300% from a lower base. This year, a similar or better organic revenue growth is envisaged, whereas in the past, mergers and acquisitions boosted top line for IFS.

"We are targeting 45% Compounded Annual Growth Rate between 2019 and 2021. Sri Lankan and South Asian operations will be a significant contributor towards this growth," said Roos, who noted that their main markets in Europe and the Americas have been robust, with Asia Pacific expected to deliver higher growth.

"We are focused on delivering sensible next generation solutions to customers faster and at low total cost of ownership. This is IFS key differentiator as against competition," said Roos, who noted that as per IT industry research firm Gartner, customers have voted IFS ERP and FSM solutions as number one.